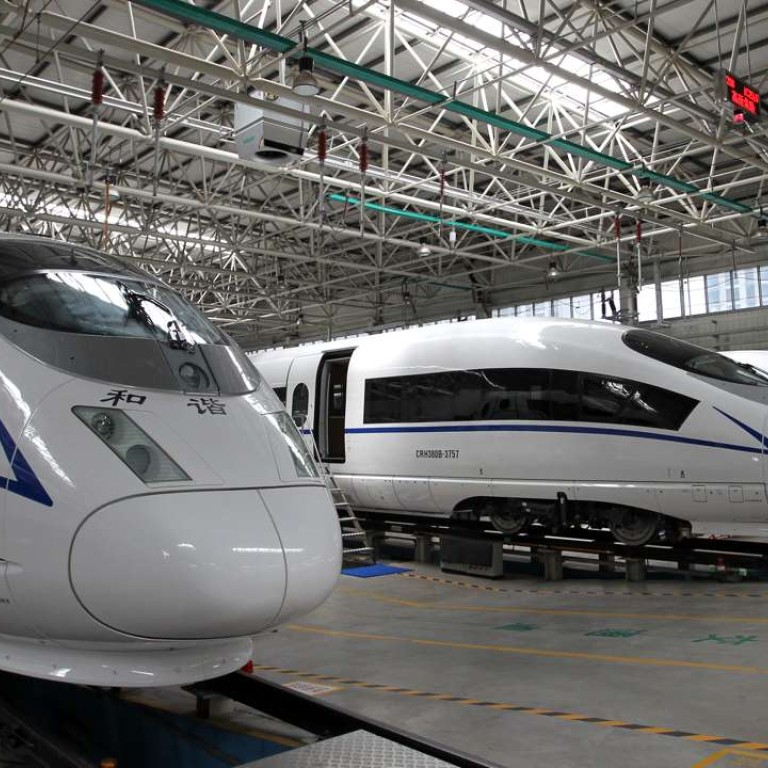 China's bullet trains in race to win global high-speed rail market
Quality and communication are key if the nation is to win, say foreign visitors to state-owned factory
Giant factories, a wide range of advanced locomotives and a modern exhibition centre may have impressed foreign visitors to one of China's biggest bullet train producers – but it will take more than that to clinch deals.
China is at an early stage of its push to export its high-speed rail technology, and there is much Beijing needs to address.
Officials from nearly 20 developing countries in Africa, Asia and South America visited the China Railway Rolling Stock Corporation's (CRRC) Tangshan factory last month in a week-long programme arranged by the Hong Kong-based Finance Centre for South-South Cooperation.
Most came from countries along the route of China's "One Belt, One Road" initiative aimed at boosting trade links and infrastructure such as railways.
The overseas market for CRRC Tangshan is chiefly low- to medium-speed rail stock, railways and light rail systems that have been sold to Germany, Turkey and some African countries. It accounts for 30 per cent of the global locomotive market. But while the countries of most of the visitors have imported rail technology from China, including CRRC Tangshan, few have imported Chinese high-speed know-how.
CRRC Tangshan accounts for 70 per cent of high-speed locomotives starting from Beijing, including those running on the most profitable high-speed line between Beijing and Shanghai.
It provides 10 basic categories of locomotives and can complete standard orders in two months.
"It shows how a state-owned company can produce world-class products like bullet trains. It will feed the [One Belt, One Road] initiative," said Biru Paksha Paul, chief economist with the Central Bank of Bangladesh.
The low cost of Chinese products has been a traditional advantage. China's bullet trains were a third cheaper than Japan or Germany's, and were built in half the time of Japanese ones, Chinese experts said. But visitors said low prices were no longer the only thing buyers wanted.
"Developing countries now like low cost products, but at the same time they want quality. Most emerging economies in South Asia now can afford higher spending on public transport because people in those countries are now more conscious about quality," Paul said.
"China's next agenda will be to improve the quality of exportable trains and buses to capture a major share of Asian and African markets."
CRRC Tangshan has developed a green model for urban railways that uses hydrogen as fuel and emits water. The model makes it easier for elderly passengers to board and disembark.
A senior executive at the Tangshan plant said it had not received any orders but some cities had shown an interest.
"I am under big pressure every day to find new markets as the overall economic situation is not good. Governments do not have robust fiscal strength to spend a huge amount on buying high-tech public vehicles," he said.
China and Japan are the biggest two competitors in the global high-speed railway market. Japan's Shinkansen started operating domestically in 1964, when it became the world's first high-speed rail system in commercial use. It is also the safest railway, without a fatal accident on record.
China's first high-speed railway started operation in 2008 between Beijing and Tianjin. The country operates the world's longest high-speed rail network, from the northeast, where temperatures can fall to -30 degrees centigrade, to the south, where temperatures can go above 40 degrees. But an accident on a high-speed rail line in Wenzhou, Zhejiang province in July 2011, which killed at least 30 passengers and injured nearly 300, cast a shadow over the safety of China's high-speed rail industry.
"In a developing country like Bangladesh, we often prefer buying Japanese products and durables," Paul of the Central Bank of Bangladesh said.
"The most pressing reason is Japan's high quality control and constant pursuit of excellence. Private ownership by default makes these attributes happen. I wonder how China will compete with Japan or the US in the race for quality and excellence when private incentives are heavily absent in any state-owned enterprises."
China's push for its bullet trains to gain a wider global presence has suffered setbacks in countries such as Venezuela, Mexico and Thailand.
"China needs more bottom-up research and communication with host countries. It requires long-term and careful planning for overseas investment. And its diplomatic policies should have a long-term perspective," Li Yanfei, an economist in Jakarta with the Economic Research Institute for Asean and East Asia, said.
The most recent setback was the US company XpressWest's termination of its contract with China Railway International for a high-speed railway connecting Las Vegas and Los Angeles.
"Too many factors are ­involved in the setbacks of high-speed rail exports. Usually problems are something unrelated to the production, such as the terms of loans, level of interest rates and whether buyers can offer sovereign guarantees," an executive at the CRRC headquarters said.
Huang Rihan, a researcher at the Centre for China and Globalisation, said power plays on the global stage were inevitable.
"The overseas high-speed railway competitions – such as the one between China and Japan – are not only market-oriented ­behaviour, they also involve ­politics," said Huang.
Premier Li Keqiang and Japan's Prime Minister Shinzo Abe are both well-known for promoting high-speed rail technology during visits overseas.
"But Japan is more cautious and cares more about the profitability of overseas high-speed railway projects. China, sometimes, is willing to tolerate a certain amount of economic losses on projects that have symbolic significance," Huang said.
The frequency of the trains, as well as the population density along the lines, should be taken into account, said Chu Yin, an associate professor with the University of International Relations.
"That a high-speed railway suits China does not mean it is suitable for the world," Chu said.
Both Huang and Chu suggested talks on overseas projects be kept low profile. "It would be better that, domestically, we do not overstate any deal, otherwise it gives bargaining power to overseas buyers."