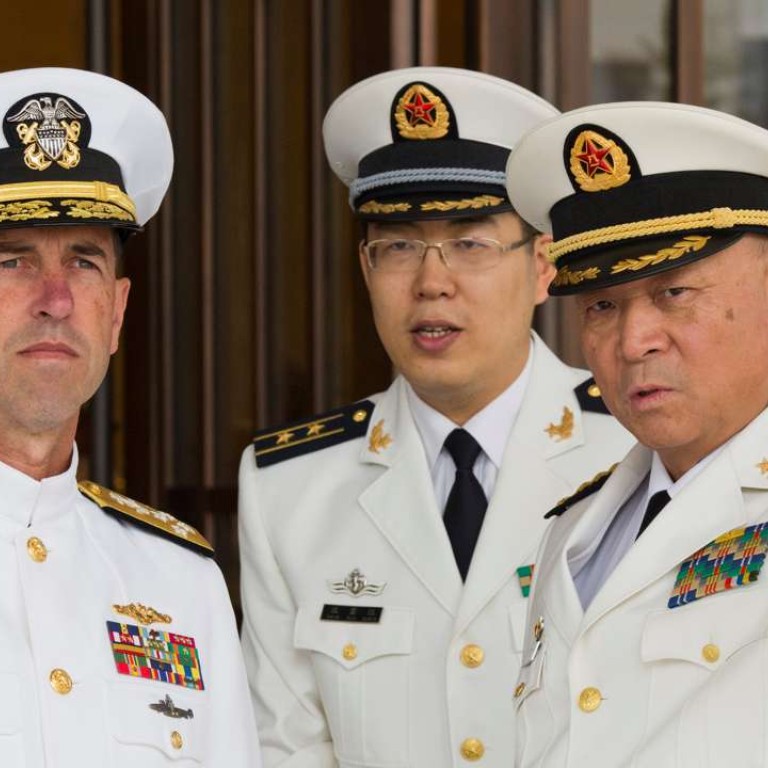 PLA Navy 'ready' to counter aggression in South China Sea
Spratly Islands are Chinese territory and construction in disputed waters will continue, Admiral Wu Shengli tells visiting US naval chief
Beijing is ready to counter aggression in the South China Sea, the PLA Navy commander warned on Monday as a new round of military drills were announced in the disputed waters.
Admiral Wu Shengli made the remarks as he met US Chief of Naval Operations John Richardson in Beijing yesterday, in the first high-level meeting between the two militaries since the Permanent Court of Arbitration in The Hague said China's "nine-dash" line was invalid.
China would not compromise its sovereignty and would press ahead with construction of facilities in the area "regardless of pressure from any country or anybody", Wu was quoted by CCTV as saying.
"The Chinese navy is prepared to react to any infringement of rights or aggression ... Efforts to force us to succumb to pressure will only be counterproductive."
The Spratly Islands were Chinese territory and it was "legitimate and reasonable" to carry out necessary construction, Wu said. Any decision to build up "defensive facilities" would depend on the threat level. But amid the tough rhetoric, the senior PLA leader said the two militaries had to step up communication to avoid miscalculation. Richardson's visit showed that both sides were deeply concerned with the need to contain the risk of a maritime crisis, he said.
The meeting coincided with the announcement of military drills off Hainan from Monday until Thursday.
The area would be closed to outside vessels, the provincial maritime administration said.
The PLA held large-scale live-fire drills off the Paracel Islands to the southeast of Hainan in the run-up to the ruling delivered last Tuesday.
The air force also said on Monday it had recently deployed a long-range bomber to conduct "combat overflight" over the Scarborough Shoal.
The patrols by the H-6K, a relatively new aircraft with nuclear strike capability, would become "regular practice" in the future, air force spokesman Shen Jinke said.
In another warning, Admiral Sun Jianguo, deputy chief of the Joint Staff Department of the Central Military Commission, said freedom of navigation patrols ­carried out by foreign navies in the South China Sea could lead to ­"disaster".
"This kind of military freedom of navigation is damaging to freedom of navigation in the South China Sea, and it could even play out in a disastrous way," Sun told a forum at Tsinghua University on Saturday.
Richardson, who arrived in China on Sunday and leaves tomorrow, is expected to visit the navy's submarine academy and tour the Liaoning aircraft carrier in Qingdao in Shandong province.
The tour of the Liaoning ­offered a chance to show to the US "the speed and progress of China's military development" Li Jie, a Beijing-based naval expert, said.
He expected the US to resume freedom of navigation operations after Richardson's visit.
"While China's military drills have become a regular routine … they will also serve as a warning and active defence against US aggression," Li said.