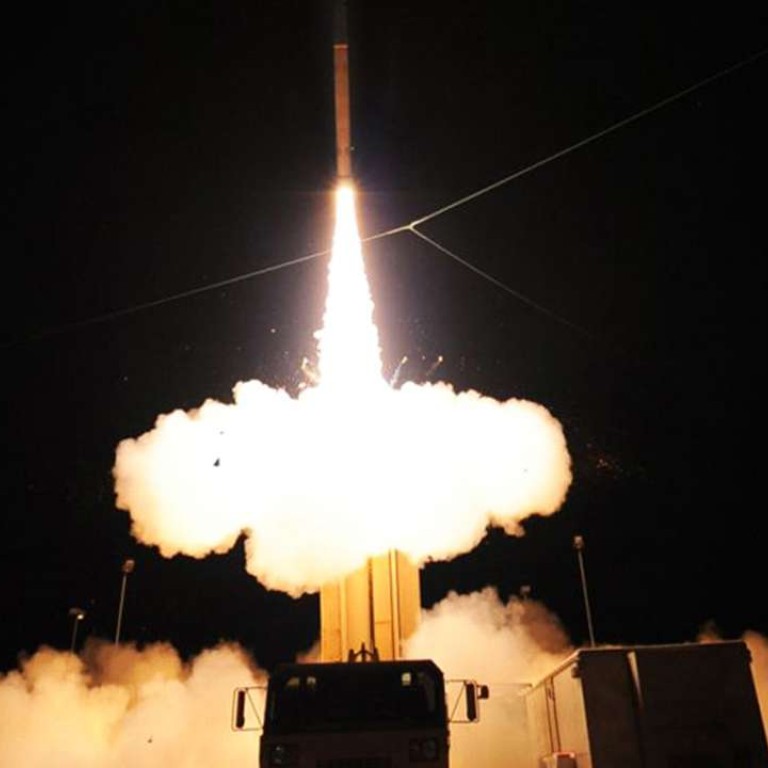 Why did China release rare videos of its successful anti-missile system tests?
Rare disclosure of successful anti-missile system tests follows announcement US will deploy its THAAD system in South Korea
Strategic and political goals are likely to be behind China's unusual disclosure this week of advances in one of its antiballistic missile systems, analysts say.
On Sunday and Monday, China National Radio, CCTV and the PLA Daily's TV.81.cn website carried reports touting four consecutive successful tests of a "ground-based midcourse defence" (GMD) system at the Korla Missile Test Complex in Xinjiang.
GMD systems plot, target and destroy ballistic missiles in space.
A clip of the first two of the tests was aired for the first time on the TV.81.cn website.
CCTV said the four tests indicated that China's system was ready for basic deployment in war, making China the second country after the United States to have the technology.
The release of the footage came about two weeks after Washington and Seoul announced they would deploy the US' Terminal High Altitude Area Defence (THAAD) anti-missile system in South Korea to counter threats from North Korea.
The THAAD system is expected to be up and running by the end of next year and Beijing has objected to its deployment in South Korea, saying the system's radar could penetrate Chinese territory.
Asked on Thursday if the GMD footage suggested China was preparing to deploy its own anti-missile system, defence ministry spokesman Yang Yujun said "prudent development" of anti-missile technology was in the interests of national defence. Yang added that such a system would not target any specific country and would not affect global strategic stability.
Also on Thursday, the PLA Daily, the mouthpiece of the military, said in an editorial that China would never "swallow insults and submit to humiliation when facing provocations", and referred to the history of when China fought the US-led coalition in the Korean War in the 1950s.
"The Chinese people and Chinese military ... do not intend to become involved in an arms race with any country, but will firmly defend our own security interests," it said.
The editorial accused the US of damaging mutual trust and increasing regional tensions, and warned South Korea that agreeing to deploy the THAAD system to serve the US "Asia rebalance" strategy was like inviting a wolf into the house, and would harm themselves.
There has long been speculation that China is on track to install its own answer to THAAD and there are signs that it could be well on the way to doing so.
Military experts said the ballistic missile interceptors shown in the footage were HQ-19 rockets armed with a kinetic kill vehicle,rockets without warheads that rely on their impact to damage their targets.
Together they are designed to engage ballistic missiles and satellites in lower-earth orbit.
According to the footage, the two tests were conducted on January 11, 2010, and January 27, 2013. Other state media reports said China started the GMD project in 2007, with the last test carried out in October last year.
Macau-based military observer Antony Wong Dong said the timing of this week's announcement was deliberate.
"Obviously, China is very unhappy since the US and South Korea started negotiating the deployment of THAAD on the Korean peninsula," Wong said.
Song Zhongping, a retired instructor for the People's Liberation Army's former strategic missile force, the Second Artillery Corps, said the reports suggested the technology was reasonably advanced and was being put into service.
But Wong cautioned that the rush to develop and deploy the technology could carry hidden risks. Even the US needed to conduct at least 11 tests for its THAAD system and of those only seven were successful, he said.
"Learning from mistakes and failures is very important for weaponry development. It's not appropriate to save time and money on development of cutting-edge weapons," Wong said.
"The crash of one of China's J-15 fighter jets in April is one of the best lessons. The carrier-based aircraft project was pushed too fast and developed based on the unfinished Soviet-designed Su-33."
CNR reported on Wednesday that a 29-year-old PLA J-15 pilot died after he lost control of his J-15 during a simulated deck landing exercise at a unspecified inland base on April 28. It is the first confirmed crash of a J-15 since the aircraft went into service in December 2013.
Hong Kong-based military expert Liang Guoliang said recent official disclosures about sophisticated weapons in the last month indicated the two giants' space arms race was gathering pace.
But Song said there was still a gap between the anti-missile technology of China and the US.
"Compared with the US army, the Chinese anti-missile system lacks real battle testing, raising questions about its maturity and reliability," he said.
This article appeared in the South China Morning Post print edition as: strategic aim behind Anti-missile revelation