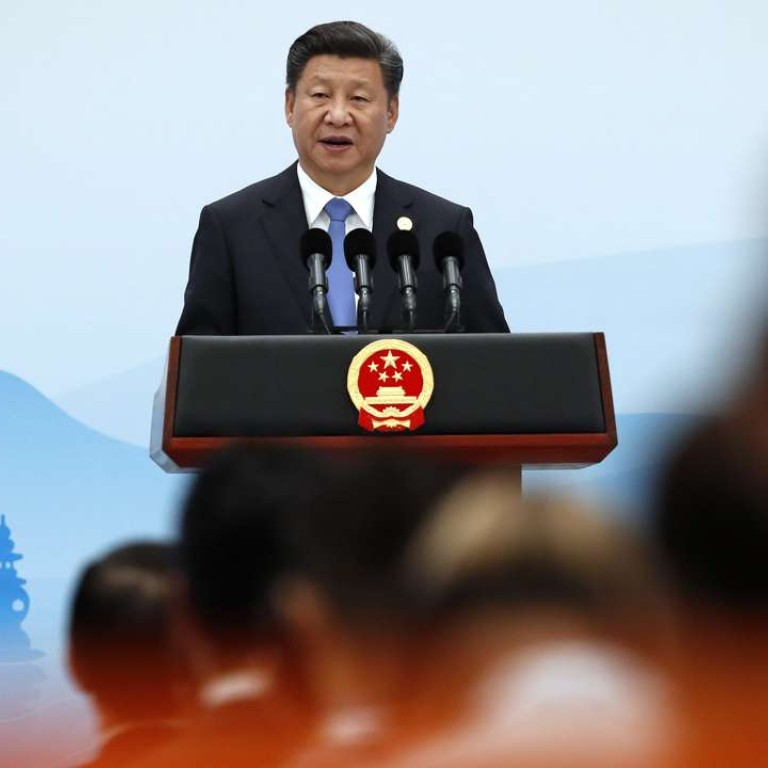 G20 leaders find common ground on currency as curtain comes down on Hangzhou summit
Members of the world's most advanced economies also vow to look beyond monetary policy to spur global growth
The world's 20 major economies will talk to each other on exchange rates and refrain from a currency race to the bottom as part of a joint policy package to soothe financial markets and revive global growth.
The commitments by leaders of the Group of 20 members, including the United States, the European Union, China and Japan, were part of 48-point communiqué released on Monday at the end of
the two-day summit in Hangzhou
.
The group pledged to use "all policy tools" to cope with economic headwinds from
Britain's exit from the EU
. It also vowed to look for solutions to economic woes beyond monetary easing.
Watch: Xi makes closing speech
The major economies are divided on monetary policy, with the US Federal Reserve expected to raise rates and Europe and Japan considering sending some wholesale rates into negative territory. Amid this, the global economy is grappling with an unusual combination of low growth and low inflation.
The G20 leaders agreed that "excess volatility and disorderly movements in exchange rates can have adverse implications for economic and financial stability" and "relevant authorities will consult closely on exchange markets". They also repeated promises to refrain from competing on currency exchange rates.
China, the summit host, tried to rally joint policy action in the directions of innovation and structural reforms, hallmarks of President Xi Jinping's domestic economic strategy.
"Facts have told us that the old road of simply relying on fiscal and monetary policy is a dead end," Xi said after the summit.
The group gave partial backing to Xi's push for structural reform but also made clear that member countries would pursue it only "in accordance with our national ­circumstances".
They would also "carefully calibrate and clearly communicate" structural policy actions to "reduce policy uncertainty and minimise negative spillovers".
The message was clearer on fiscal policy, with the 20 members agreeing that "fiscal strategies are equally important [as structural ones] to support our common growth objectives".
They pledged to make fiscal policy more "growth friendly", ­reflecting a subtle shift away from the exhausted possibilities of monetary easing.
On top of pledges to improve policy cooperation, the members followed China's lead on plans to overhaul the International Monetary Fund and the World Bank to give a bigger voice to emerging markets.
But the communiqué lacked actionable plans.
Tristram Sainsbury, a research fellow at the G20 Studies Centre at Australia's Lowy Institute, said the it represented progress on the technical agenda prepared by bureaucrats but lacked "political leadership".
As such, the document might not have the weight to counter a backlash against globalisation, he said.
On the vexed issue of steel overcapacity, the G20 members agreed only that they would form a "global forum" on the matter, with support from the Organisation for Economic Cooperation and Development.
Yuan Gangming, a professor at Tsinghua University and a veteran industry analyst, said a toothless "steel forum" would give China "leeway and no restraints to tackle the problem".
But it did recognise that infrastructure investment needed improvement.
"China has actively and comprehensively participated in world governance and this will be just a beginning," Renmin University finance professor Zhao ­Xijun said.
"Ultimately, China will become the leader of the world's developing countries, like the US is the leader of the developed world."
The key points of the joint communiqué:
Exchange rates
We reiterate that excess volatility and disorderly movements in exchange rates can have adverse implications for economic and financial stability. Our relevant authorities will consult closely on exchange markets. We reaffirm our previous exchange rate commitments, including that we will refrain from competitive devaluations
'New Industrial Revolution' action plan
We launch the G20 Initiative on Supporting Industrialisation in Africa and least developed countries to strengthen their inclusive growth and development potential through voluntary policy options
Structural reform
We deliver the Enhanced Structural Reform Agenda, noting that the choice and design of structural reforms are consistent with countries' specific economic conditions
Taskforce on innovation
We will set up a G20 Task Force supported by the OECD and other relevant international organisations to take forward the G20 agenda on innovation, new industrial revolution and digital economy
Anti-corruption
We endorse the G20 High Level Principles on Cooperation on Persons Sought for Corruption and Asset Recovery and welcome a Chinese initiative to establish in China a Research Centre on International Cooperation Regarding Persons Sought for Corruption and Asset Recovery in G20 Member States
Brexit
The outcome of the referendum on the UK's membership of the EU adds to the uncertainty in the global economy ... We hope to see the UK as a close partner of the EU
Climate change
We welcome those G20 members who joined the agreement and the efforts to enable the Paris Agreement to enter into force by the end of 2016, and look forward to its timely implementation
Additional reporting by Nectar Gan and Catherine Wong
This article appeared in the South China Morning Post print edition as: Leaders find common currency ground