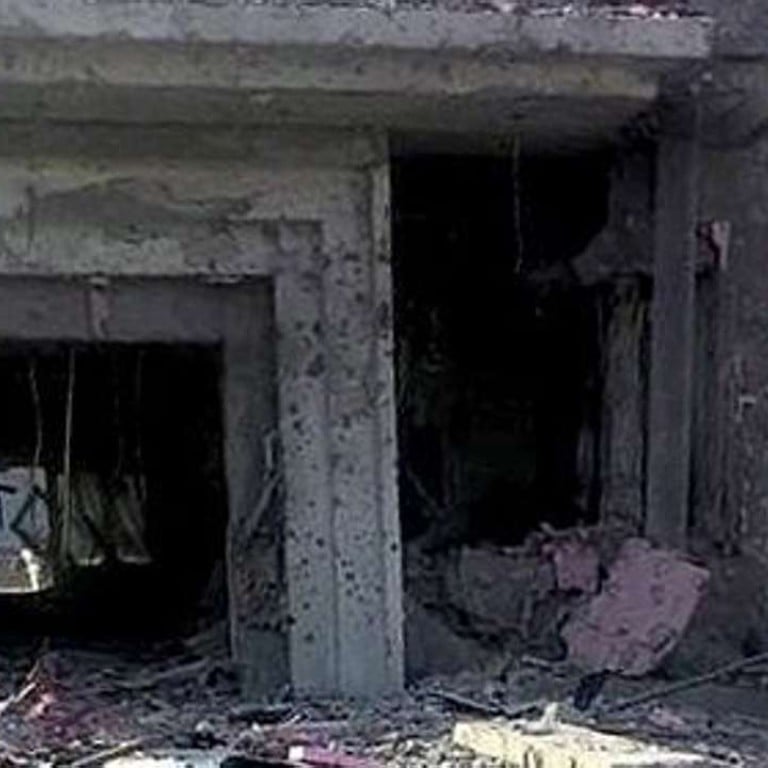 Update

|
Uygur militant behind attack on China's embassy in Kyrgyzstan named by security service
Authorities in central Asian nation say suicide bombing was planned in Syria
Authorities in Kyrgyzstan have blamed Uygur militants in Syria for masterminding the suicide bomb attack against the Chinese embassy in the Central Asian country.
A van exploded after ramming through a gate at China's diplomatic outpost in Kyrgyzstan's capital Bishkek on August 30, killing the driver and injuring three local embassy employees.
The suspected suicide bomber was an ethnic Uygur who held a Tajik passport in the name of Zoir Khalilov, Kyrgyzstan's state security service said on Tuesday.
Khalilov was a member of the East Turkestan Islamic Movement (ETIM), the GKNB security service said in a statement.
China has condemned the attack and urged Kyrgyz authorities to quickly investigate.
"The investigation established that the terrorist act was ordered by Uygur terrorist groups active in Syria and affiliated to the terrorist organisation the Nusra Front whose emissaries ... financed the terrorist action," the GKNB said.
Listed as a terrorist organisation by the United States and Russia, the Nusra Front has renamed itself Jabhat Fatah al-Sham and said in July it had ended its relationship with al-Qaeda.
The attack on the Chinese embassy was coordinated through a native of Kyrgyzstan living in Turkey, the Kyrgyz secret service said.
It said an arrest warrant had been issued for another native of southern Kyrgyzstan, an explosives specialist trained in Syria and holder of a Tajik passport, who helped to prepare the attack, but flew to Istanbul several hours before the explosion.
Apart from the ethnic Uygur suspected of having carried out the attack, all the others accused of ordering, financing and preparing it come from two southern Kyrgyz regions in the Ferghana Valley.
Five suspects accused of involvement in the attack had been arrested and four more suspected of being in Turkey had been put on the wanted list, the authorities said.
Xinjiang – the homeland of China's 10 million Uygurs, just across the border from Kyrgyzstan – is sporadically hit by deadly violence.
China has accused what it says are exiled Uygur separatist groups such as the ETIM of being behind attacks in the volatile region.
Chinese authorities have also accused scores of Uygurs who have fled the country of attempting to train with extremists in Syria, saying that they plan to return to Xinjiang to wage jihad.
However, many experts doubt the existence of ETIM, pointing out that although China frequently blames the group for radicalising Uygurs, it has yet to provide any evidence that outside organisations were involved in attacks.
Impoverished majority-Muslim Kyrgyzstan has a history of political instability and battling Islamist extremism.
Chinese officials in the country have previously been targeted in attacks blamed on Uygur radicals.
Authorities say the country faces the threat of attacks by the Islamic State group, after some 500 Kyrgyz left to fight for the jihadis in Iraq and Syria.
One of the three suicide bombers who carried out a deadly attack blamed on Islamic State at the airport in Istanbul in June was reported to be from Kyrgyzstan.
Additional reporting Reuters