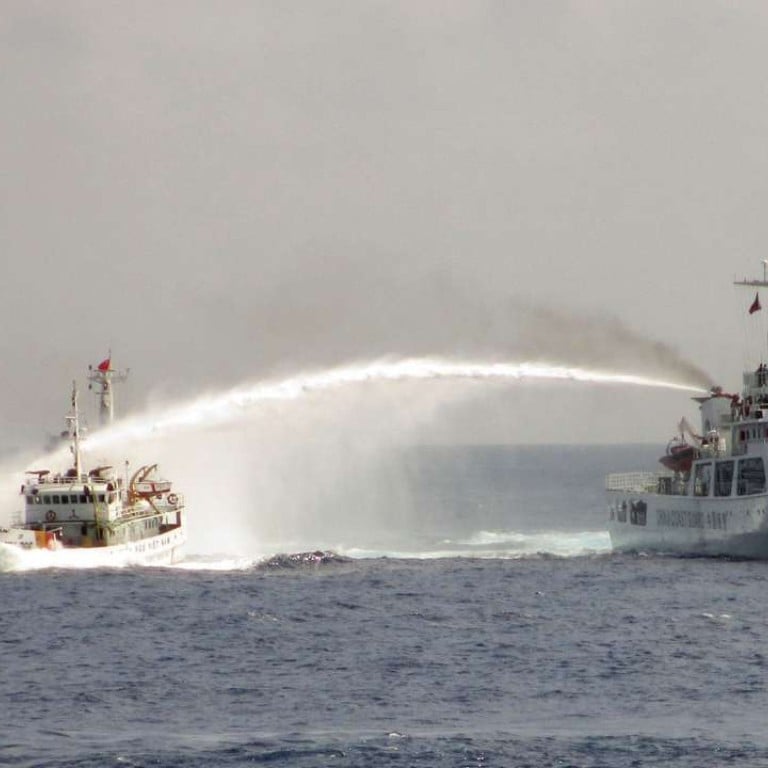 China's 'bullying' coastguard involved in most South China Sea clashes: research
Two thirds of 45 clashes in disputed waterway since 2010 involve mainland's coastguard, says survey by Washington's Centre for Strategic and International Studies think tank
Increasingly assertive action by China's coastguard ships in the South China Sea risks destabilising the region, according to the authors of new research tracking maritime law enforcement incidents across the vital trade route.
While the risks of full-blown naval conflict dominates strategic fears over the disputed waterway, the danger of incidents involving coastguards should not be underestimated, said Bonnie Glaser, a regional security expert at Washington's Centre for Strategic and International Studies think tank.
CSIS researchers have detailed some 45 clashes and stand-offs in the South China Sea since 2010 in a survey due to be published on its ChinaPower website
While the research includes clashes between a variety of regional states and types of vessels, the actions of China's coastguard dominates the picture.
China's coastguard has been involved in 30 of the cases logged, two-thirds of the total. Four other incidents involved a Chinese naval vessel operating in a law enforcement capacity.
"The evidence is clear that there is a pattern of behaviour from China that is contrary to what law enforcement usually involves," Glaser said.
"We're seeing bullying, harassment and ramming of vessels from countries whose coastguard and fishing vessels are much smaller, often to assert sovereignty throughout the South China Sea."
The research includes the violent maritime stand-off between Beijing and Hanoi over the placement of a Chinese oil exploration rig off the Vietnamese coast in 2014, as well as tensions that led up to China's occupation of the Scarborough Shoal off the Philippines in 2012.
The survey is being published as China's coastguard and other vessels return to Scarborough, sparking formal diplomatic protests from Manila.
China's State Oceanic Administration, which oversees the coastguard did not immediately respond to requests for comment on the research.
The research defines an incident where a nation's coastguard or navy has used coercive measures beyond routine law enforcement action.
In the short term, Glaser said she believed the risk of injury or death could be worse in civilian clashes than among navies patrolling the South China Sea, given the frequency and intensity of incidents in recent years.
Encounters by rival coastguards are not yet covered by expanding communications arrangements that are geared to preventing clashes between the region's naval forces.
The survey cites research showing the unifying of China's civilian maritime fleets in 2013, coupled with on-going budget increases, has given it the world's largest coast guard.
It now deploys some 205 vessels, including 95 ships of more than 1,000 tonnes, according to the US Office of Naval Intelligence– a far larger fleet than other regional countries, including Japan.
China claims much of the South China Sea, which carries the bulk of northeast Asia's trade with the rest of the world.
Vietnam, the Philippines, Malaysia, Brunei and Taiwan also have claims in the area.
This article appeared in the South China Morning Post print edition as: Coastguard is 'main player in clashes'