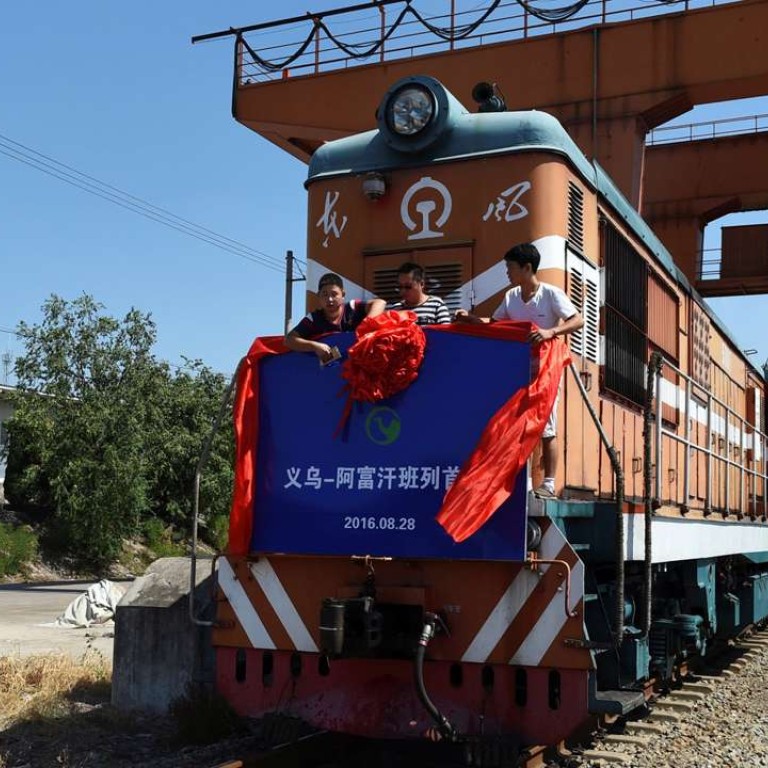 All aboard for 'One Belt, One Road'? Afghanistan freight train trip one stop in China's bigger drive
When a Chinese train pulled into a station in northern Afghanistan late last month, it did more than deliver a load of textiles and freight.
The vehicle and its cargo had completed a 13-day, 7,000km trip to Hairatan via Kazakhstan and Uzbekistan, signalling China's renewed efforts to unite the region through its transport and infrastructure plan called "One Belt, One Road".
The strategy, floated by President Xi Jinping in 2013, is gaining momentum while Washington's New Silk Road initiative, proposed by former secretary of state Hillary Clinton in 2011, is going nowhere.
China's ambassador to Afghanistan, Yao Jing, was on hand as the train arrived and described the journey as symbolic of Beijing and Kabul's shared goal to deepen their "strategic" partnership, according to a statement on the embassy's website.
But just like the train's zigzag route, business between the two countries does not follow a straight line.
The two countries share a border but are not linked by paved roads or rail lines. As a result, Chinese exports to Afghanistan amounted to just roughly US$400 million in 2014, or about 5 per cent of the value of the goods China exports to Pakistan.
Analysts say the "One Belt, One Road" could go a long way to changing that state of trade.
The arrival of the train could also signal China's stronger willingness to flex its power in the region.
China has traditionally been wary of military involvement in Afghanistan, despite its concerns that Afghanistan could serve as a refuge and training base for Uygur militia seeking independence of Xinjiang.
"[The train's arrival] may indicate China is willing to playing an active role in post-war reconstruction, economically and even politically, in Afghanistan," Peking University international relations professor Wang Lian said.
"Over the long run, a stable, or a pro-Beijing Afghanistan will offer a safe corridor for China to extend its reach to Europe in its One Belt One Road programme."
Beijing has over the last years sought to broker peace in its neighbour, holding talks in the Chinese capital with Taliban delegates. China invited a Taliban delegation to Beijing in July to discuss the situation in Afghanistan, where the insurgent movement was still fighting the Western-backed government in Kabul, Reuters reported.
Chinese Defence Minister Chang Wanquan also thanked the head of the Afghan army for Kabul's support against what Beijing brands an extremist group when Afghan army chief of general staff Qadam Shah Shaheem visited China this summer.
New trade links such as railway lines could offer more leverage for Beijing to influence Kabul and the region.
But Chu Yin, an associate professor with University of International Relations in Beijing, questioned the profitability of running such transregional cargo lines, since most of the ones in China were heavily subsidised by local governments.
"There is not enough freight volume from both destinations and Chinese products would lose their price advantage by rail transport compared with marine route costs. The transregional railways need to be consolidated," he said.
This article appeared in the South China Morning Post print edition as: Belt and road plan gathers steam on line to Afghanistan