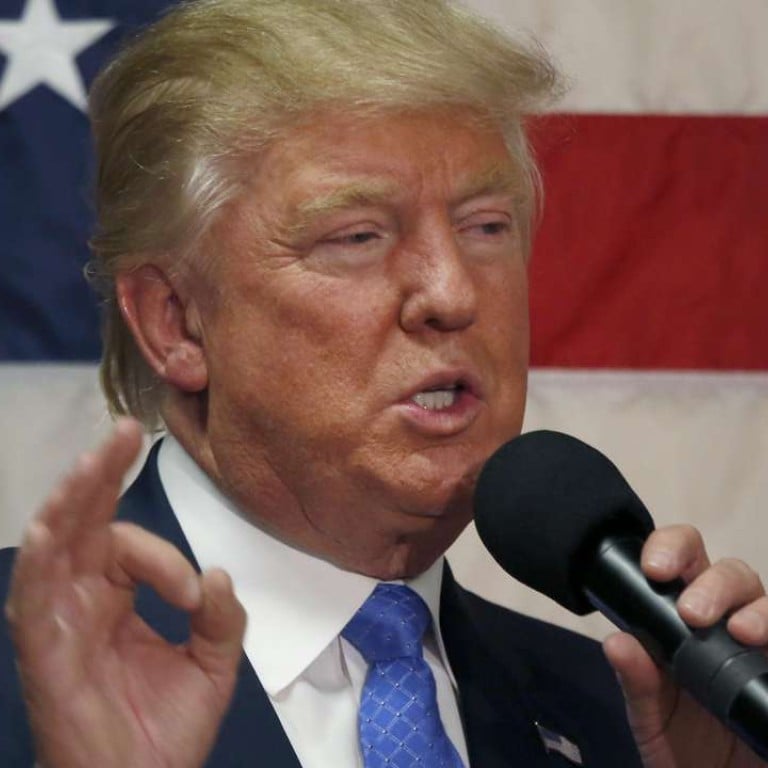 Why are recent Chinese immigrants supporting Trump?
Maverick US presidential candidate's unconventional style attracts Chinese American voters
Donald Trump may have achieved something other US presidential candidates could only dream of: motivating Chinese immigrants – traditionally politically indifferent – to go to the polls next month.
While Chinese Americans, like other ethnic groups in the United States, remain largely divided over the Republican candidate and many of his controversial policy proposals, they all agree that Trump has fuelled an unprecedented level of political activism among Chinese immigrants in the run-up to this year's presidential election.
While the maverick candidate has lost many traditional Republican supporters, his unconventional style has galvanised fresh support from others who are usually not interested in politics, including many Chinese Americans, according to Cliff Li, an adviser to the Trump campaign.
"This campaign is very unorthodox, by all means," said Li, who sits on Trump's Asian Pacific American Advisory Committee, which was set up last month.
Li, a businessman in the information technology sector who moved to the US from mainland China in 1990, is also executive director of the National Committee of Asian American Republicans. Both committees are aimed at enhancing Republicans' outreach to Asian voters, who despite comprising a relatively small part of the electorate are believed by some analysts to be a source of key swing votes that could influence the result.
"He is not a traditional politician or a typical Republican," Li said. "He's very energetic, unconventional, and probably would not be an ideal presidential candidate in a normal year. But the fact that he is an interesting outsider has made him all the more attractive this year."
Trump has attracted many fervent supporters among a new generation of Chinese immigrants who are vocal and passionate about their conservative political views.
While Trump's opponents express horror at his provocative remarks on issues ranging from trade to America's security alliances – and his sexist and reckless demeanour – his supporters find such attributes attractive. Widespread dissatisfaction with US President Barack Obama's policies on the economy, national security, immigration and college enrolment appear to be boosting Trump's popularity among Chinese immigrants.
"I've seen many Chinese who've become enthusiastic about politics and are siding with Republicans simply because they love Trump," Li said.
Zhang Wei, a leader of Chinese-Americans for Trump in Virginia, a grass-roots organisation, is one of them.
"Like most Chinese immigrants, I was not interested in politics before, said Zhang, 41, who arrived in the US in 2000. "But I am so fascinated about Trump and began to campaign for him as a volunteer since the primaries last year.
"Trump is the only one who dares to defy political correctness to point out the real problems facing this country while many others don't have the guts to do so. I support Republicans because I like Trump's personal style and agree with their more conservative economic and public policies."
Li said a lot of Chinese Americans had switched parties to support Trump, which had puzzled many political scientists.
"Quite a lot of his supporters are from outside Republican Party," he said.
According to a Pew Research Centre report, half of Asian Americans are Democrats or lean Democratic, while only 28 per cent identify with or lean toward the Republicans.
Li said support for Republicans had declined sharply from over 50 per cent in 1992 to only about 25 per cent during the last election in 2012.
"We are seeing a new trend that more Chinese Americans switch sides and begin to support Trump in this election, but it is difficult to tell exactly the scale of such changes due to the lack of polling statistics on Asian Americans," he said.
Li, a Republican since 2004, said he supported Trump out of party loyalty but would not describe himself as a Trump fan.
"I actually disagree with him on a few minor issues, such as his style and the way he speaks," Li said. "He is more of a businessman and he always goes off the script during speeches and it causes a lot of confusion. I wish he could be more careful, but Trump is Trump and that's his style. We have to live with it."
Grace Su, an organiser for Chinese-Americans for Trump in New York, said engaging in the election campaign was not just about supporting her favourite candidate, but also about giving Chinese Americans a voice.
Su, a former business executive who moved to the US in 2008, said she had noticed an increase in political participation by Chinese Americans since the sentencing of Chinese American police officer Peter Liang for manslaughter in April over the shooting death of an unarmed black man in New York in 2014.
Liu was the first New York City police officer convicted for an on-duty shooting in more than a decade, something many Chinese Americans blamed on racial discrimination. Thousands took to the streets in protest.
"We never paid attention to politics," she said. "But we never realised that we've faced systematic discrimination on many issues because we don't speak out."
Trump's promise to crack down on crimes targeting ethnic minority groups has won him a lot of support from Chinese Americans.
"We are seeing rising crimes and cultural violence targeting Chinese Americans," Li said. "We will have a protest in [Washington] DC on October 12 along with other minority communities such as Africans."
Chinese Americans have also been angered by Democrat affirmative action policies, including a discriminatory quota system to limit Asian Americans' access to universities while trying to advance admissions from other ethnic groups.
Su said Chinese American students suffered most under such a system. Even though they generally performed better in exams than their African American counterparts, they might end up in less preferred universities.
"We did not realise that it is not about how hard we work … we are still outsiders if we don't understand the politics and culture of the US, no matter how many years we have stayed here," she said.
Li said the policy was "totally unfair and that's one of the key reasons why so many Chinese Americans switch to support Republicans this year".
The controversial policy introduced by the Obama administration to allow transgender students to use bathrooms matching their gender identity also appears to have sparked a backlash among many Chinese immigrants. "We are not against LGBT, but we find it an outrageous and misguided policy which caused a lot of concerns among Chinese families," Li said.
While Asian Americans have surpassed Hispanics as the largest group of new immigrants to the US, most Chinese Americans do not have a strong sense of civic responsibility despite recent positive changes.
"Sadly we are not a political force yet because statistics show that Chinese American voter turnout is behind almost all the other Asian American groups and the fact that most Chinese Americans don't live in those swing states," Li said. "We will be able to make a difference, but not necessarily in this election. There is no doubt Chinese American will have a rising impact on American politics."
Political pundits said many Chinese Americans who had not voted in previous elections had been more vocal ahead of this election, with divisions evident in the Chinese American community between older, more liberal immigrants and newer, more conservative arrivals.
"The fact that Chinese Americans are almost evenly divided between the two candidates is a testimony of their strong integration in the American society," said Dr Gal Luft, the co-director of the Institute for the Analysis of Global Security, based in Potomac, Maryland. "I believe that despite the polls the elections will show stronger support for Trump among Asian Americans. The reason is that Trump epitomises personal success to which ambitious and hard-working people can relate."
This article appeared in the South China Morning Post print edition as: Striking a chord with Chinese Americans