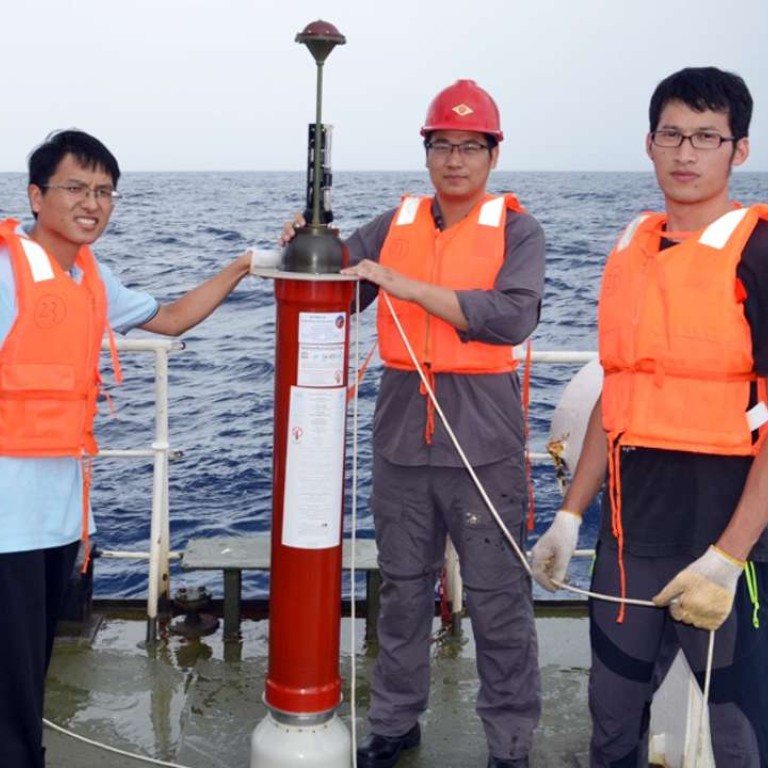 Members of China's Argo project deploy a floating sensor in the South China Sea. Photo: SCMP Pictures
Beijing deploys sensors in South China Sea to boost scientific data in disputed waters
The eight domestically produced floating sensors are part of a global observation project involving over 30 countries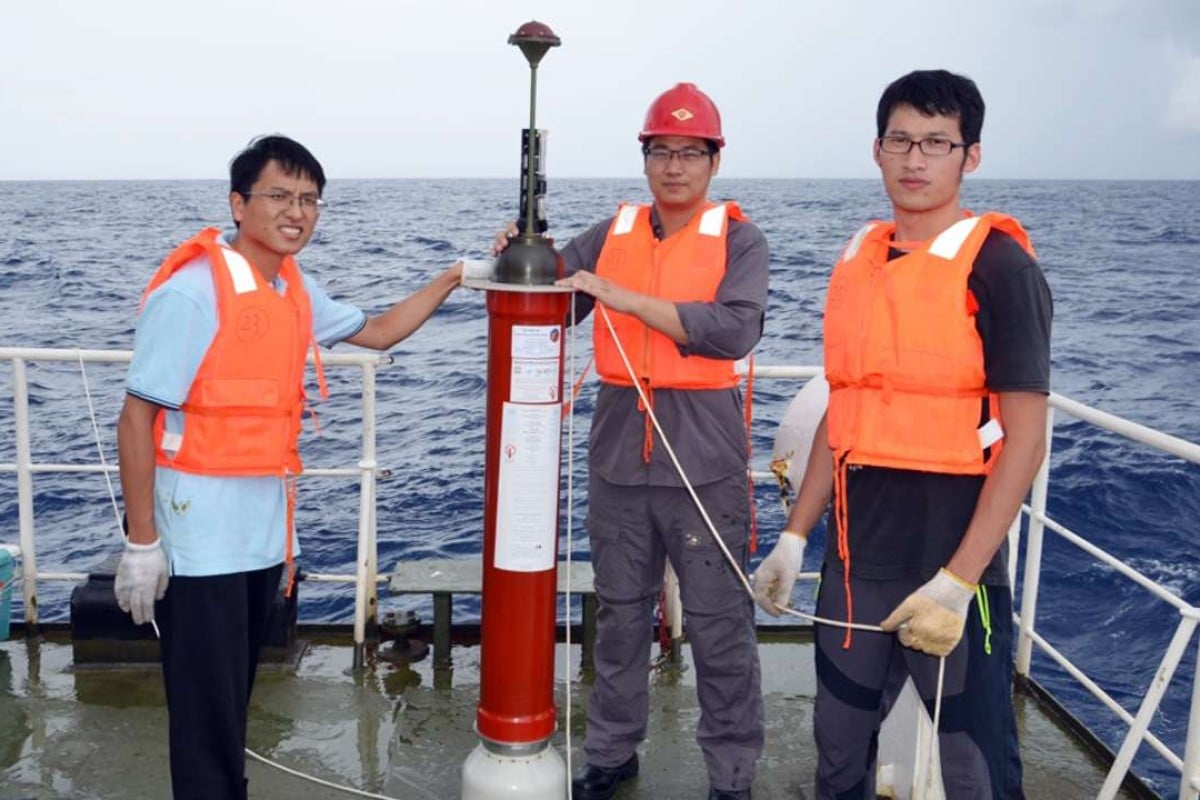 Members of China's Argo project deploy a floating sensor in the South China Sea. Photo: SCMP Pictures
China has deployed its first batch of eight home-produced floating sensors in the South China Sea as part of an international observation network, which analysts say will boost the nation's scientific knowledge about the disputed waters.
By early next year, Beijing plans to be operating a total of 20 South China Sea sensors, which will enable both civilian and military users to monitor the marine environment up to a depth of 2km using China's own satellite system, the project's leading scientist said.
All of China's sensors, including the eight it deployed in September, form part of Argo, a global observation project involving more than 30 different countries, which are managing more than 3,800 real-time sensors dotted across the world's oceans. The information is shared by all countries involved in the project.
The cylindrical sensors, which are about 2 metres tall and weigh up to 30kg, usually drift at about 1km below the surface, but regularly dive to a deeper depth and then rise to the surface – all the while recording ocean data, such as sea temperatures, salinity, oxygen concentrations and currents, for marine and climate research.
The data can also be used to help forecast typhoons and fishing and military activities, according to the official website of China's Argo project.
"Compared with other [Chinese] coastal seas, we do not have as much knowledge about the South China Sea because of it is relatively deeper," said Xu Jianping, chief scientist of China's Argo project. "But now we have the technology to do more studies about it."
Every five days, the Argo sensors would automatically dive to a depth of 2km to collect ocean data, which was relayed to China's Beidou navigation satellites once they had returned to the surface, Xu said.
After the completion of the South China Sea observation network next year, the team planned to deploy about 10 new sensors across the area every year to replace those that had depleted batteries.
Antony Wong Dong, Macau-based military analyst, said these sensors could benefit China's People Liberation Army Navy indirectly as the operation of submarines required a large amount of data about water temperatures, pressure and currents.
"The South China Sea is very big and China still has a lot of blind spots," Wong said. "The sea environment changes fast. It will be really dangerous to deploy submersibles if they don't monitor the waters closely."
China has installed more than 300 floats in the Pacific and Indian Ocean since it joined Argo in 2001, but the latest deployment in the South China Sea was the second time the country had used home-produced facilities.
The first six domestically made sensors were put into the western Pacific just east of the Philippines in 2015.
Data collected from the domestically made sensors was first sent to a Beidou receiving centre in Hangzhou for processing and then shared with an international database, which was accessible to all, Xu said.
At the moment, Chinese government and military did not have privileged access to the data, he said.
About 140 of the 3,800 floats currently in operation globally are owned by China, Argo's latest release shows.
About 10 of the 2,000 floats that have been deployed by the US are also collecting data in the South China Sea.
The sea-monitoring project had been struggling to get Beijing's support and funding until recent years.
In August, Vice-Premier Zhang Gaoli endorsed the team's suggestions to replace all imported sensors with ones supported by Beidou and to make the data centre in Hangzhou Argo's third global data centre, after the two located in France and the US.
Xu said Chinese scientists were also developing technologies to probe sea waters down to depths of 4km to 6km.
"The central government is now paying great attention to our work," Xu said. "I expect more investment to come as the country carries out the Maritime Silk Road initiative."
This initiative refers to President Xi Jinping call in 2013 for a revival of the ancient Silk Road trading route, also dubbed "One Belt, One Road", which will see China connected with 65 countries in Asia, Africa and Europe through land and sea routes.
The Maritime Silk Road will link China's east coast to ports, including Colombo in Sri Lanka, Gwadar in Pakistan, across the Indian Ocean, through the Red Sea to Greece's Piraeus, ending in Venice.
The overland economic belt connects Venice to Duisburg in Germany, across to Moscow, through Central Asia and western China to end in Xian, the ancient capital where the historic Silk Road began.