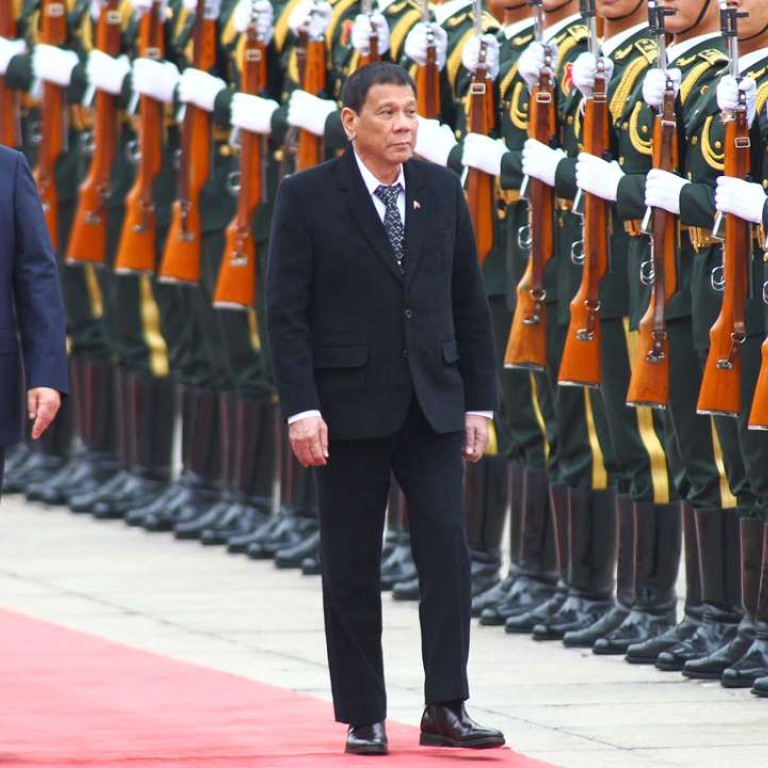 Update

|
'We're neighbours and blood brothers': Xi tells Duterte as firebrand leader announces 'separation' from US
Philippine president given red carpet treatment in Beijing, with both sides agreeing to resume talks on South China Sea
Philippine President Rodrigo ­Duterte declared his "separation" from the United States after meeting President Xi Jinping in Beijing on Thursday, with both sides agreeing to resume talks to resolve their South China Sea dispute.
The two sides also signed US$13.5 billion worth of deals during Duterte's state visit that wraps up today, according to the Philippine trade secretary.
But some mainland analysts cautioned that rhetoric aside, ­Manila appeared to be readjusting its "excessively" one-sided policy favouring Washington and was far from pivoting towards China.
In their meeting, Xi suggested the two sides "temporarily put aside" disputes and learn from the "political wisdom" of history when the two nations had kept their differences in check through talks."As long as we stick to friendly dialogue and consultation, we can frankly exchange views on any problem, manage differences, discuss cooperation, and temporarily put aside what is hard to reach by consensus," Xi said.
Although ties had "weathered storms, the foundation ... of their relations would not be changed," Xi said. The two countries were neighbours across the sea whose people were brothers linked by blood, he said.
Duterte said better ties would benefit both sides. "Even as we arrive in Beijing close to winter, this is the springtime of our relationship," he told Xi at the Great Hall of the People.
He said he hoped the China-led Asian Infrastructure Investment Bank could play a role in the economic development of the Philippines. His country would also work to promote relations ­between China and the Association of Southeast Asian Nations, Duterte said.
The two leaders oversaw the signing of 13 agreements ranging from trade and investment to narcotics controls, maritime security and infrastructure.
Speaking to a group of Chinese and Philippine businessmen at a forum later with Vice-Premier Zhang Gaoli, Duterte ­announced he had realigned with China.
"I've realigned myself in your ideological flow and maybe I will also go to Russia to talk to [President Vladimir] Putin and tell him that there are three of us against the world – China, Philippines and Russia. It's the only way," he said.
"With that, in this venue, your honours ... I announce my separation from the United States," ­Duterte said to applause. "Both in military, not maybe social, but economics also. America has lost.
"I have separated from them. So I will be dependent on you for all time. But do not worry. We will also help as you help us."
Deputy Foreign Minister Liu Zhenmin said China and the Philippines had agreed the South China Sea dispute was not the sum total of ties and the two countries would restart talks on diplomatic and defence matters.
"It means that a new page has now opened between the two countries in addressing the South China Sea issue through bilateral dialogue and consultation," Liu said.
On the eve of his meeting with Xi, Duterte said "it's time to say goodbye" to the US as his foreign policy veered towards China.
But Xu Liping, a senior fellow at the Chinese Academy of Social Sciences, said Duterte's statement did not necessarily mean the Philippines would shift towards China. "It's a pendulum effect," Xu said. "Duterte is just adjusting and revising his predecessor's excessive one-sided policy towards the US. I would not call him 'inclining to China'."
As ties warmed, China could resume certain infrastructure projects in the Philippines, such as a railway in north and start another, Xu said. The Philippines forms an important part of Xi's "One Belt, One Road" development plan.
Increasing the Philippines' distance from the US would reduce Washington's stake in the region and ease pressure on China to counter America's "pivot" strategy, Zhang Mingliang, an expert on Southeast Asian affairs at Jinan University in Guangzhou, said.
Next year the Philippines will assume the rotating chairmanship of Asean, which has been dealing with the South China Sea disputes on a regional level.
"Without an improved relationship, the Philippines would use the Asean platform to embarrass China on the South China Sea issue," Zhang said.
Duterte's efforts to engage China, months after a arbitration court in The Hague ruled Beijing did not have historic rights to the South China Sea in a case brought by the previous administration in Manila, marks a sharp reversal in foreign policy since the 71-year-old former mayor took office on June 30.
Duterte's remarks will prompt fresh concern in the United States, where the Barack Obama administration has seen Manila as a key ally in its "rebalance" of resources to Asia in the face of a rising China.
Additional reporting by Reuters
This article appeared in the South China Morning Post print edition as: Duterte announces 'separation' from U.S.Duterte announces separation from US