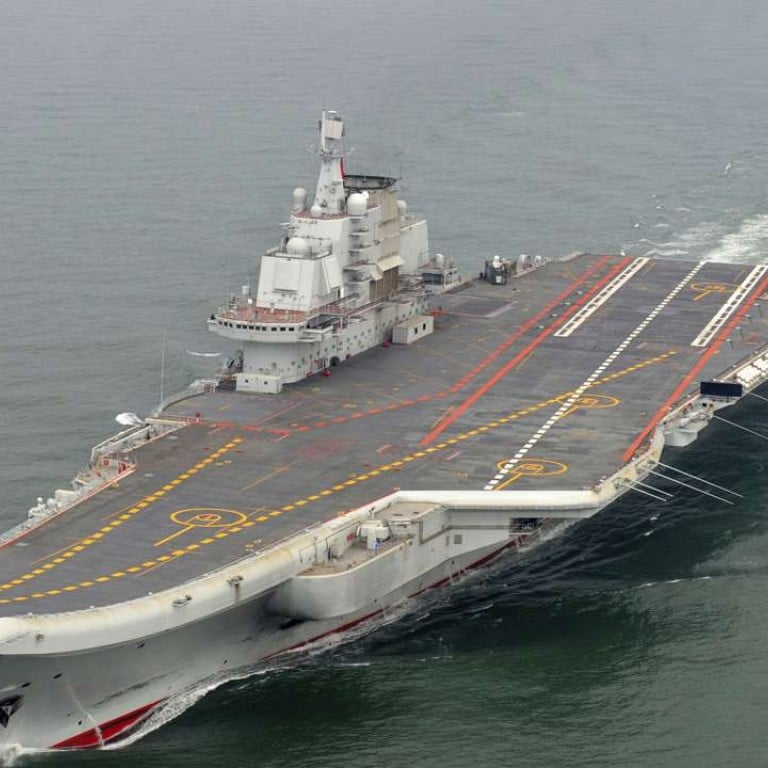 New

|
China's first domestically built aircraft carrier will apply lessons learned modifying Liaoning to provide superior vessel
New Type 001A carrier will include upgraded power system and layout
China's first domestically built aircraft carrier will boast a more advanced power system and other designs that are improvements on the nation's first carrier, Liaoning, which was brought from Ukraine and refurbished, military observers said on Tuesday.
They made their comments after state broadcaster CCTV ran video clips of Liaoning that showed the aircraft carrier is using the original Russian-designed propulsion system.
To mark the 4th anniversary of the successful maiden take-off and landing of the carrier-based J-15 on Liaoning later this month , CCTV interviewed sailors working on the platform. One segment showed Master Sergeant Zhang Hua, a electromechanical department officer in the machine room, igniting one of eight boilers that are part of the 1970s TB-12 engines.
The video that aired on Sunday showed how technical personnel work in the outdated machine room of the vessel.
It is the first time state media has been allowed to film the machine room of the carrier, and showed the four TB-12 engines, Russian-designed steam pipes, barometers and other identifiable equipment, which are all technologies of the former Soviet Union from the 1970s.
Xu Zengping, a middleman for the Chinese navy in buying the Liaoning from Ukraine in 1998, told the South China Morning Post in January last year that the four intact engines "had been perfectly grease-sealed" after being 70 per cent completed in 1992, and the footage appeared to confirm that.
"Shipbuilding authorities decided to keep the original propulsion system because it was intact, and matched the vessel's design capacity of the time," said Li Jie, a Beijing-based naval expert.
China is building its first domestically made aircraft carrier, which is a larger Type 001A vessel.
Displacement of the Liaoning is between 50,000 and 60,000 tonnes, while the 001A type is bigger, with maximum displacement of up to 70,000 tonnes and powered by steam turbines modified from the TB-12, Macau-based military observer Antony Wong Dong said.
"Steam turbines are a mature technology in China, which has been commonly used on its Type-051 destroyers since the 1970s, although there is still a big gap for China to catch up to the United States in use of their catapult take-off technology," Wong said.
Li said the design of the 001A would include technological breakthroughs in its missile and radar systems and hangar deck, as well as software improvements, because Dalian Shipbuilding Industry Offshore Company had accumulated much experience its more than a decade spent rebuilding and developing the Liaoning.
"For example, the capacity of its propulsion system is able to match China's home-made sophisticated radar and missile systems, while the new machine room is smaller, saving space for a bigger hangar," Li said.
"The design of the missile launch and monitoring system will be well-integrated with the hangar deck, and a smaller control tower island on the deck will give more space for aircraft."
This article appeared in the South China Morning Post print edition as: Better engine to drive next aircraft CARRIER