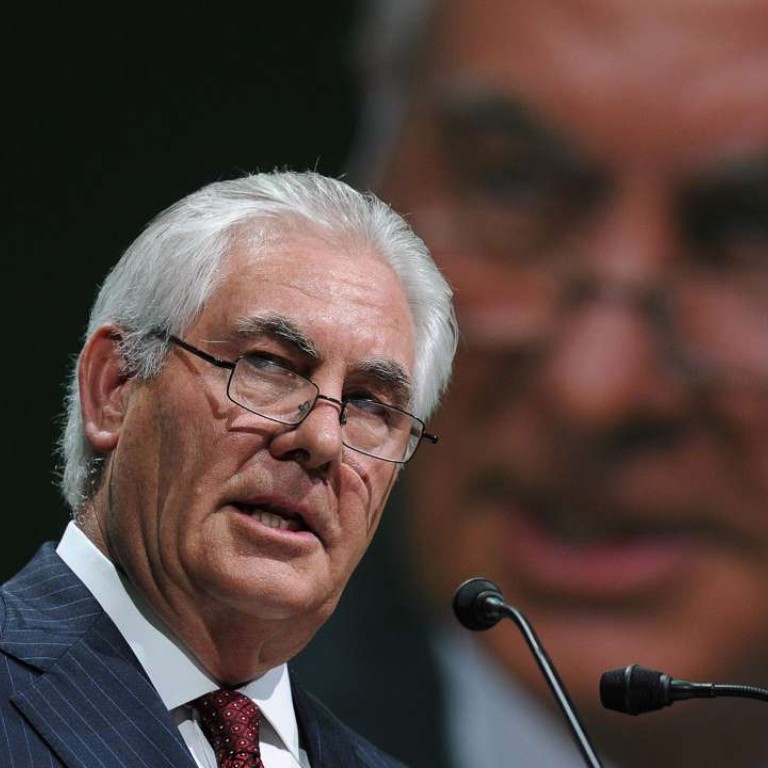 Uncertainty in Asia over Trump's top diplomat pick
US president-elect has backed ExxonMobil chief Rex Tillerson as secretary of state, but the oil businessman has little experience in the region
Beijing on Tuesday called for the United States to further develop Sino-US relations after president-elect Donald Trump tapped ­ExxonMobil chief Rex Tillerson as his secretary of state.
The announcement by Trump to pick Tillerson, an oilman with strong links to Russia, is seen by ­observers as a sign that relations between Washington and Moscow may get closer.
But it's unclear how ties with China and the rest of Asia will shape up because he has not spent much time in the region.
At a daily briefing in Beijing, Ministry of Foreign Affairs spokesman Geng Shuang said China was willing to improve Sino-US relations regardless of who became the US secretary of state.
"We hope that organisations responsible for diplomacy between the two nations can step up communications and deepen ­cooperation and to play a ­constructive role to the healthy development of Sino-US relationship," he said.
Tillerson's experience in diplomacy stems from making deals with foreign countries for the world's largest energy company, although questions have been raised by US politicians about the oil executive's relationship with Russia.
In a statement, Trump said Tillerson will be "a forceful and clear-eyed advocate for America's vital national interests, and help reverse years of misguided foreign policies and actions that have weakened America's security and standing in the world".
Trump picked Tillerson after the Texan was backed by several Republican figures, including ­former secretary of states James Baker and Condoleezza Rice and ex-defence chief Robert Gates, a transition aid said.
The big-name support is seen as key to helping Tillerson get past a ­possibly contentious Senate confirmation battle that is likely to focus on his relationship with Russian President ­Vladimir Putin.
In 2013, Putin awarded Tillerson a Russian state honour for his work "strengthening cooperation in the energy sector".
The announcement came as Sino-US ties appear in limbo following Trump's phone call with Taiwanese President Tsai Ing-wen, and his questioning of the one-China policy.
Pang Zhongying, an international relations professor at Renmin University of China, said the naming of Tillerson as secretary of state has added to existing uncertainty about US diplomacy.
There are concerns that the Trump administration may get closer to Russia, but the impact of such a development to the region is yet to be known.
"Even if [Tillerson] knows Putin well, it does not necessarily mean the US-Russia relationship would improve immediately. There are still many sensitive issues they will have to handle cautiously," he said.
Zhang Baohui, a China ­security specialist at Hong Kong's Lingnan University, said that it was not yet clear how the new US administration would engage with Asia. "But he may not follow the mindset that sees China as a ­competitor of the US," he said.