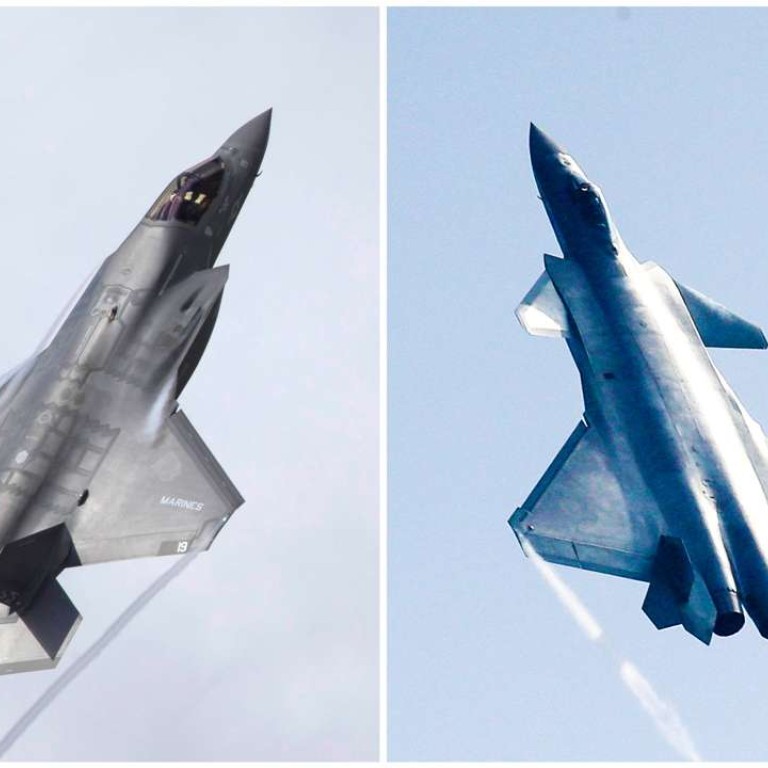 America's F-35 fighter jet vs China's J-20: which is better, cheaper, stealthier?
Although few details are known about China's most advanced fighter under development, it is assumed it will cost much less than its US equivalent
US president-elect Donald Trump said on Monday that the cost of building the US military's next-generation fighter jet, the F-35 Joint Strike Fighter, had spiralled "out of control".
"The F-35 programme and cost is out of control. Billions of dollars can and will be saved on military (and other) purchases after January 20th," Trump wrote on his Twitter account, referring to the day he will be sworn in as president.
Trump's criticism amid a sluggish US economy revealed the expensive deal between the US government and the jet's designer and manufacturer Lockheed Martin, which has pushed the cost beyond US$400 billion, making the plane the most expensive weapons system in military history.
Compared with the US's F-35, China's newest J-20 warplane is much cheaper.
Below is a brief comparison of the two fighter jets.
When were the United States' F-35 and China's J-20 first unveiled?
The F-35 made its debut flight on December 15, 2006. A decade later on August 2, 2016, the US Air Force declared its first squadron of F-35A fighters combat ready. The fifth-generation combat aircraft is designed to perform ground attack and air defence missions.
The J-20 stealth fighter was first unveiled in 2011. It made its first public flight at an air show in the southern city of Zhuhai in November this year. It is believed to be China's most advanced fighter under development by the nation's military.
Watch: J-20's debut in Zhuhai
How do they look and what are their specifications?
The F-35 is a single-seat, single-engine, all-weather stealth multi-role fighter.
It was designed to be America's "premier surface-to-air missile killer and is uniquely equipped for this mission with cutting-edge processing power, synthetic aperture radar integration techniques and advanced target recognition," according to Mark Shackelford, acquisition deputy to the assistant secretary of the US Air Force.
The F-35 is intended to have close- and long-range air-to-air capability and has the advantage over the F-22 – a tactical fighter jet – in basing flexibility and advanced sensors and information fusion, according to Lockheed Martin.
The J-20, China's latest-generation fighter jet, is a single-seat aircraft with two engines, forward canards and a stealthy profile.
It has a long, broad fuselage for internal weapons and fuel storage, and appears to have three internal weapons bays – two smaller bays for short-range missiles and one larger bay for long range air-to-air missiles and air-to-ground ordnance.
Compared to the US's fifth-generation fighter jets, the J-20 has longer range, more internal fuel capacity and larger internal weapons capability, said Justin Bronk, a research fellow specialising in combat air power at the Royal United Services Institute, in November.
Many specifics of the new weapon remain unknown as the Chinese military is reluctant to provide details of the J-20, possibly because some of its key components might not be finished or entirely originate from China.
How do the jets fare in terms of stealth technology and other features?
Unlike the US' previous generations of fighter jets, the F-35 was designed for stealth. It is shaped and made using radar-absorbent material that is both more durable and requires less maintenance than its predecessors.
But, like other stealth fighters, the F-35 is still susceptible to detection by low-frequency radar, such as those used by civilian air traffic control, according to Defence Aviation, an aerospace and defence
analysis website. Low-frequency radars, however, do not provide detailed enough coordinates to guide a missile onto target.
The J-20's nose and canopy use a stealth shaping design similar to that of the F-22. The J-20 hence rates well in terms of stealth performance on its front, but its sides and axisymmetric engine nozzles risk exposing it to radar, according to a preliminary report by Air Power Australia, an independent defence think tank.
An observer at the Airshow China 2016 in November also said after the J-20's flypast that it was very loud, Reuters reported.
How much does each jet cost?
There are three types of F-35 aircraft, the cheapest being the F-35A, whose recently contracted unit cost is US$98 million per unit without an engine, and will be lowered to US$85 million when in full production, according to the official website of the F-35 Lightning II.
In 2014, the Pentagon's chief weapons buyer Frank Kendall was quoted by CBS News' 60 Minutes as saying that the F-35 programme had gone "US$163 billion over budget [and was] seven years behind schedule".
More recently, Pentagon officials said they needed an additional US$500 million to finish developing the jets. Deliveries of the F-35 for the US military are scheduled for completion in 2037, with a projected service life of up to 2070.
Pentagon has been wrangling with Lockheed over the price of the latest batch of planes, according to a New York Times report on Monday.
"The price of Chinese self-developed military weapon is normally one-fifth to one-third of the price of a similar US weapon. And the purchase price of a military weapon is 5 per cent bigger than the real cost," said military observer Zhou Chenming.
Zhou – who used to work for a subsidiary of the China Aerospace Science and Technology Corporation, the main state-owned contractor for Beijing's space programme – is now a researcher at the Knowfar Institute for Strategic and Defence Studies, a non-governmental think tank in Jiangyin, Jiangsu province.
"The J-20 corresponds to the F-22," he said.
The unit cost of F-22 is $ 150 million, according to U.S. Air Force's 2011 budget estimate.
Using Zhou's formula, this indicates the price of a J-20 would fall between US$30 million and US$50 million per unit.
What are the strategic implications of the development of the jets?
The F-35 programme can be seen as a diplomatic tool to enhance US security networks. Israel, for example, has ordered 33 of the stealth fighters at a cost of more than US$5.5 billion, and the Israeli cabinet decided recently to increase the number of planes to 50.
The jet was also regarded as a robust engine of economic growth for the US and its international partners, according to Lockheed Martin's executive vice-president Orlando Carvalho in June 2014.
The J-20 is not intended for export. As it will not be for sale in the global market, it is not expected to help boost security ties between China and other countries.
But the weapon is an important milestone in China's ongoing efforts to develop more advanced military technology. The fact it will not be exported indicates that the aircraft is Beijing's most advanced fighter under development by its military, analysts have said.
The J-20 is the first combat aircraft developed by China that qualifies as "state of the art" by Western measures. It also shows that China has mastered "stealth shaping" technology – an essential prerequisite for developing stealth aircraft.
The J-20 has the potential to alter the regional balance in Asia by rendering nearly all regional air defence systems ineffective.
This article appeared in the South China Morning Post print edition as: How the top u.s. and Chinese jets stack up