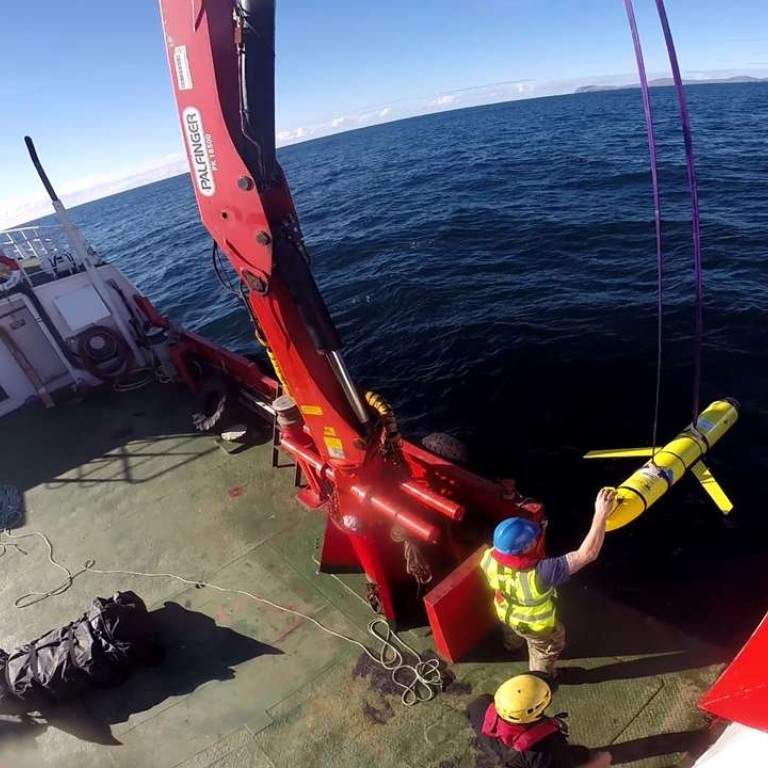 China looks to build up underwater defences following seizure of US drone
Former PLA colonel accuses Washington of 'constructing a battlefield and preparing for war under the sea'
China's seizure of an American underwater drone in the South China Sea this month was a reflection of Beijing's concerns about the growing use of such vehicles in the contested waters and would spur efforts to build up its own military capabilities beneath the waves, military experts say.
Beijing played down the seizure of the unmanned underwater vehicle, which the United States said was operating lawfully in international waters about 50 nautical miles northwest of Subic Bay in the Philippines when it was taken by a Chinese navy ship on December 15, and returned the drone five days later to a US navy ship close to where it had been seized.
But the foreign ministry said its deployment had been part of a long-running US military effort "to carry out close-up surveillance and military surveys in waters facing China, which threatens China's sovereignty and security".
Military commentator Yue Gang, a retired People's Liberation Army colonel, said the US drone had been "conducting espionage activities" in the South China Sea, collecting underwater information that could "be provided to its submarines, allowing them to freely roam under the water".
"The drone is not very big, like a small robot, but if it found out enough about the underwater signal features of submarines, a database could be created which could be offered to US navy submarines and the anti-submarine warships," Yue said. "With such information, it could quickly identify if a submarine was a normal one or a nuclear-powered one, and this could pose a grave threat to China's military security.
"It is constructing a battlefield and preparing for war under the sea. China must respond strongly."
Collin Koh Swee Lean, a research fellow with the Maritime Security Programme at the S. Rajaratnam School of International Studies at Singapore's Nanyang Technological University, said the "unprecedented" incident was China's "way of reminding the Americans they shouldn't even dream about using unmanned systems to continue these military surveillance activities, which it deems detrimental to its national security interest".
Rather than being an intentional move, premeditated by Beijing, Koh said the drone's seizure could have been seized "an inadvertent incident caused by local commanders' initiative".
He said Beijing was "on the upswing" in the South China Sea after rival claimant and long-time US ally Manila switched to a policy of rapprochement with Beijing under new Philippine president Rodrigo Duterte.
"This would consequently motivate China to ramp up its military buildup, including hastening its drone technologies – much in the same vein that in response to the Americans building their missile-defence capability, the Chinese also followed suit with their own, with the intent to gain strategic leverage for bargaining purposes in the future," Koh said.
Beijing began building artificial islands on reefs in the South China Sea's disputed Spratly Islands group through reclamation in late 2013 after the administration of the Philippines' then president, Benigno Aquino, filed a case contesting China's claims with the Permanent Court of Arbitration in The Hague following a standoff between Philippine and Chinese vessels at Scarborough Shoal, northeast of the Spratlys and 107 nautical miles west of Subic Bay.
It has now constructed seven artificial islands in the Spratlys and has built military-length runways on at least three of them. Beijing has repeatedly claimed the reclamation work was mainly for civil purposes and this month defended the construction of some military facilities on the islands.
"The necessary military facilities are mainly for self-defence. It is legitimate," the defence ministry said in a statement posted ­online. "When someone is flexing muscles at your doorstep, wouldn't you prepare a ­slingshot?"
Li Jie, a Beijing-based military analyst, said that as US was unlikely to abandon its surveillance operations in the South China Sea, China would "significantly increase its efforts" to develop and use drone technologies, for both civil and military purposes.
"The underwater environment is changing all the time, so we also need to collect such information for our own uses, not just to defend ourselves from invasions by enemies or detection by rivals, but also for economic development" Li said. "This is an important part of the whole system."
The US Navy appointed its first deputy assistant secretary for unmanned systems last year.
In February, US Defence Secretary Ash Carter said the US would spend US$8.1 billion on undersea warfare in the 2017 fiscal year, which ends next September, and more than US$40 billion over the next five years. A Washington Post report last month, said that would include spending of as much as US$3 billion on autonomous undersea systems.
In April, during a visit to the US aircraft carrier USS John C. Stennis in the South China Sea, Carter announced that the US was on the verge of deploying "new undersea drones in multiple sizes and diverse payloads that can, importantly, operate in shallow water where manned submersibles cannot".
The visit to the carrier was widely seen as a clear message to China amid escalating tensions in the South China Sea.
This month, Japan, which has been engaged in a territorial dispute with China in the East China Sea, announced a 5.1 trillion yen (HK$338.8 billion) defence budget for the fiscal year beginning in April, including 900 million yen for "research on autonomous surveillance technology and a sensor system for unmanned underwater surveillance vehicles".
Koh said it was hard to say whether the seizure of the US drone would have any significance in the underwater drone race between the US and China, given that both nations had already embarked on their own drone programmes, in tune with a general, worldwide trend of developing unmanned military systems.
Li agreed, but said the row between the US and China would spur further advances in underwater drone technologies.
"For example, we could develop a technology for our drones to capture their drones or cut off their underwater communications," he said.
This article appeared in the South China Morning Post print edition as: Seizure of drone sent message to US, analysts say