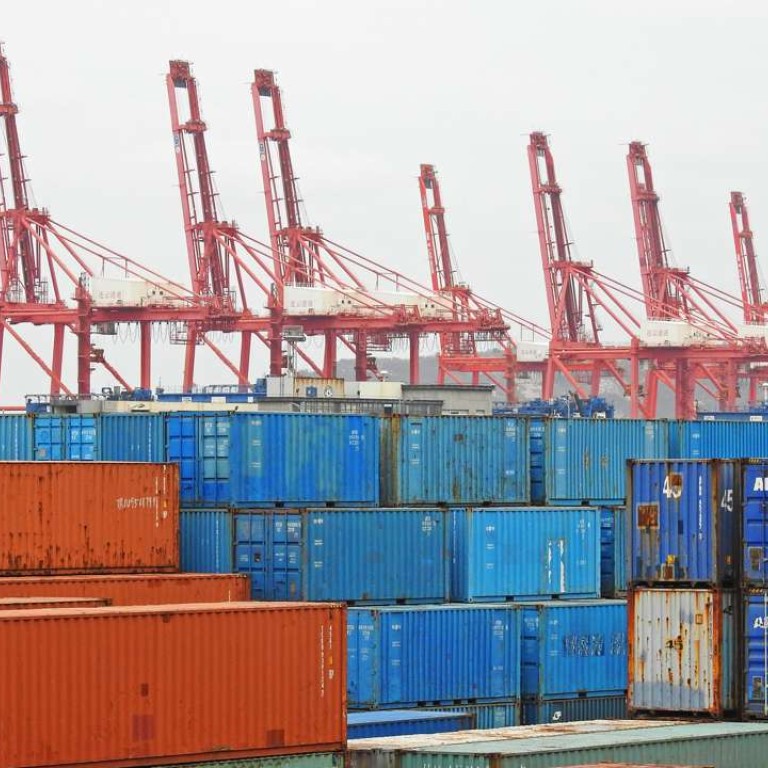 Trump cards: how will next US president play his hand against China?
South China Sea, cybersecurity and trade likely to be among key pressure points
US president-elect Donald Trump has said he could use the one-China policy as a bargaining chip in talks with China about trade, among other things. But there are other areas he could prod when seeking concessions from Beijing. Here are the main ones:
The South China Sea
The most recent Sino-US confrontation in the South China Sea saw a Chinese navy warship seize an underwater drone deployed by the American oceanographic survey vessel USNS Bowditch in international waters northwest of Subic Bay in the Philippines on December 15. Trump accused China of "stealing" the drone, but Beijing insisted it was acting legitimately. The saga ended five days later, when Beijing returned the drone. But the temporary calm in the South China Sea may be shaken up when Trump takes office this month.
Professor Shi Yinhong, an international relations specialist at Renmin University in Beijing, said the two countries had conflicting motives in the region. While Washington's core interest was to maintain its worldwide maritime hegemony, China needed a strategic space in the South China Sea, Shi said, adding "the competition has just begun".
"But it will not become the location of a decisive, strategic battle, at least in the next two of three years," he said, and there was some flexibility to work with.
Trump will have plenty of tools to put pressure on China to be "flexible". Senator Marco Rubio, one of Trump's defeated rivals for the Republican Party's presidential nomination, has called for sanctions to be imposed on individuals and entities that aid China's construction of artificial islands and other facilities in the South China and East China seas.
An increase in US "freedom of navigation" operations is a near certainty. In four previous operations, US warships sailed within 12 nautical miles of Chinese artificial islands in the Spratlys and challenged the territorial sea baselines China claims around the Paracels.
Rulings in the Permanent Court of Arbitration in The Hague in July that dismissed most of China's claims in the disputed waters could be viewed as giving the US military the moral high ground.
One possibility, observers said, was that instead of previous "innocent passage" operations, US warships might carry out military actions – which are allowed in international waters – within 12 nautical miles of Chinese-controlled reefs in the Spratlys that the tribunal said were not entitled to territorial waters.
But Wu Shicun, head of China's National Institute for South China Sea Studies, said Beijing should declare "red lines" that could not be crossed, with one of them being "no excessive freedom of navigation operations in the Spratlys".
Another red line for China, he said, would be joint patrols in the South China Sea involving countries outside the region, especially Japan.
Minorities, regional separatism and human rights
Compared with defeated Democratic Party presidential nominee Hillary Clinton, who once publicly criticised President Xi Jinping for China's detention of young Chinese feminists, Trump did not say much about human rights in China during his campaign.
But China remains vulnerable to international embarrassment on many human rights issues, from a crackdown on rights lawyers and detentions of rights activists, to recalling the passports of residents of western region of Xinjiang, which is home of about 10 million Muslim Uygurs.
A
report
by the Pew Research Centre in 2015 found that China's human rights record remained one of the top concerns in Sino-US ties among Americans, with Republicans expressing more concern than Democrats or independents. That could be turned into pressure from congressional Republicans and force Trump to take human rights into consideration when bargaining with China.
Beijing views foreign expressions of concern about its human rights record and treatment of people who are members of ethnic minorities, some of whom campaign for autonomy or independence, as interference in its internal affairs and threats to its sovereignty, prompting retaliation through trade measures and other economic means.
One prominent example has been its reaction to US presidents meeting the Dalai Lama, the exiled Tibetan spiritual leader, who is widely respected in the West but is accused by Beijing of fomenting Tibetan independence. US President Barack Obama received the Dalai Lama four times in the White House in the past eight years, with each meeting leading to Chinese protests and recriminations, as were meetings between the Dalai Lama and Obama's two predecessors in the White House, George W. Bush and Bill Clinton.
Clinton and Bush's meetings with the Dalai Lama resulted in bulk Chinese purchases of European-manufactured Airbuses, but talks on a 150-plane deal with Airbus were put on hold in 2008 after French president Nicholas Sarkozy met the Dalai Lama, with premier Wen Jiabao also cancelling an EU-China summit meeting. Two years later, after Obama met the Dalai Lama, Airbus was back in favour.
The restive Xinjiang region is also sensitive spot for Beijing, as is Hong Kong, where calls for greater democracy and localist sentiment have made international headlines in recent years.
"Ambiguous comments about Hong Kong`s political evolution ... could be used as tools to pressure Beijing," said Stephen Nagy, an associate professor at International Christian University in Tokyo.
THAAD and military ties in the region
China has repeatedly warned against the deployment of the US Terminal High Altitude Area Defence (THAAD) missile-defence system in South Korea, arguing it poses a threat to China's national security because its radar could monitor important Chinese military operations.
With Japan also reportedly considering THAAD to counter the ballistic missile threat from North Korea, Beijing is alert to the possibility of closer US-Japan-South Korea military ties in Northeastern Asia.
Missile defence was a part America's leverage when dealing with China, said Nicholas Burns, professor of the practice of diplomacy and international relations at Harvard Kennedy School of Government.
"For Donald Trump it is a very effective opening gambit – we are going to double the force there if we have to," Burns said.
Tariffs and naming China a currency manipulator
During his campaign, Trump promised to declare China a currency manipulator and slap a 45 per cent tariff on Chinese imports. He accuses Beijing of intentionally holding down the value of its currency, giving Chinese-made products an unfair advantage, even though economists say Beijing has been acting to prevent more rapid depreciation of its currency.
Trump has chosen a stringent critic of China, Peter Navarro – best known for his books Death by China and Crouching Tiger: What China's Militarism Means for the World – to be director of the White House's newly created National Trade Council, and says he plans to order the US Trade Representative to bring trade cases against China in the US and at the World Trade Organisation, arguing that "China's unfair subsidy behaviour is prohibited by the terms of its entrance to the WTO".
An American president has wide authority on trade, even without congressional approval, including the power to deal with "large and serious US balance-of-payments deficits" by imposing temporary import surcharges not to exceed 15 per cent for to up to 150 days.
China replaced Canada as the US's top trading partner in 2015 and America's trade deficit in goods with China reached a record US$366 billion.
Targeting a previous American trade bogey, US president Ronald Reagan imposed a 45 per cent tariff on imported Japanese motorcycles in 1983 and a 100 per cent tariff on Japanese computers, television sets and power tools in 1987. More recently, in 2009, the Obama administration slapped tariffs of 25 per cent to 35 per cent on imported Chinese car and light-truck tyres for three years following complaints from American tyre makers.
How Trump might play the tariff card remains unclear, but the Washington-based Peterson Institute for International Economics warned in a recent report that each of three possible trade war scenarios would result in a slowdown in US consumption and economic growth and a rise in unemployment.
Cybersecurity
China and the US view the internet very differently, with Washington favouring the free flow of information and Beijing wanting full control. Both countries have also been pointing fingers at each over for years over allegations of cybercrime, accusing the other side of stealing trade secrets and hacking.
China adopted its first cybersecurity law in November, controversial legislation which granted Beijing unprecedented access to foreign companies' technologies operating in China and sparked fears among foreign businesses over controls on cross-border data flows.
In 2014, five Chinese military officers were indicted in Pennsylvania for computer hacking, economic espionage and other offences directed at six American victims in the US nuclear power, metals and solar products industries, and the US also claimed Beijing was behind the theft of personal information on about 22 million former and current federal government employees.
Xi and Obama agreed in Washington in 2015 that neither government would conduct or knowingly support hacking for commercial advantage. Bill Evanina, the chief of the US government's National Counter-intelligence and Security Centre, estimated that year that Chinese hackers stole about US$360 billion from American companies every year.
During his campaign, Trump pledged to "make cybersecurity a major priority".
Intellectual property
Trump has pledged to bring jobs back to the US and, citing figures from the US International Trade Commission, has said 2 million could be created if China improved protection of American intellectual property.
Trump has even found himself the victim of the rampant theft of intellectual property in China, alongside companies ranging from New Balance and Starbucks to Microsoft. His name was registered by dozens of Chinese companies and for 10 years he was prevented from using his name in the construction industry in China, until late last year when he won a trademark ruling in his favour from the State Administration for Industry and Commerce.
US Steel said in April it had discovered Chinese-backed hackers had stolen decades of research on advanced technologies and turned those discoveries over to Chinese competitors. And a Beijing court ruled in May that Apple could not use the iPhone trademark on leather goods in China.
That all gives Trump ammunition to use at a time when Chinese leaders are advocating innovation as a fresh way to boost sluggish economic growth and US companies lead the world in many hi-tech sectors.
This article appeared in the South China Morning Post print edition as: Trump's China cards