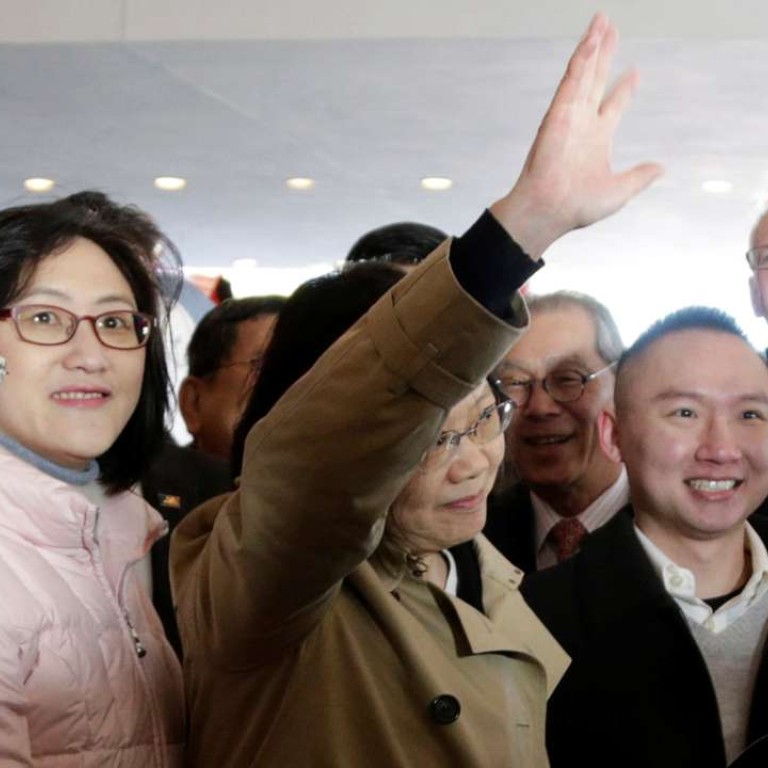 Taiwan's 'wise' Tsai makes low-key US stop, 'reduces risk of riling Beijing'
Taiwanese president heads to Central America without holding any meetings with Trump and his team during stopover in Houston
Taiwanese President Tsai Ing-wen did not meet US president-elect Donald Trump or members of his team during her stopover in the United States on the weekend, avoiding a move that would have riled a jittery Beijing.
A spokeswoman for Trump's transition team, Jessica Ditto, said in an email on Saturday there would be no meetings between Tsai and officials representing the president-elect in the US, the ­Associated Press reported.
Tsai arrived in Houston on ­Saturday on her way to Honduras, Nicaragua, Guatemala and El ­Salvador. She will stop off in San Francisco after her visit to Central American allies before flying back to Taiwan.
Analysts said any meeting ­between Tsai and Trump officials would have seriously angered Beijing, which is concerned Trump may abandon decades of US policy towards Taiwan when he takes office.Trump has questioned why the US should continue to abide by the one-China principle under which it does not recognise Taiwan as a sovereign state.
Beijing was also angered by a telephone call between Tsai and Trump in December when she congratulated the president-elect on his win in the polls.
Taiwan and the mainland have been governed separately since Kuomintang forces fled to the island in 1949 after losing the civil war to communist forces. Beijing considers Taiwan a breakaway Chinese province.
Tsai kept a low profile after her arrival in Houston, with analysts suggesting this was the best strategy with the risk of the stopover increasing the ire of Beijing.
Taiwanese media reported she avoided interviews in Houston and barred all people attending a dinner hosted by ethnic Taiwanese in the southern US city from bringing cameras or smartphones to try to reduce publicity.
The only remarks she made to journalists waiting in freezing weather outside her hotel were, "It is too cold! Get in. Don't stand outside," Taipei-based Central News Agency reported.
But she did meet several US dignitaries, according to Taiwanese media.
Texas Senator Ted Cruz and Govorner Greg Abbott said they with Tsai on Sunday.
The Republican senator said in a news release that during his meeting with Tsai, they "discussed our mutual opportunity to upgrade the stature of our bilateral relations" in a talk that addressed arms sales, diplomatic exchanges and economic relations.
"Furthering economic cooperation between our two nations must be a priority; increased access to Taiwanese markets will benefit Texas farmers, ranchers and small business owners alike," he said.
Texas Republican Congressman Blake Farenthold and the chairman of the American Institute in Taiwan, James Moriarty, met her at the airport, along with Taiwan's envoy to Washington, Stanley Kao.
They accompanied her to a cancer centre and a museum displaying treasures loaned by Taiwan's National Palace Museum.
Taiwanese media also reported that Tsai met Houston's mayor, Sylvester Turner, and Randall Schriver, a former deputy assistant secretary of state for East Asian and Pacific affairs at the State Department. They remained tight-lipped over what they had said.
Chen Ming-wen, a legislator with the governing Democratic Progressive Party in Taiwan who is accompanying Tsai on her trip, said Tsai was also expected to receive phone calls from other US political dignitaries and senators.
Taiwan's Presidential Office has declined to reveal the full itineraries for Tsai's US stopovers in what observers see as a bid to play down the matter.
William Stanton, a former ­director of the American Institute in Taiwan, the US representative office on the island, said Tsai was wise to maintain a low profile during her US stay. "No one wants bigger trouble now," he said, referring to the phone conversation between Tsai and Trump that ­angered the mainland.
Shi Yinhong, an adviser to Beijing's State Council and director of the Centre for American Studies at Renmin University in Beijing, said Tsai was handling ­sensitivities over ties with the US intelligently.
"Tsai Ing-wen has remained low key since that phone call with Trump. She has even ordered a ban on all members of the DPP from talking about Trump and cross-straits relations. She is smarter than you think," he said. "She has tried her best to avoid giving [the mainland] any excuses to ­severely punish Taiwan."
Additional reporting by Catherine Wong and Associated Press