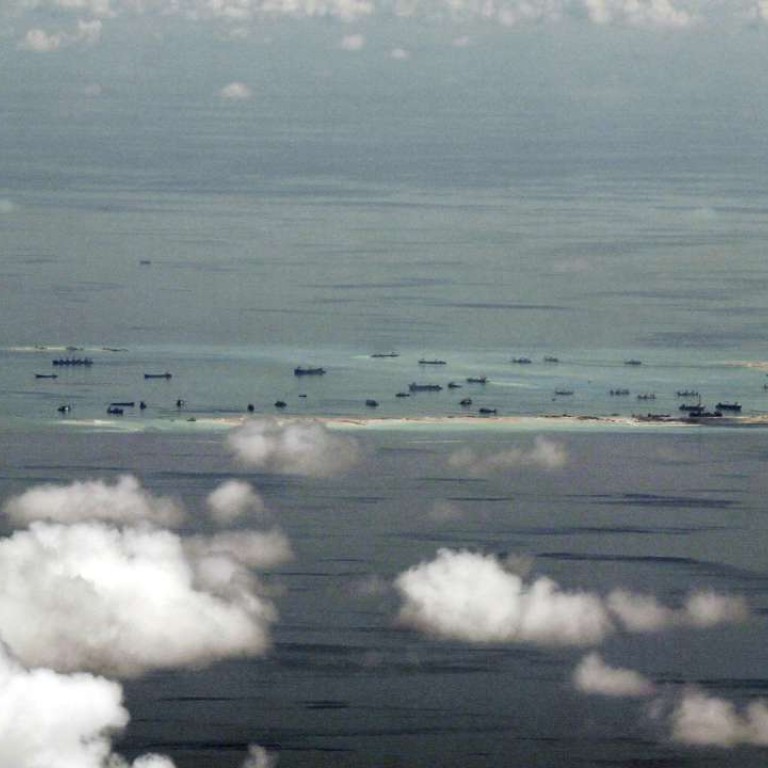 Beijing 'may retaliate' if US tries to block China's access to South China Sea islands
Secretary of state nominee Rex Tillerson made incendiary comments about China at his confirmation hearing, reflecting incoming Trump administration's 'lack of diplomatic experience' experts say
The US cannot follow through on secretary of state nominee Rex Tillerson's suggestion to block Chinese access to its artificial ­islands in the South China Sea, Chinese analysts said on Thursday.
Any attempt to do so would only prompt China to step up its military build-up and even establish an air defence identification zone in the disputed waters, they added.
In his confirmation hearing before the US Senate Foreign Relations Committee on Wednesday, Tillerson said China's "illegal" building of islands and installation of military assets was "akin to Russia's taking Crimea" from Ukraine. "We're going to have to send China a clear signal that, first, the island-building stops and, second, your access to those islands also is not going to be allowed," he said.
But Yuan Zheng, a researcher at the Chinese Academy of Social Sciences' Institute of American Studies, said he did not think the US would dare to go through with Tillerson's suggestion.
"I don't think the US will stop China from accessing its own islands in the South China Sea," he said. "China is not Cuba, and the South China Sea is not the ­Caribbean. The South China Sea is not under the US sphere of ­influence. It's China's territorial waters."
China might set up an air ­defence identification zone if the US tried to block China's access to the islands, Yuan said.
Wu Xinbo, from Shanghai's Fudan University, said rising American military pressure "could be used to justify China's military deployment". Wu said the US had few options other than to continue or intensify its "freedom of navigation operations" with their warships in the waters.
Yuan and Wu said Tillerson probably took a hardline stand against Beijing at the hearing to make up for his lack of diplomatic experience.
"Such tough talk can only negatively affect Sino-US relations," Yuan said. "But he's saying what Congress loves to hear."
China would also retaliate if, as Tillerson also indicated, the US unilaterally upgraded punishment of Chinese companies violating UN sanctions against North Korea, the observers said.
Tillerson accused China of not being "reliable" and not using its full influence to put pressure on North Korea over its nuclear and missile programmes. He supported "secondary sanctions" on Chinese entities found to be violating the sanctions.
"If China will not comply with the UN sanctions, then it's appropriate ... for the United States to consider actions to compel them to comply," Tillerson said.
Zhang Tuosheng, director of the Centre for Foreign Policy Studies at the China Foundation for International and Strategic Studies, said Tillerson's comments reflected Washington's waning patience towards the North Korean problem, but the approach might not work.
"If the Trump administration is going to implement such policies, the situation on the Korean peninsula is bound to worsen," Zhang said.
Wu said the Obama administration had already imposed secondary sanctions on a Chinese company in the border city of Dandong in Liaoning province over its business dealings with North Korea.
But China would not accept further conditions that exceeded the ­requirements of the existing UN resolutions.
"If the US unilaterally raises the terms of the UN sanctions and penalises Chinese companies, China will oppose such moves and even retaliate," Wu said.
Tillerson said Washington needed to reaffirm its commitment to Taiwan and also accused Beijing of failing to live up to ­global agreements on trade and intellectual property.
But Tillerson also stressed the "deeply intertwined" nature of the world's two biggest economies. "We should not let disagreements over other issues exclude areas for productive partnership," he said.
Yuan said Tillerson's words partially reflected his "weak­nesses in diplomacy and lack of public service".
Wu said the Trump administration would only learn diplomacy through experience, and that many uncertainties remained. "Their diplomacy is still far from mature," he said.
Oh Ei Sun, an international ­affairs specialist at Singapore's Nanyang Technological University, said he did not expect the Trump administration to punish Chinese companies over North Korea's nuclear programme.
He also said the US could not deny China access to the South China Sea.
Li Mingjiang, associate professor at the S. Rajaratnam School of International Studies in Singapore, said China would retaliate if the next US administration acted on Tillerson's suggestions, but added that both sides would be extremely cautious.
"Stopping China's access to the South China Sea could lead to a war between the two nations. I don't think the tension is up to that point now," Li said.
"China will also take action against the US if Washington penalises Chinese companies over North Korea."
This article appeared in the South China Morning Post print edition as: US 'can't follow through' on Tillerson's tough talk