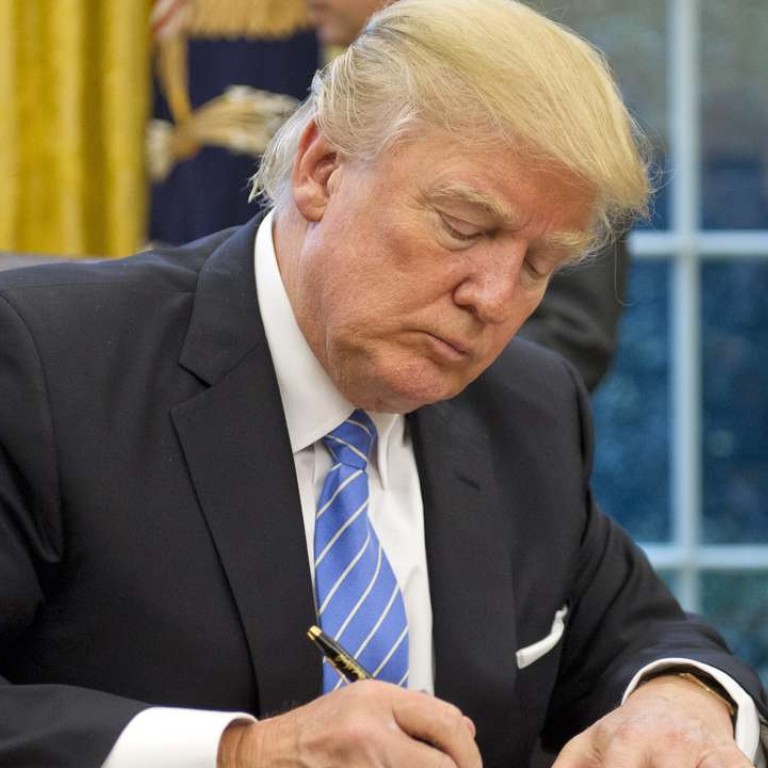 China to push forward own trade vision after Trump withdraws from Pacific deal
Mainland analysts say Beijing should stake out ground before US comes up with alternative
Beijing said on Tuesday it remained committed to free trade and that it would push its own trade packages after the US formally withdrew from the Trans-Pacific Partnership (TPP) trade pact.
US President Donald Trump signed an executive order on Monday ending US involvement in the 12-nation deal.
In Beijing, foreign ministry spokeswoman Hua Chunying said China would continue to back alternatives to the TPP – including the Free Trade Area of the Asia-Pacific and Regional Comprehensive Economic Partnership (RCEP).
Washington's withdrawal from the TPP may provide China with an opportunity to expand its influence in the region, but mainland analysts remain cautious over how much the country could benefit from the void left by Washington. But Beijing should move quickly to bolster the attractiveness of its own trade packages.
Hua said China had achieved significant progress in negotiating the RCEP, and talks were expected to end soon, to create new momentum for the economic development in Asia Pacific".
"We have always advocated that trade rules should be formed based on consensus reached by related parties," Hua said. "With a spirit of openness, inclusiveness and transparency, we will continue to push for the economic integration of the Asia Pacific region."
The decision by Trump to end the US pursuit of the TPP is part of his wider push to put "America first", including through creating manufacturing jobs at home and seeking a more protectionist trade agenda. The shift offers China a chance to replace the US as a leader of globalisation.
"Rather than using the word 'leadership', I think it is more accurate to use the word 'responsibility'," said Hua when responding to a question on whether China would take on the leadership role in world affairs.
"From the G20 summit in Hangzhou, to the APEC summit in Lima and the World Economic Forum in Davos, China has sent out a message that is consistent. China's contribution is also proven," she said.
The US under former president Barack Obama had positioned the TPP as the cornerstone of his "pivot to Asia" policy to bolster American leadership in the region. Beijing, which was not included in the deal, saw it as a way to contain China's growing influence in Asia.
While Trump's move was largely symbolic as the trade deal was never ratified, media and pundits have portrayed China as the big winner as the US is viewed as lessening its role in the world trader order. China is promoting its own trade pacts as alternatives such as the Regional Comprehensive Economic Partnership.
Beijing is also promoting its "One Belt, One Road" initiative. President Xi Jinping will gather dozens of state leaders in Beijing this May to discuss how to expand trade and investment through the programme.
Chinese analysts, however, said Beijing should not celebrate too soon after the US withdrawal from the TPP. Instead, it should act quickly before Trump changes his mind or if the US comes up with an alternative for TPP.
Zhou Shijian, a senior researcher at the Institute for International Relations of Tsinghua University said the next one or two years were a perfect opportunity for China to speed up progress on another regional trade agreement it is backing, the Regional Comprehensive Economic Partnership.
"China should grab the chance, which will not last too long before Trump figures out [his mistake of dropping the TPP]," said Zhou.
Huo Jianguo, vice-chairman of the Ministry of Commerce's China Society for WTO Studies, said: "China should take initiatives to quicken and deepen this opening to match higher standard rules and get ready for international competition.
"China should not jump for joy too much or feel relieved of pressure. There is still concern that the US will have an alternative version of TPP because many in the Trump administration are still interested."
Lin Limin, a strategic analyst at the China Institutes of Contemporary International Relations, said the US move signalled "a collapse of the chain of US-led Asian countries set to contain China", but it would not necessarily mean China's regional influence would expand rapidly.
He said countries which intended to join the TPP, such as Singapore and Vietnam, always "put their feet in two boats".
"Even without the TPP, they will always keep a distance from China and will never put all their eggs in one basket," said Lin.
Shortly after Trump's announcement, US trading partner and TPP member Australia said it would push ahead with its involvement in the pact.
It added it was also open to China joining the agreement.
Fellow TPP member Chile also announced that it planned to seek trade deals with China.
Japan, one of the staunchest supporters of the US-led TPP, said it would continue to stress the strategic and economic importance of the trade deal to the US. Its trade minister Hiroshige Seko said on Tuesday that it would be important for the TPP to have the United States as a member.
Chinese analysts said Beijing should learn from the TPP, with its rigorous trading rules, to improve its own pacts and trading regulations.
China's One Belt, One Road trade initiative has been regarded as a competing force against the TPP.
But Lin at the China Institutes of Contemporary International Relations said Beijing's trade strategy has its own limitations and may not be able to capitalise on the problems facing the TPP.
"A lot of countries that China is investing in, such as Pakistan, face great security risks and they are not a good choice for China to invest so much money in."
The proposed regional trade pact includes the 10 member states of Asean, plus six nations with existing free trade agreements with the regional bloc – Australia, China, India, Japan, South Korea and New Zealand.
Zhou said it was hopeful a deal could be reached by the end of the this year.
"If there are 14, or 12 countries agree, the RCEP could proceed. The progress should not be delayed by one or two individual countries," he said.
Wang Yiwei, the director of the Institute of International Affairs at Renmin University, said that despite the US pulling out of the TPP, Trump's protectionist agenda and the US raising interest rates may have a more significant adverse impact on China's trade.
This article appeared in the South China Morning Post print edition as: Beijing to push its own deals in Asia