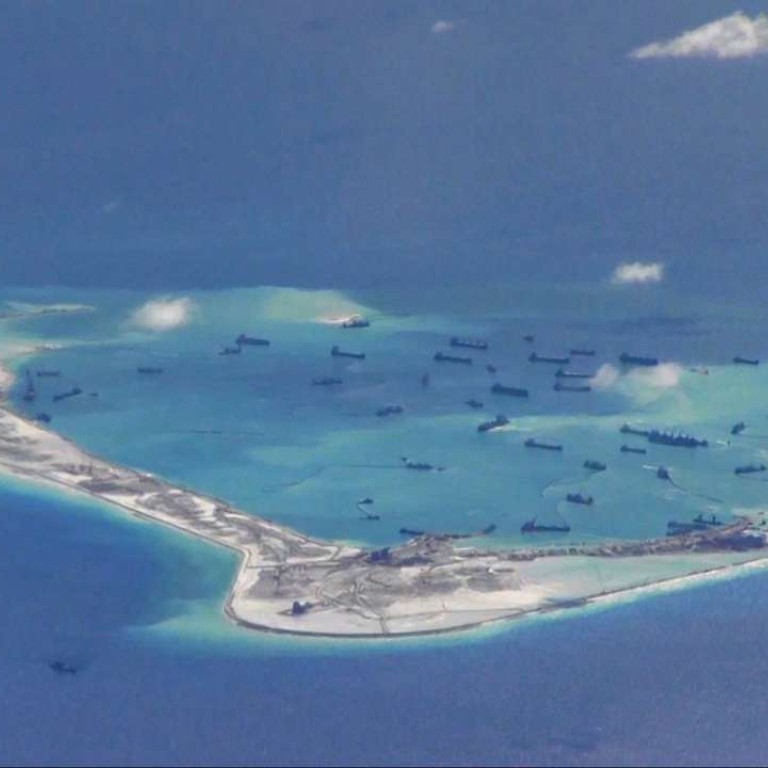 China finishing buildings that may house missiles in South China Sea, say US officials
Nearly two dozen of the structures that resemble housings for long-range, surface-to-air missiles have been built on disputed islands, officials say
China, in an early test of US President Donald Trump, is nearly finished building almost two dozen structures on artificial islands in the South China Sea that appear designed to house long-range surface-to-air missiles, two US officials said.
The development is likely to raise questions about whether and how the United States will respond, given its vows to take a tough line on China in the South China Sea.
China claims almost all of its waters, which carries a third of the world's maritime traffic. Brunei, Malaysia, the Philippines, Taiwan and Vietnam also have claims. Trump's administration has called China's island building in the South China Sea illegal.
Building the concrete structures with retractable roofs on Subi, Mischief and Fiery Cross reefs, part of the Spratly Islands chain where China already has built military length airstrips, could be considered a military escalation, the US officials said, speaking on condition of anonymity.
"It is not like the Chinese to build anything in the South China Sea just to build it and these structures resemble others that house SAM batteries, so the logical conclusion is that's what they are for," said a US intelligence official.
Another official said the structures appeared to be 20 metres long and 10 metres high.
A Pentagon spokesman said the United States remained committed to non-militarisation in the South China Sea and urged all claimants to take actions consistent with international law.
The Chinese Embassy in Washington did not immediately respond to a request for comment.
The officials said the new structures were likely to house surface-to-air missiles that would expand China's air defence umbrella over the islands. They did not give a time line on when they believed China would deploy missiles on the islands.
"It certainly raises the tension," Poling said. "The Chinese have got good at these steady increases in their capabilities."
The Philippines said Southeast Asian countries said on Tuesday that China's installation of weapons in the South China Sea was very unsettling and have urged dialogue to stop an escalation of recent developments.
Philippine Foreign Secretary Perfecto Yasay did not say what provoked the concern, but said the 10-member Association of South East Asian Nations hoped China and the United States would ensure peace and stability.
The US intelligence official said the structures did not pose a significant military threat to American forces in the region, given their visibility and vulnerability.
Building them appeared to be more of a political test of how the Trump administration would respond, he said.
"The logical response would also be political – something that should not lead to military escalation in a vital strategic area," the official said.
James Woolsey, a former CIA director who served as Trump's senior adviser on national security till last month, said Beijing's latest move in the disputed South China Sea would be unhelpful to the trust building effort to bring the bilateral ties back on track.
"It's not helpful at all. It would be a very good idea if China would stand down and stop adding things," Woolsey said on Wednesday in Hong Kong on the sidelines of a China-US event hosted by the China Energy Fund Committee. "I don't understand why they keep starting up again and building these things. I think it really does undercut the freedom of the seas and undoes a lot of other positive things."
Dr Gal Luft, co-director of the Institute for the Analysis of Global Security, also said Beijing's move would likely to be perceived by Trump as a provocation.
"Anything that would challenge the status quo at this particular moment is not helpful. Now, of all times, when everyone is nervous about what Trump is going to do, to go now and do a provocative thing is not going to land itself in a good relationship," Luft said.
Chas Freeman, a China expert and former assistant secretary of defence, said he was inclined to view such installations as serving a military purpose, bolstering China's claims against those of other nations, rather than a political signal to the United States.
"There is a tendency here in Washington to imagine that it's all about us, but we are not a claimant in the South China Sea," Freeman said. "We are not going to challenge China's possession of any of these land features in my judgment. If that's going to happen, it's going to be done by the Vietnamese, or the Filipinos or the Malaysians, who are the three counterclaimants of note."
He said it was an "unfortunate, but not [an] unpredictable development".
This article appeared in the South China Morning Post print edition as: Military facilities in Spratlys 'could house missiles