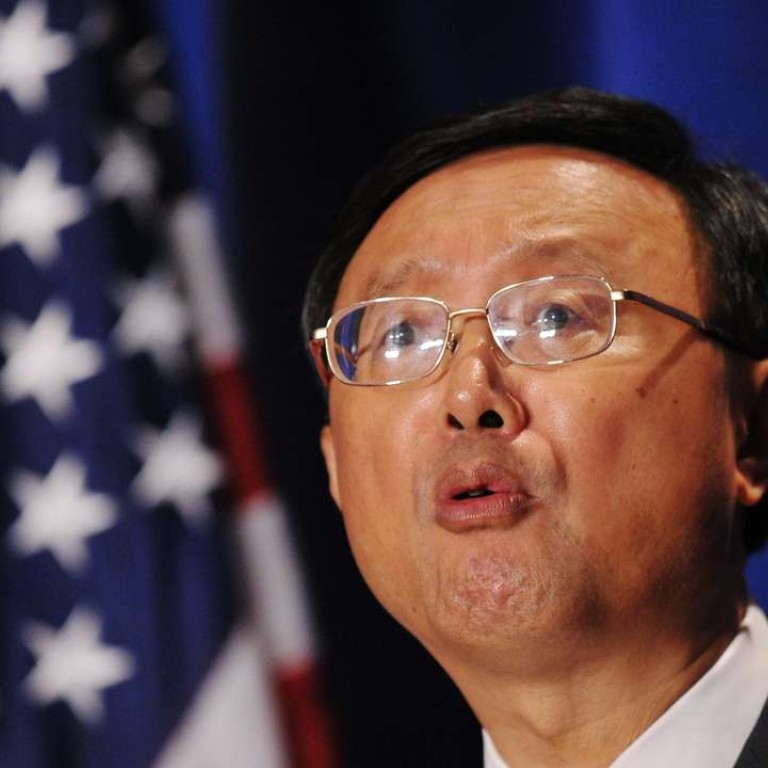 China's top diplomat in talks with Trump in Washington
State Councillor Yang Jiechi meets US president in White House to discuss security issues and a possible summit between the nations' leaders
China's top diplomat Yang Jiechi met US President Donald Trump in the White House ­on Tuesday to discuss "shared ­interests of national security" and a possible summit between the American leader and his Chinese counterpart, Xi Jinping.
The talks on Tuesday could help ease concerns over worsening ties between the two sides, and indicated that holding the first meeting between the Xi and Trump was high on both leaders' agenda, ­observers said.
But uncertainties would still overshadow their ties, given that many senior positions in the Trump administration had yet to be filled, and neither side had discussed specific policies,they said.
Yang, a state councillor, is the highest-level Chinese official to visit the US since Trump took ­office in late January.
Later on Tuesday, US Secretary of State Rex Tillerson met with Yang and affirmed the importance of "regular high-level engagement" between the two countries and discussed North Korea's nuclear programme, the State Department said in a statement.
Also at Yang's meeting with Trump were US Vice-President Mike Pence and Trump's son-in-law, Jared Kushner.
In the meeting, Yang told Trump that the phone conversation between the US president and Xi in early February had ­"significant meaning" and "has pointed the direction" for their ties, Xinhua reported.
Yang also said Beijing was willing to coordinate and cooperate with Washington over bilateral as well as key international issues, according to a foreign ministry statement.
White House press secretary Sean Spicer said in a statement that the meeting was an "opportunity to begin that conversation and talk to [China] on shared ­interests of national security".
A senior US administration ­official said the discussions ­included the possibility of arranging a meeting between Trump and Xi, but that no date for a ­summit was set.
Yang had separately met Kushner as well as the new US ­national security adviser, H.R. McMaster, and Trump's chief strategist, Steve Bannon.He was also due to meet Secretary of State Rex Tillerson.
Observers have said that a summit between Xi and Trump was crucial to set the tone for Sino-US ties. Some had suggested the two leaders could hold unofficial talks before May.
Yuan Zheng, a researcher at the Chinese Academy of Social Sciences' Institute of American Studies, said the talks between Yang and Trump indicated that Sino-US ties were on a better track. "The two nations are coordinating on the future direction of their ties, and are making preparations for a face-to-face meeting between their two leaders," he said.
Zhang Zhexin, a US affairs ­observer from the Shanghai Institutes for International Studies, said the Trump-Yang meeting was a "positive sign" for a potential meeting between the two presidents.
Huang Jing, an analyst at ­National University of Singapore, said Yang's visit would ease ­concerns over the growing rivalry between the two nations. But he said it was too early to say that Sino-US ties were warming, as Trump was likely to get tough on China to channel frustration in the US over domestic issues.
"I don't think Beijing should go out of its way to show enthusiasm on a summit with Trump and push for it. Beijing needs to bear in mind that Trump remains an embattled leader and faces all sorts of opposition from within," he said.
"If Xi chooses to go to meet Trump in Washington, it would be embarrassing, and very likely whatever they manage to agree will be subject to fierce internal opposition in the US."
Yang's latest trip is his second to the US since Trump won the presidency. In New York in ­December, he met Michael Flynn, then Trump's nominee for ­national security adviser.
But shortly after Yang's trip, Trump surprised both China and Washington by breaking decades of protocol and taking a phone call from Taiwanese President Tsai Ing-wen.
Additional reporting by Reuters and Shi Jiangtao