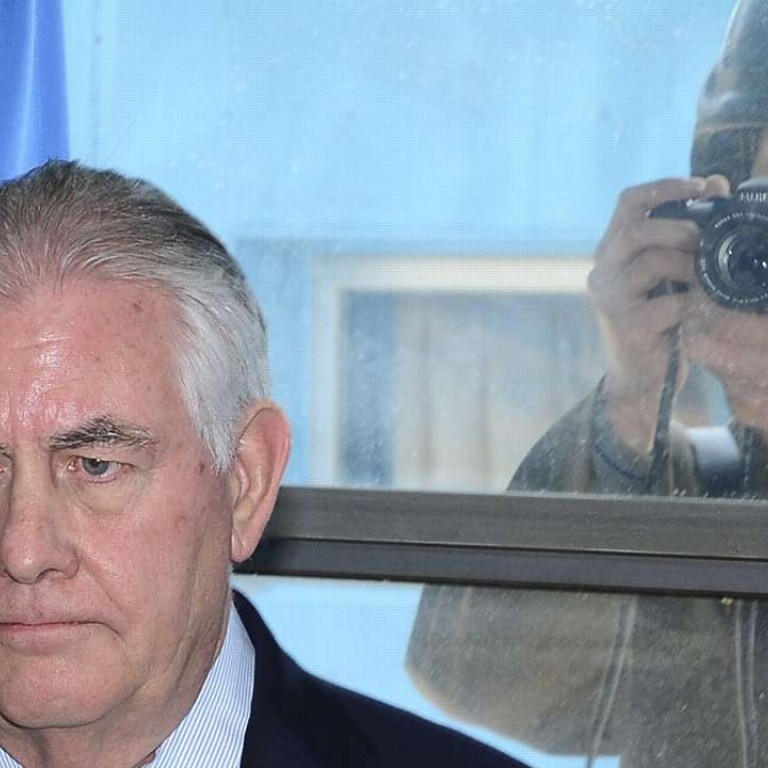 US State Secretary Rex Tillerson fires warning of pre-emptive US military strike on North Korea
Top US diplomat heads to China to pave way for Trump-Xi summit but suspicions run deep in Beijing over Washington's foreign policy
A day before his planned arrival in Beijing on Saturday, US State Secretary Rex Tillerson said that the US might take pre-emptive military action against North Korea if its threats to the United States and South Korea escalated.
Tillerson's warning – the toughest remarks yet by a Trump administration official against Pyongyang – was followed by a tweet from US President Donald Trump accusing North Korea of "behaving badly" and China of "doing little".
Speaking in Seoul after visiting the demilitarised zone between the two Koreas, Tillerson said: "Let me be very clear: the policy of strategic patience has ended. We are exploring a new range of security and diplomatic measures. All options are on the table."
Tillerson said the US did not want a military conflict "but obviously if North Korea takes ­actions that threaten South Korean forces or our own forces, that would be met with [an] ­appropriate response. If they elevate the threat of their weapons programme to a level that we believe requires action that option is on the table."
Trump then weighed in with a tweet: "North Korea is behaving very badly. They have been 'playing' the United States for years. China has done little to help!"
Tillerson also called on China to implement sanctions against North Korea and said there was no need for China to punish South Korea for deploying an advanced US anti-missile system aimed at defending itself against North Korea.
"We believe these actions are unnecessary and troubling," Tillerson said, referring to what South Korea sees as Chinese retaliation in the form of business restrictions in response to the deployment of the US-developed Terminal High Altitude Area Defence (THAAD) system.
China's foreign ministry responded by ­saying Beijing's opposition to THAAD was ­justified.
Leaders in Beijing have had high hopes that the visit by the former chief executive of ExxonMobil would create a "positive environment" to pave the way for a possible summit between Trump and President Xi Jinping as early as next month.
The visit has been described by diplomats and observers as the biggest test for Tillerson since he was confirmed as the United States' top diplomat on February 1.
North Korea has been at the top of Tillerson's agenda during his visits to Japan and South Korea over the past three days, and he is expected to have a hectic schedule in Beijing, including meeting Xi, Premier Li Keqiang, State Councillor Yang Jiechi and Foreign Minister Wang Yi.
Chinese analysts said Beijing would not be rattled by Tillerson's remarks and Trump's tweet.
Zhang Tuosheng, director of the Centre for Foreign Policy Studies at the China Foundation for International and Strategic Studies. said:"It is not the first time Trump has tweeted about China and China will not overreact because it has confidence. Instead it will look at Trump's overall policies on China."
"The fundamental attitude China has towards the US will not change, unless the US makes a radical move, such as a confrontation with China in the South China Sea."
Privately, doubts and distrust run deep in Beijing over the predictability and reliability of Trump's foreign policy, according to Chinese diplomats, especially its relations with China. There are also concerns over Tillerson's ability to exert influence over Trump.
"We are still scratching our heads to work out how to deal with Trump in the wake of the roller-coaster ride of China-US relations since he got elected," one diplomat said.
Trump's protocol-breaking phone call with independence-leaning Taiwanese President Tsai Ing-wen shortly after he was elected threw Beijing's ties with Washington into disarray.
After a stand-off that lasted weeks, both nations managed to stabilise their ties after Trump reaffirmed Washington's decades-old commitment to the one-China policy during a phone call with Xi last month.
Another diplomat said Trump had little regard for important traditions and past practices.
"It's like a nightmare coming true. In the Trump era, nothing seems impossible," the diplomat said.
Diplomatic observers have cautioned against expectations of a breakthroughs during the talks in Beijing, citing deepening tensions between the two nations over a range of strategic, security and economic issues.
Steve Tsang, director of the London-based SOAS China Institute, said Tillerson's visit would help put the two nations' important relationship on a better footing, but it was unlikely to dispel their deep-rooted mistrust.
He said the visit would also be a good opportunity for China to "ascertain Trump's real intentions".
"Beijing doesn't want a confrontation with Trump, but will want to know what it will cost to do business and make deals with Trump. But I doubt the Chinese government can afford to trust Trump fully," Tsang said.
Michael Green, an Asia director on former US president George W. Bush's National Security Council, said Tillerson would play a key role behind the scenes to coordinate the specifics of Xi's reported visit to Trump's lavish Mar-a-Lago resort in Florida early next month.
He said Tillerson was also expected to discuss with Beijing the future of more than 100 communications mechanisms between the two countries established under US president Barack Obama.
Beijing was apparently upset Trump and his senior advisers showed little interest in continuing with the Strategic and Economic Dialogue, a top-level series of meetings that have been held every year since 2006.
"So what will be the framework for dialogue on strategic and economic issues? Tillerson can begin to frame that discussion," said Green, who now works at the Washington-based Centre for Strategic and International Studies.
Yuan Peng, vice-president of the China Institute of Contemporary International Relations, said Beijing and Washington had yet to work out a solution if Trump decided to abort the old mechanisms for regular high-level talks.
"From China's perspective, the fact that senior officials from both nations meet regularly itself is a positive achievement for bilateral ties. Beijing and Trump apparently have disagreements over whether it's important that they can actually manage to reach any substantial agreements or get anything done," he said.
Experts also noted Beijing had doubts about Tillerson's sway over Trump on key foreign policy decisions, even though it has been reported that the secretary of state helped persuade the US president to accept the one-China policy.
"The fact that it's not clear how influential Tillerson is with Trump will make Beijing cautious," Tsang said.
"Tillerson is one of the 'adults' in the Trump administration which remains dominated by tantrum-throwing megalomaniacs, including Mr President himself. Can the 'adults' in such a set up manage to achieve anything more than preventing the tantrums wrecking havoc?"
Green at the Centre for Strategic and International Studies also noted that Tillerson's style – which was quiet but effective at ExxonMobil – "does not always work in Washington".
"I think people in Asia and the US will be looking for him to set some strong themes the way Secretary of Defence Jim Mattis did during his first visit to Japan and Korea in early February," he said.
Tsang and other analysts said Beijing would have to work with Tillerson to try to remove potential pitfalls in relations with the Trump administration.
On the tensions on the Korean peninsula, analysts said Beijing and Washington were unlikely to make much progress apart from underscoring their commitment to improve cooperation to counter the North's nuclear weapons programme.
"Tillerson and his Chinese counterparts might emphasise the importance of working together to defuse tensions, but it is unlikely there will be any breakthroughs from the visit," said Zhu Zhiqun, director of the China Institute at Bucknell University in Pennsylvania.
Zhu said Beijing would probably raise the issue of THAAD, which Beijing says poses a threat to its national security, and the joint military exercise between Tokyo, Seoul and Washington.
North Korea has markedly accelerated its nuclear programme in the past year with the aim of perfecting its nuclear weapons capabilities which could strike as far as the US.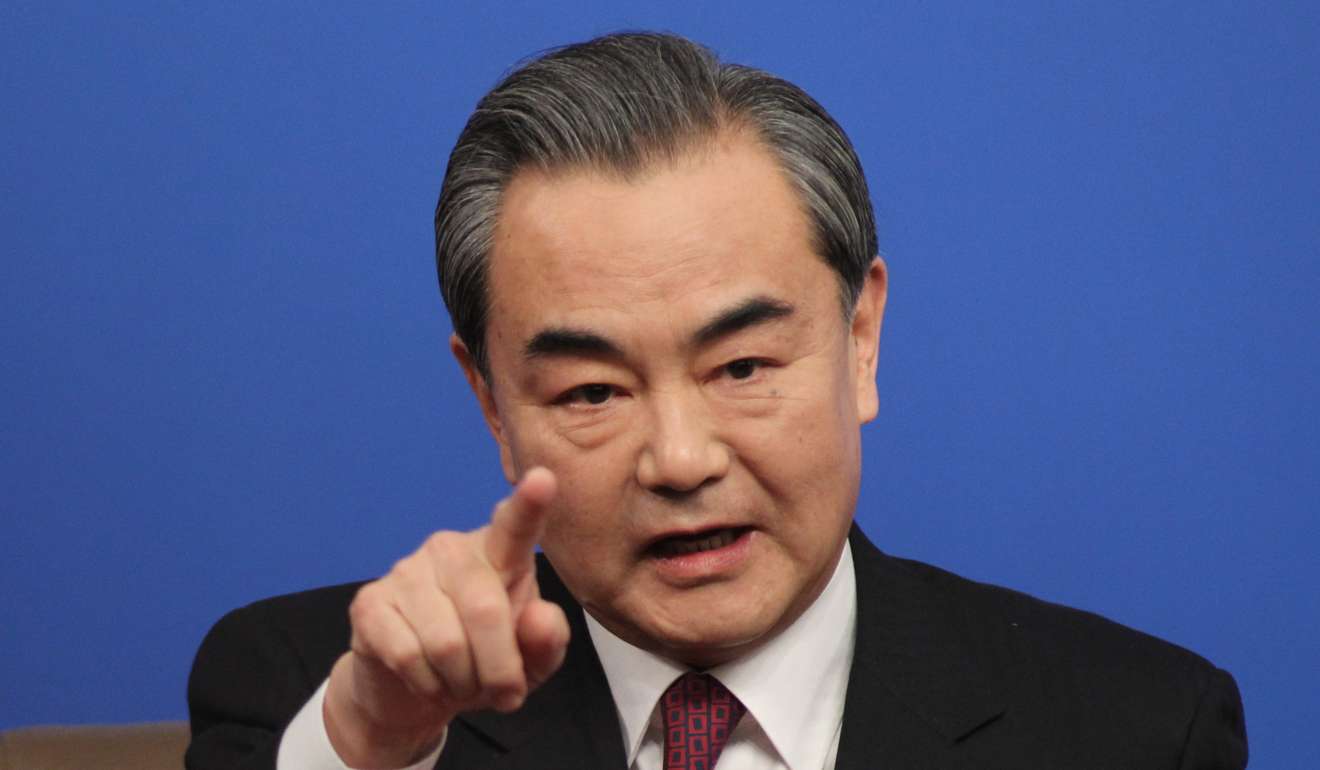 A study by the Brookings Institution think tank in Washington has depicted a rather gloomy picture, saying all policy options on the Korean peninsula were bad with most scenarios ranging from "dangerous to horrific".
"This process will continue to test the new administration. Given projected timelines in Pyongyang's nuclear and missile development, President Trump could face an early decision on whether to shoot down or otherwise disable a North Korean long-range missile, very possibly triggering an even larger military crisis on the peninsula," it said.
Tillerson and Chinese officials are also expected to talk about trade and economic differences plus a growing rivalry in the disputed waters of the South China Sea.
Premier Li Keqiang told the National People's Congress on Wednesday that American companies would fare worst in the event of a trade war with China, which Trump and his top advisers have threatened to unleash amid allegations of unfair trade practices.
Li also said both sides should work together to create "opportunities rather than troubles" for Southeast Asian nations that were caught between the intense power play between Beijing and Washington in the South China Sea.
Jay Batongbacal, a law professor at the University of the Philippines, said tensions flared last year largely due to Beijing's assertiveness to press its claims to the disputed waters in the South China Sea, and Asia-Pacific nations were still wary of China's growing military and economic clout.
"It is good that China recognises that its interactions can be a potential 'source of trouble', but I also hope that China recognises that not all troubles necessarily arise because of that China-US interaction," he said.
Additional reporting by Kristin Huang, Associated Press
This article appeared in the South China Morning Post print edition as: US warns of pre-emptive N Korea strike US warns of pre-emptive strike on N Korea