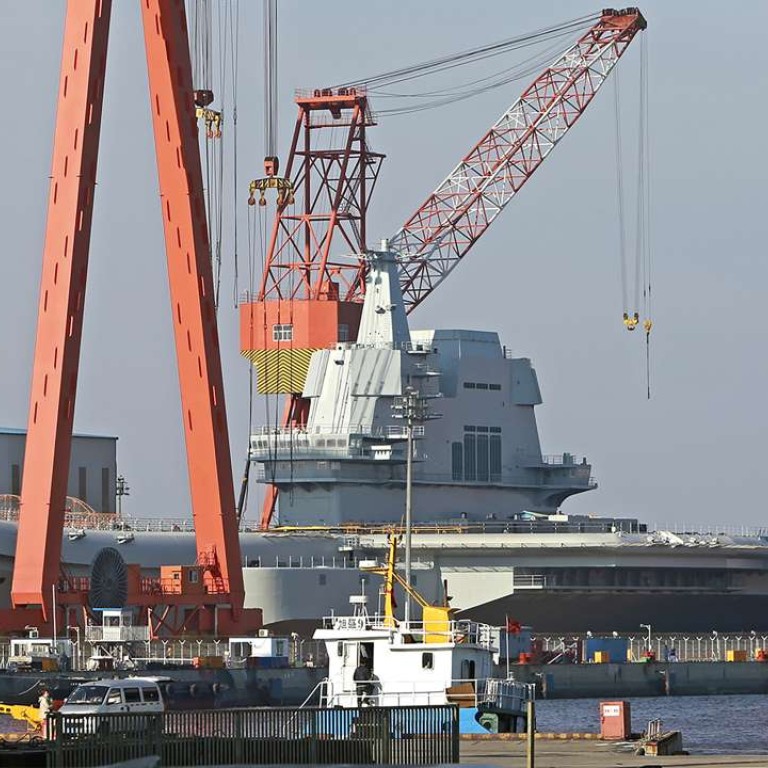 In battle to control sea and air, how do China's aircraft carriers stack up against other nations?
China is about to launch its first homebuilt aircraft carrier, once the tidal conditions are right at the dock where the vessel has been under construction in Dalian.
Weighing 70,000 tonnes and 315 metres long and 75 metres wide, the still unnamed carrier is slightly larger than the Liaoning, China's only other aircraft carrier, which was made in Ukraine.
Although the launch has been heralded by some as a sign that China is mastering naval technology, other military observers have noted China still only has about four per cent of the United States' naval capability.
China's new carrier will not be heading off into the seas alone when it is fully operational. Carriers operate in a formation, with the main vessel at the centre while other air and sea vessels provide defence and support.
So how does China's aircraft carrier formation stack up against other military powers?
CHINA
Aircraft carriers: one in service, one due to launch
The Liaoning has been conducting take-off and landing drills in the South China Sea this year.
The formation comprised three guided missile destroyers, three frigates, one supply ship, plus J-15 fighter jets and several ship-borne helicopters, according to a report by the Japanese news agency Kyodo, citing the nation's defence ministry.
China's state news agency Xinhua quoted a source as saying that despite challenging weather, the drills provided important experience to build-up the combat capability of the aircraft carrier formation.
UNITED STATES
Aircraft carriers: 10 in service
Not only does the United States have the largest military in the world, but its navy also has over 75 years' worth of carrier aviation experience.
A United States "carrier strike group" – the largest operational unit in the United States navy – is usually made up of an aircraft carrier, 7,500 personnel, a guided-missile cruiser for long-range strike capability, a flotilla of six to eight destroyers or frigates used for protecting against air attack, an attack submarine for destroying enemy submarines and ships, an ammunition and supply ship, plus 65 to 70 aircraft.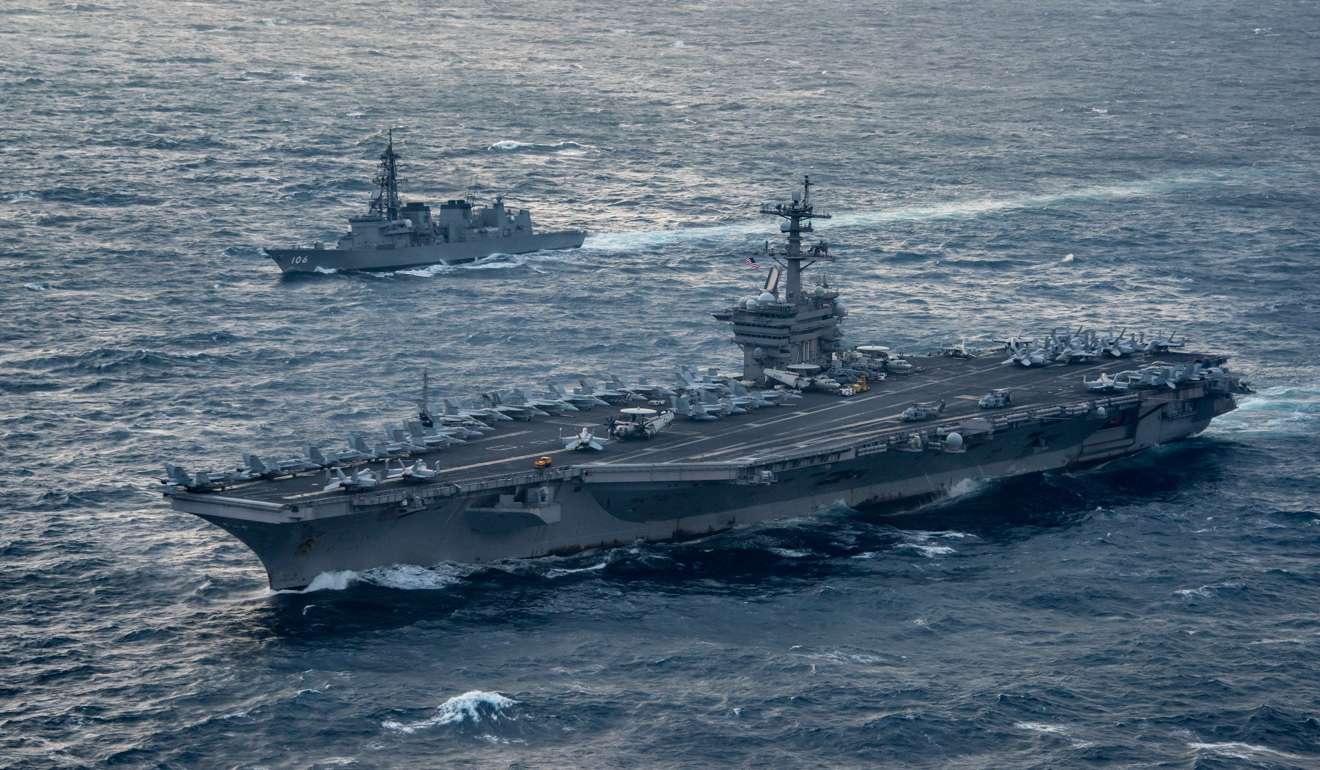 The 333-metre long, 101,000-tonne, nuclear-powered USS Carl Vinson aircraft carrier began patrolling in the South China Sea in February. The strike group was earlier this month ordered to move closer to the Korean peninsula amid escalating tensions over North Korea's nuclear programme. The strike group includes a carrier air wing and two guided-missile destroyers, plus a guided missile cruiser, the military said.
According to the US navy website, the carrier strike group can be used to protect economic or military shipping or protect a marine amphibious force.
The US has previously said it would shift 60 per cent of American naval assets to the Asia-Pacific region by 2020 under the Obama administration's pivot to Asia policy. Trump pledged during his election campaign to upgrade the US military's hardware and manpower, including building 80 advanced warships.
BRITAIN
Aircraft carriers: two under construction
Britain currently has no operational aircraft carriers, but is constructing two 67,000 tonne Queen Elizabeth-class aircraft carriers, the largest the nation has ever built. The first, HMS Queen Elizabeth, is 280m long and was launched in 2014. It is expected to be completed and ready for operational use in 2021. The second carrier, HMS Prince of Wales, is about two years behind it in construction.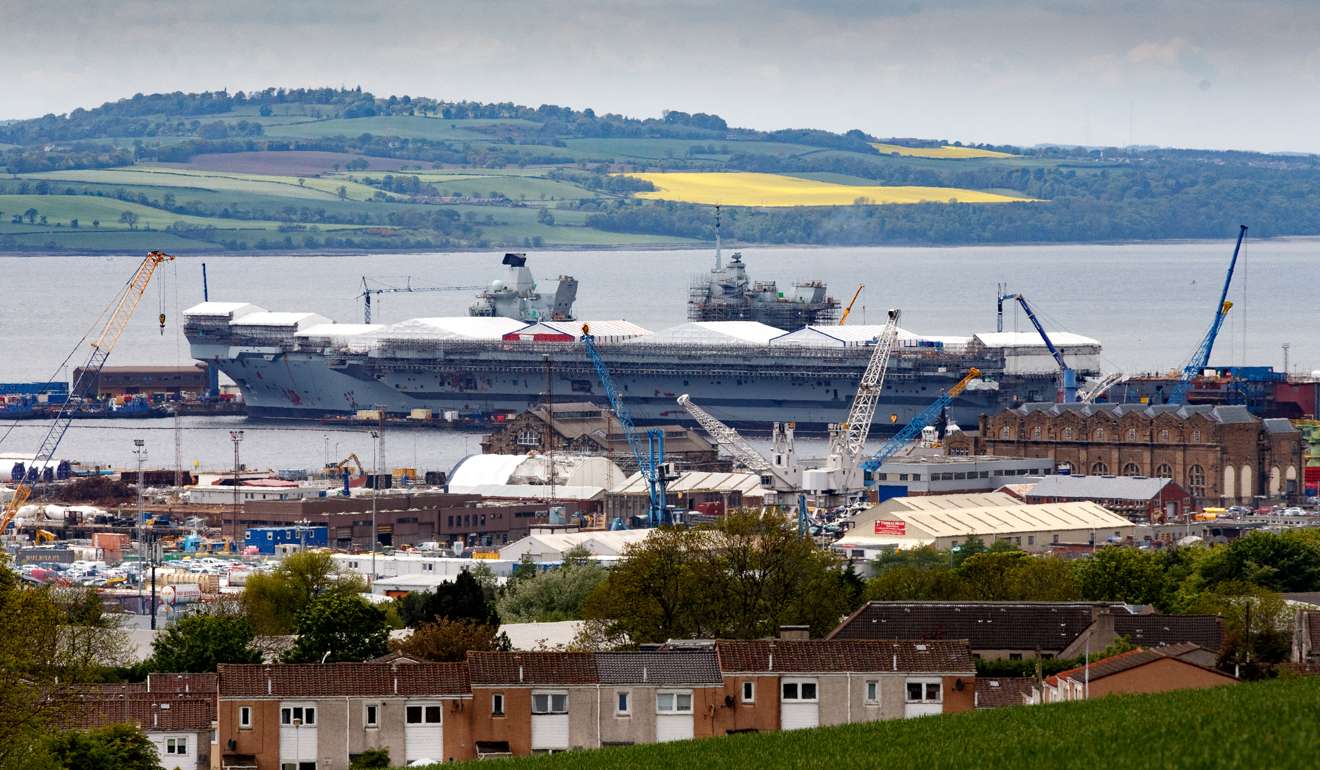 The carriers are designed to carry up to 36 F35B stealth fighters, four Merlin helicopters and can also hold Chinooks and Apache gunships. Each carrier's strike group will also comprise of stealth fighters, an air wing, destroyers, frigates and probably a submarine.
INDIA
Aircraft carriers: one in operation, two under construction
India formally launched the refurbished 44,570-tonne carrier INS Vikramaditya in 2013, a Russian-built vessel.
India is also building the 40,000 tonne carrier INS Vikrant, which is expected to be completed in 2023 and is the first carrier to be completely built in India. It will have the capacity to carry 30 aircraft, including helicopters,
The Times of India
reported last year.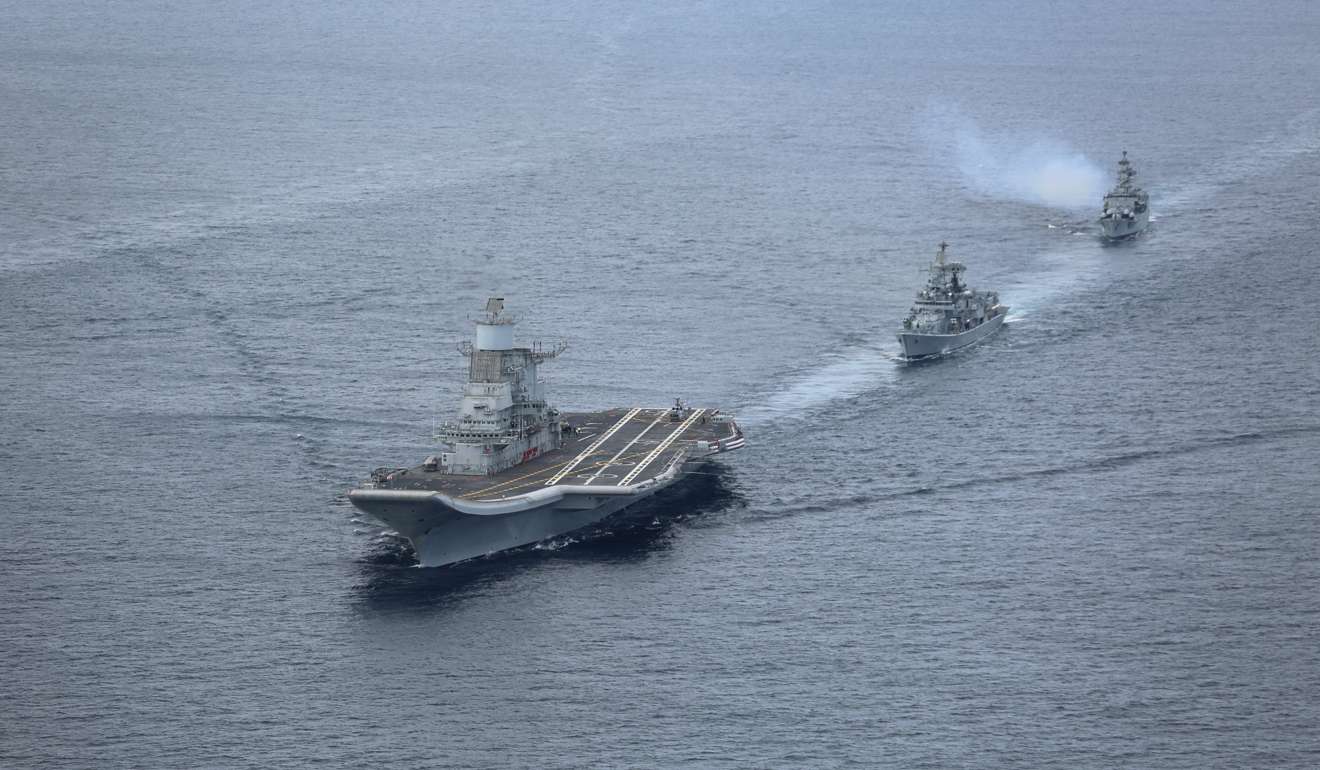 India is also constructing the 65,000-tonne carrier INS Vishal, which will be powered by a nuclear reactor, according to the current affairs magazine The Diplomat. It will be able to carry 55 aircraft, including 35 fixed-wing combat aircraft and 20 rotary wing aircraft.
The new carriers will replace the UK-built INS Viraat, formerly the world's longest-serving warship, which was decommissioned in March after spending nearly 30 years in service in the Indian Navy. Prior to that it served in Britain's Royal Navy.
This article appeared in the South China Morning Post print edition as: Who's who in the aircraft carrier pack