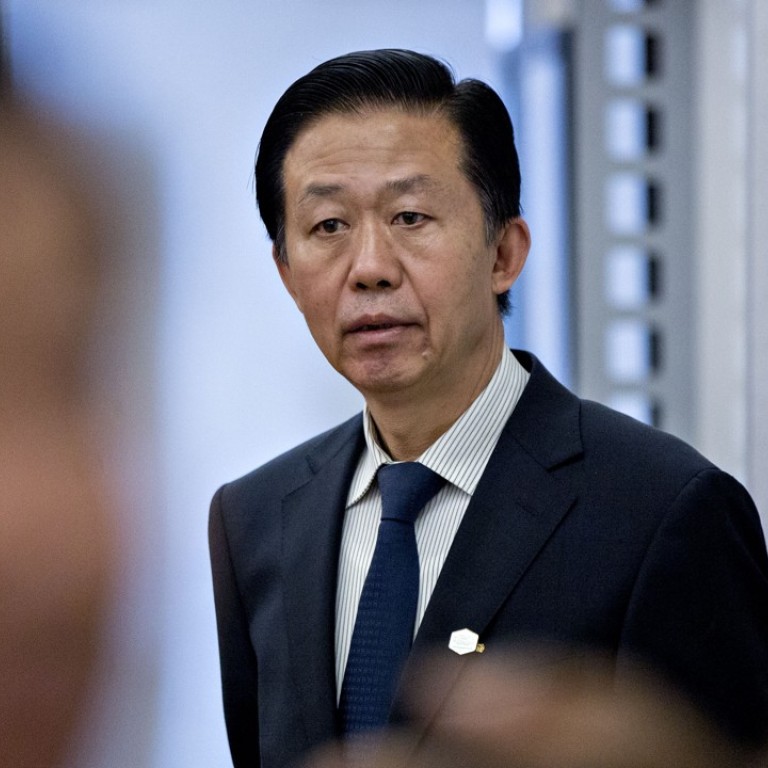 Chinese Finance Minister Xiao Jie skips trilateral meeting with Japan, Korea
Specific reasons unclear, but absence casts doubt over outlook for regional cooperation
Chinese Finance Minister Xiao Jie skipped a trilateral meeting with his Japanese and South Korean counterparts in Yokohama on Friday due to important domestic matters, Japanese Finance Minister Taro Aso said.
While the specific reasons for Xiao's absence were not clear, his non-attendance cast doubt over the outlook for regional cooperation among the northeast Asian powers at an event that was supposed to build deeper economic ties.
Finance leaders at the trilateral meeting agreed to resist all forms of protectionism, taking a stronger stand than G20 major economies against the protectionist policies advocated by US President Donald Trump.
Speaking to reporters after the meeting, Aso did not elaborate on the Chinese minister's reasons for not attending, through he said Xiao did not attend due to "important policy issues" at home.
However, he said Xiao should be able to join a bilateral Japan-China finance dialogue scheduled for Saturday, in which the two sides are expected to discuss their economic cooperation.
The trilateral meeting was held on the sidelines of the Asian Development Bank's annual gathering in Yokohama, Japan, at which the threat of China's increasing presence in infrastructure finance to Japan's economic influence in the area is expected to be a topic of debate.
An official at China's finance ministry's international department said "we cannot comment," when asked about Xiao's absence from the meeting.
The Chinese delegation was represented by its deputy finance minister and a senior official from the Chinese central bank at the trilateral summit where finance officials from the three countries met and issued a resolve to resist protectionism, according to a Japanese Ministry of Finance official.
In an attempt to reduce the region's vulnerability to dollar swings, Japan also proposed forming US$40 billion in bilateral currency swap arrangements with Southeast Asian nations that would allow it to provide yen funds in times of financial stress.
"We agree that trade is one of the most important engines of economic growth and development, which contribute to productivity improvements and job creations," the finance leaders and central bank governors of the three nations said in a communique issued after their meeting.
"We will resist all forms of protectionism," the communique said, keeping a line that was removed – under pressure from Washington – from a G20 communique in March when the group's finance leaders met in Germany.
China has positioned itself as a supporter of free trade in the wake of Trump's calls to put America's interest first and pull out of multilateral trade agreements.
Japan has taken a more accommodative stance toward Washington's argument that trade must not just be free but fair.
ADB President Takehiko Nakao, a former top Japanese currency diplomat, has sought to dispel the view that Japan and China are competing for influence, saying on Thursday his institution seeks to cooperate – not compete – in the region.
The talks came amid escalating tensions in North Korea, which moderated some of the optimism policymakers held over Asian's economic outlook.
While the trilateral meeting's communique said Asian economies were expected to maintain "relatively robust growth," it warned remaining downside risks meant policymakers would require all necessary tools to achieve strong growth.