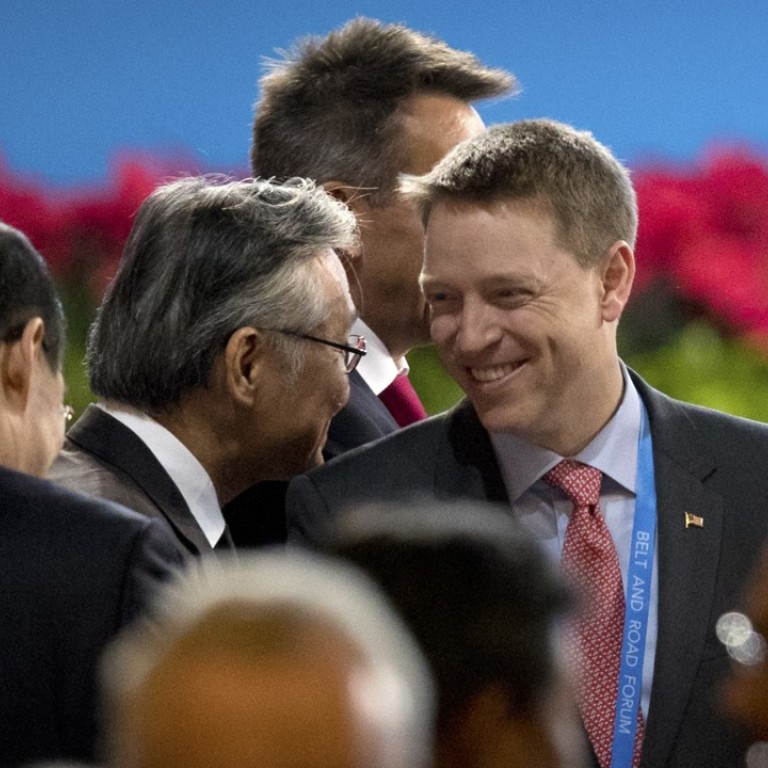 US warms up to 'Belt and Road' business potential
But success of the China-led initiative rests on transparency and private sector input, Washington warns
US envoys at the "Belt and Road Initiative" summit in Beijing said on Sunday that their country aimed to make the most of the grand plan's business opportunities, walking back from US ­President Donald Trump's antiglobalisation rhetoric and Washington's earlier wariness.
Foreign policy analysts said the shift in the US' position reflected fears in Washington of being left out in the cold as other countries climbed aboard the China-led project.
Matt Pottinger, US National Security Council senior director for East Asia, said the US embassy in Beijing and US companies had teamed up to form the American Belt and Road Working Group.
"US firms have a long and successful track record in global infrastructure development, and are ready to participate in belt and road projects," Pottinger said.
"US firms can offer the best-value goods and services required over the life of a project."
Pottinger said the US recognised the need for high-quality infrastructure development.
But he also warned that the project's success would rest on several factors, including transparency in procurement and broad participation from the private sector.
Pottinger's attendance marks a shift in US attitude towards the initiative.
Previously, Washington cast doubt whether the drive to boost trade and infrastructure links was really a push by China to extend its geopolitical influence.
Wu Xinbo, director of Fudan University's Centre for American Studies, said the creation of the US working group "shows the Trump administration's pragmatic approach to economic and trade issues".
"The US does whatever is beneficial, unencumbered by geopolitical considerations," Wu said.
Paul Haenle, director of the Carnegie-Tsinghua Centre, said US involvement in the initiative could help Washington avoid a repeat of its isolation from another China-led project, the Asian Infrastructure Investment Bank.
Ross Feingold, an Asia-based political risk analyst, said the move was in line with Trump's election promise of creating more jobs for US companies.
"[But] ultimately it will be up to US companies rather than the US government whether and how they participate in belt and road initiatives," Feingold said.
He said these decisions would be based on China's ability to ensure transparency, legal protections, and access for foreign rather than only Chinese companies.
This article appeared in the South China Morning Post print edition as: US warms up to plan's business potential