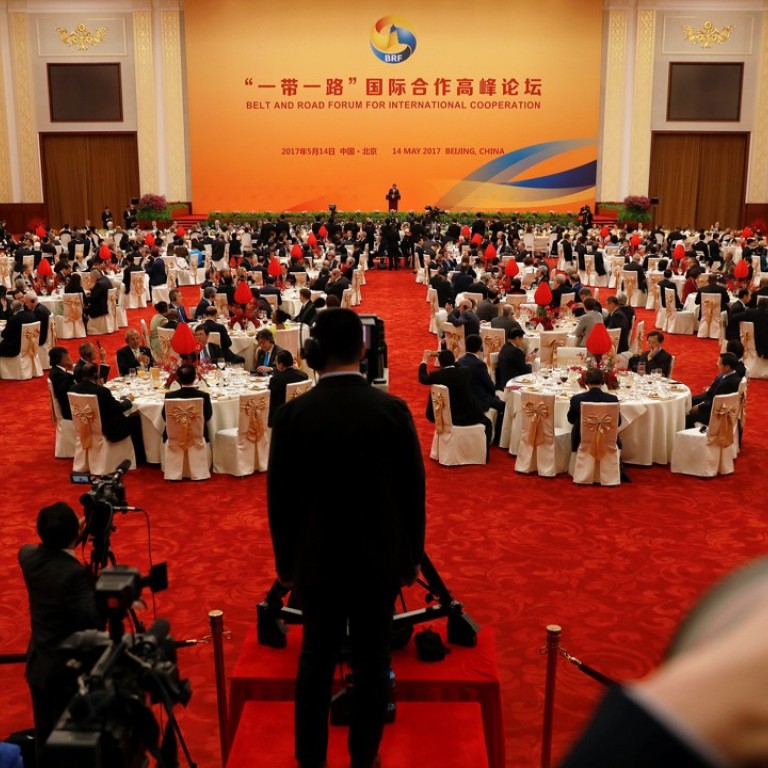 Never mind the 'Belt and Road' cash, what about China's growing clout?
Despite billions of dollars in pledges from Beijing, sceptics question China's strategic motives
Cash has been committed, ­promises have been made and leaders' hands have been shaken.
But for all the buzz in Beijing about China's "Belt and Road Initiative", scepticism still dogs the massive trade and infrastructure programme.
The initiative, unveiled by President Xi Jinping in 2013, is touted as a visionary scheme to build infrastructure and expand trade throughout Asia, Africa and Europe.
At the Belt and Road Forum for International Cooperation on Sunday, Xi said China was committed to globalisation and free trade. He also pledged to inject more than US$100 billion in extra funds into countries along the routes.
While cash-starved developing countries welcomed China's largesse, Beijing's rising political influence has generated concern among other powers, including the United States and India.
Li Yang, an economist at the Chinese Academy of Social Sciences, said part of the problem was the inevitable comparisons between the initiative and the Marshall Plan, a US-funded ­programme to rebuild western European economies shattered by the second world war.
"It's not something Beijing wants, but more and more people will compare these two plans ... and China's growing influence," Li said. He said China had no political ambitions while the ­Marshall Plan was aimed at countering the communist bloc.
Philippe Desfosses, chief executive of French civil service pension fund ERAFP, said: "The West used to be antagonistic to communist countries. But we cannot ignore China now."
Desfosses said the fund wanted to invest in projects under the initiative, once it got the go-ahead from the French government.
Sameh El-Shahat, head of consulting agency China-i, said the initiative's biggest challenge was that people along the belt and road routes barely understood China and its values.
"Today's world was created by Western institutions, like the World Bank, the International Monetary Fund and the United Nations ... And the world is used to the old colonial countries like the US and Britain but the world is not accustomed to China," El-Shahat said.
"China says it will treat other countries as family and friends, but many countries don't trust [those words]. They think the Chinese say so because they want to buy [their resources]. China is the world's second-largest economy but many people have no idea about Chinese values."
Li also said China had to consider the risks of trying to integrate the development strategies of the disparate countries along the routes.
"A big difference between China's initiative and US-led globalisation efforts such as the World Trade Organisation is that China's programme will seek to strategically connect existing plans of countries involved," he said.
Pichet Durongkaveroj, Thailand's minister of digital economy and society, said it would take time for the belt and road concept to develop.
"Since the concept is still new, it's not easy to create understanding in any country that is willing to participate without concerns and bias. I think the Silk Road Fund is a good starting point, because countries can start discussing projects together bilaterally or multilaterally," he said.