Xi's US$113b pledge 'more seed fund than credit pipeline'
Asia must spend tens of trillions of dollars by 2030 to develop infrastructure and maintain growth while reducing poverty, according to estimates
Chinese President Xi Jinping's pledge to invest at least 780 billion yuan (US$113 billion or HK$880 billion) via its state funds and banks to finance projects in the "Belt and Road ­Initiative" is more of a seed fund than a credit pipeline for the ­ambitious plan to expand China's economic and potentially political influence in nearly 70 countries in Asia, Europe and Africa.
The fund's size, though large at face value, is tiny compared to China's grand plan. Asia alone needs to spend US$8 trillion on infrastructure by 2020, the Asian Development Bank estimates. It also says Asia needs to spend US$26 trillion by 2030 to maintain growth, reduce poverty and respond to climate change.
Huo Jianguo, former chief of the Ministry of Commerce's ­research institute, said the promised fund was just a sign of China's commitment to help develop the countries that are in the belt and road plan and more capital from other multilateral lenders and the private sector were needed.
"China also could issue special bonds or other financial products to usher more Chinese capital into belt and road countries," he said.
Whether there will be enough money following Xi's initiative to finance ports and roads in the world's most dangerous territories will largely determine if China's economic ambition can materialise.
In his keynote speech on Sunday, Xi promised to 29 state and government leaders as well as delegates from more than 100 countries that it would ­increase the Silk Road Fund by ­another 100 billion yuan, ask China Development Bank to add 250 billion yuan in special overseas loans and Import and Export Bank of China to add 130 billion yuan, and encourage Chinese banks to set up overseas funds worth about 300 billion yuan to help belt and road funding.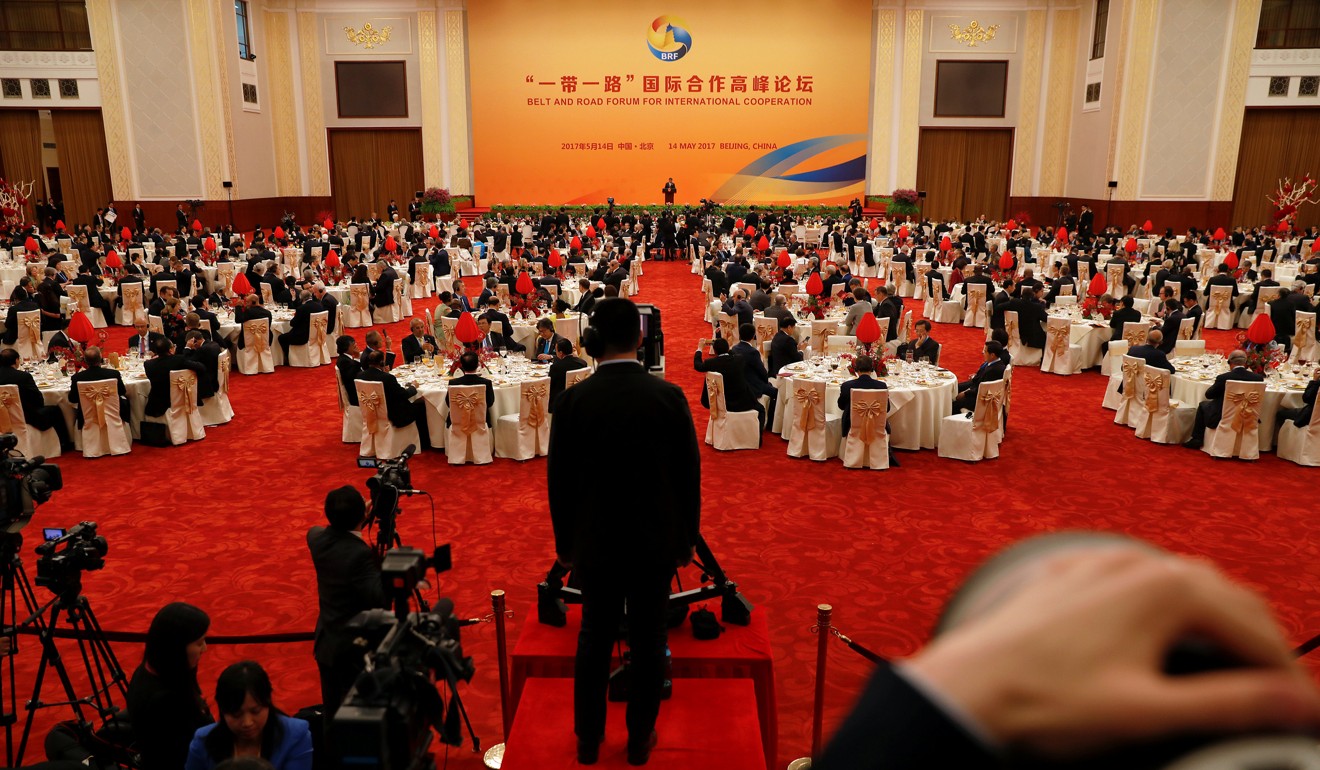 Meanwhile, Xi said a "stable, sustainable and safe" financing safeguard mechanism was needed to seek new financing methods and to improve cooperation between public and private funds.
British finance minister Philip Hammond said Britain was ready to offer financing services to facilitate projects along the ancient Silk Road through Eurasia and a maritime route through Southeast Asia to Africa.
"It is my belief that Britain, ­lying at the western end of the belt and road, is a natural partner in this endeavour. Britain has for centuries been one of the strongest advocates on an open global trading system," he said.
Zhou Xiaochuan, governor of the People's Bank of China, said China sought financial cooperation with countries along the belt and road route.
"Domestic commercial banks should support belt and road projects as well," he said.
Meanwhile, the presence of Chinese banks in the 65 countries along the route is limited: nine Chinese banks had set up 62 branches in 26 countries by the end of 2016.
Construction of infrastructure such as roads, harbours, hydropower stations and power grids, is a core part of the initiative's push for regional connectivity and also very costly.
The Beijing-based Asian Infrastructure Investment Bank has granted US$1.7 billion yuan in loans for nine projects since it started substantial operations last year, while the Silk Road Fund, under China's central bank, has lent about US$4 billion of funds, including for a water dam project in Pakistan.
China Development Bank has granted US$168.2 billion worth of loans for more than 600 projects since the initiative was first brought forward four years ago. It was followed about US$100 billion by the Export and Import Bank of China.
Huang Rihan, a researcher at Beijing-based think tank Centre for China and Globalisation, said the funds were just the first batch and more would come from countries along the route.
But, even for deep-pocketed Beijing, its financial resources are not limitless. Its foreign exchange reserves have dropped to US$3 trillion from a peak of nearly US$4 trillion three years ago, and China is taking measures to curb "irrational" outbound investment to curb capital outflows.