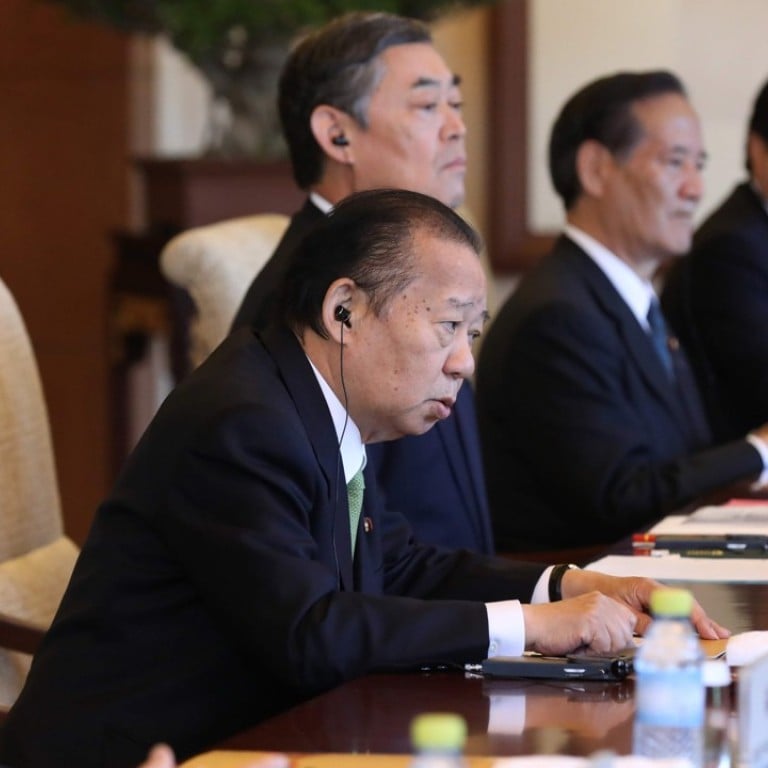 Doubts over Japanese-US ties 'may nudge Tokyo' into China-led AIIB fold
Leading Japanese ruling party official says his country must decide soon whether to swallow doubts and sign up for the Asian Infrastructure Investment Bank
Uncertainty over ties with the United States could push Japan closer to China, with a senior Japanese ruling party official reportedly signalling Tokyo's interest in joining the China-led Asian Infrastructure Investment Bank (AIIB), analysts said on Tuesday.
Toshihiro Nikai, secretary general of the ruling Liberal Democratic Party, said it was crucial for Japan to decide soon whether it should join the AIIB, Japan's Nikkei newspaper reported.
Nikai, known for his close ties with Beijing, made the assessment at a two-day summit in the Chinese capital for China's "Belt and Road Initiative".
Nikai also met President Xi ­Jinping on Tuesday, presenting a letter from Japanese Prime Minister Shinzo Abe.
Xi expressed hope for joint efforts to ensure bilateral ties developed in the right direction.
Abe said joining the AIIB, created in part to fund the initiative, could be an option if governance questions were resolved, CNBC reported on Monday.
"For now, we are still monitoring [the AIIB's] operations carefully," he was quoted as saying.
Lian Degui, professor of Japanese studies at Shanghai International Studies University, said Japan was being forced to rethink its attitude towards the initiative due to progress in the programme and the lack of clarity over the new US administration's Asia policy. "With the US and China working closer on the Korean peninsula and economic issues, Japan needs to readjust [its China policy]," Lian said.
Japan followed Washington's lead under former US president Barack Obama and steered clear of the AIIB, in part because of concerns that it was a vehicle to boost China's regional clout and a potential rival for the Asian Development Bank, a Manila-based institution dominated by Japan and the US.
Ties between China and Japan have been strained by a territorial row, and China's military expansion in disputed waters.
The history of the Japanese aggression during the second world war also continues to haunt relations between the two countries.
In May 2015, Nikai headed a Japanese delegation of about 3,000 people to Beijing for an event at the Great Hall of the People to promote cooperation, at which Xi made an appearance.
But Sino-Japanese ties have still not improved dramatically.
Chinese officials have said that tensions could ease if Japan supported major Beijing-led initiatives such as the AIIB.
Liu Jiangyong, vice-dean of Tsinghua University's Institute of Modern International Relations, said it was still too early to say if Tokyo had shifted its attitude on the China-led bank.
"We have yet to see any show of intent by Abe," he said.
Liu said Japan's suspicions about the AIIB were likely to persist as long as Tokyo pursued its own infrastructure plans.
Japan said earlier this month it would donate US$40 million for high-level infrastructure projects in Asia in fields such as clean energy and transport.
Japanese Chief Cabinet Secretary Yoshihide Suga also said yesterday there was no change in Tokyo's position to carefully monitor the AIIB's operations.
Additional reporting by Kyodo and Reuters