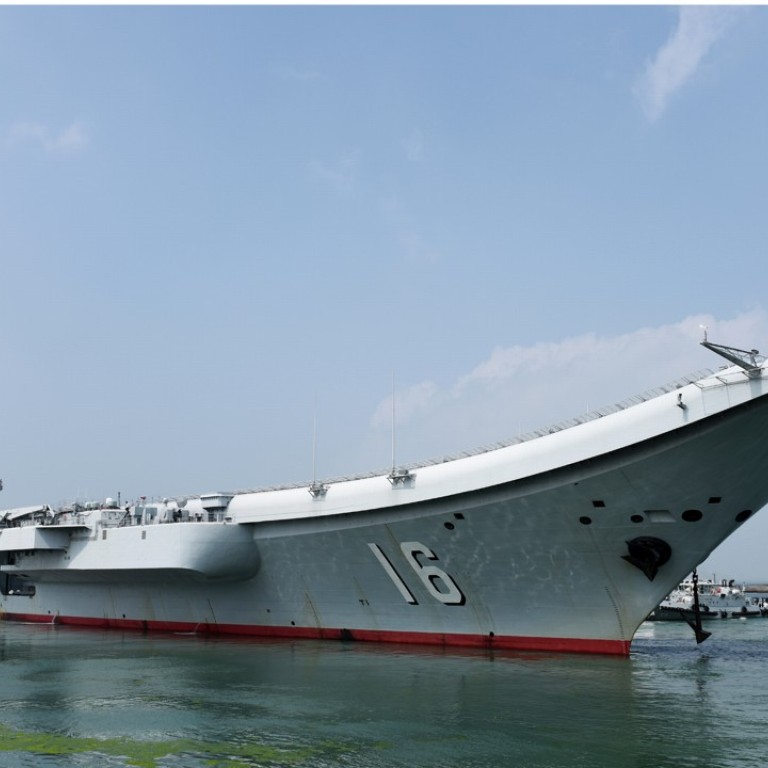 All eyes watching the route China's Liaoning aircraft carrier will take to Hong Kong
Liaoning expected to conduct drills before passing Taiwan on handover port call
China's first aircraft carrier Liaoning will undergo two weeks of training before making a port call in Hong Kong.
Taiwan is closely watching the movement of the aircraft carrier over whether it will pass through the Taiwan Strait before stopping in Hong Kong marking the 20th anniversary of the handover.
The aircraft carrier departed Qingdao in Shandong province on Sunday, and was travelling with a flotilla that includes the destroyers Jinan and Yinchuan and frigate Yantai. It was also carrying a squadron of J-15 fighters and some helicopters, Xinhua reported.
It is expected to make a two-day port call in Hong Kong on July 7, marking the Marco Polo Bridge incident.
Hong Kong-based China water Johnny Lau Yui-siu believed the visit of Liaoning to the city on the historical day was intended to serve the purpose of national education.
"The carrier would be a useful tool to teach Hong Kong people that chapter of history about China going to the war against Japan – mainland officials always hold the view that Hongkongers know little about national history," Lau said. "It will also be a reminder that China is on its way of national revival."
The opening of the carrier to the public would be "soft publicity" to impress the public with China's military might, which would be "better than lecturing people on the non-existent wave of independence ideas every now and then", he added.
Military experts expected the flotilla would conduct operational training in waters around the South China Sea, before passing to Taiwan and Hong Kong.
"Over the two weeks, it will likely head down to the South China Sea for drills," Collin Koh, a military expert from the S. Rajaratnam School of International Studies at Singapore's Nanyang Technological University.
"The ship visit and its voyage is to showcase Beijing's resolve to defend its territorial integrity and sovereignty, with both external and domestic audiences in mind."
Zhou Chenming, a Beijing-based military expert, said the flotilla may conduct joint exercise with the East Sea Fleet.
In Taiwan, defence ministry spokesman Major General Chen Chung-chi said the island's military is always "keeping close watch of any military movements in the region by the Chinese Communist forces and taking necessary precautions."
A ministry official revealed that if Liaoning is to visit Hong Kong, it has two options, one is to pass through the Taiwan Strait and the other is to sail through waters east of Taiwan arriving Hong Kong by way of Bashi Channel.
"If it chooses the first option to navigate by way of the Taiwan Strait, the military impact will be relatively lesser compared with the second option," the official who declined to be named said.
If Liaoning goes through waters east of Taiwan, it means it will have to pass through Miyako Strait close to Japan and reach Hong Kong by way of Bashi Channel, he said, adding in that case, Liaoning will go into an area circling Taiwan.
"A PLA exercise that circles around Taiwan is tantamount to challenging and military intimidation to us," the official noted.
Late last year, Liaoning sailed through the Miyako Strait on the high seas off the east coast of Taiwan on its way to conduct naval exercises in the South China Sea. On its returning voyage in early January – when the island's President Tsai Ing-wen was having state visit to allies in Latin America – Liaoning sailed through the Taiwan Strait, completing a circle around Taiwan, prompting the island's military to scramble jets and navy ships to "surveil and control" the passage of the carrier group on its way back to Qindao.
DPP legislator Lo Chih-cheng Monday said any military movements by Beijing have its political significance. "Other than serving to display its military might, China also wants to use the reported port call to Hong Kong to step up intimidation to Taiwan," he said, adding Beijing has attempted to normalize its military drills that circle around Taiwan, and the government must prepare countermeasures for this.
Additional reporting by Joyce Ng