Xi's show of force declares China's battle readiness to the world
Parade of equipment and troops shows PLA is modernising and improving its readiness for war
China's massive display of ­military might on Sunday sent a clear message to the army, the country and the world that the PLA under its commander, President Xi ­Jinping, is quickly modernising and improving its readiness for war.
The event in Zhurihe in Inner Mongolia, to mark this Tuesday's 90th anniversary of the founding of the People's Liberation Army, had none of the ceremony usually associated with a military parade in China. It was done with the troops in battle dress to remind them that the world's largest army must embrace changes and be ready for battle, analysts said.
Xi, in a camouflage uniform, told the troops to "be ready to ­assemble at the first call and be ­capable of fighting and winning any battle".
The parade showcased what Xi has done to improve China's military since he took power five years ago, and it underlined his vision of the army's role in the country's future as China aggressively tries to boost its regional and even global clout.
"I firmly believe that ... our heroic army has the confidence and capabilities to maintain the nation's sovereignty, security and development interests," Xi said.
Major General Xu Guangyu, a former vice-president of the Defence Institute of China, a think tank for the Chinese military, said the parade was the nearest thing to a real battle that Xi could have to check the army's battle readiness.
"You can't create a war to test their abilities on the battleground," Xu said. "But you need to look at how pilots are flying their jets ... how soldiers are controlling their tanks."
Antony Wong Dong, president of the International Military Association in Macau, said the weaponry seen in Zhurihe gave the PLA formidable combat power.
"Following five years of ­massive reform and an anti-corruption campaign which has brought down dozens, if not ­hundreds, of senior military leaders, Xi can now table a handsome report card to the public of things that have changed under his leadership," Wong said.
China's military was plagued by fragmented leadership and rampant corruption when Xi took control of the Central Military Commission from his predecessor Hu Jintao in late 2012. Hu was seen as detached from military affairs – in 2010, when then US defence secretary Robert Gates raised a question to Hu about China's roll-out of its stealthy J-20 fighter, Hu appeared unaware of the development.
Xi was different. He wasted no time in consolidating his power over the military. Xu Caihou and Guo Boxiong, Hu's deputies, were toppled under Xi for corruption. He also restructured the PLA, creating the Joint Battle Command directly under the Joint Staff Department and making himself the commander-in-chief. Xi downsized the force by 300,000 but has spared no expense in equipping it with the best available gear.
Zeng Zhiping, a military specialist at the Nanchang Institute of Technology, said Xi had been much more hands-on than his predecessors in shaping the military into a powerful force.
"You have to take full responsibility when there is any flaw or wrongdoing found with the military," said Zeng, referring to Xi.
Sunday's parade was very different from those conducted under Hu and his predecessor, Jiang Zemin, who stayed on as the military commission chairman until 2004.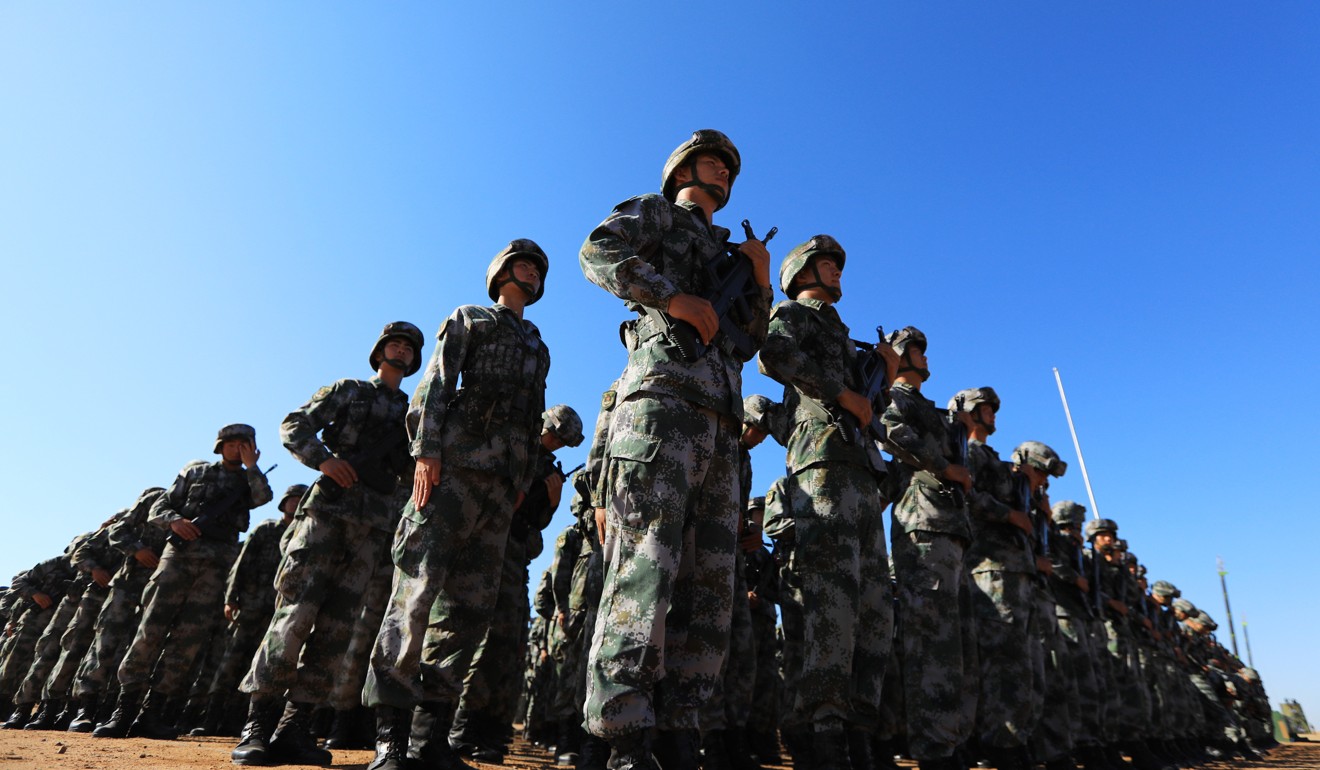 Both Hu and Jiang had only one parade – one in 1999 for Jiang and one in 2009 for Hu.
Both were held in Tiananmen Square in Beijing, and both leaders dressed in Mao jackets and inspected the troops from a limousine.
Xi, on the other hand, rode in a jeep on Sunday.
He has also lately been addressed by the troops as "chairman" instead of "chief", suggesting he is the only supreme military leader.
Xi's inspection of the army ­resembles what Deng Xiaoping did in 1981, when the late leader was trying to improve the battle capabilities of the bloated PLA after a decade of the Cultural Revolution.
In Xi's own words, he is now shouldering the responsibility for making China strong after Mao Zedong had made it "stand up on its own" and Deng had made it rich.
China's military has not been tested since its war with Vietnam in 1979. Since 1949, it has fought three other wars: in Korea against US-led forces in the early 1950s, a border war against India in 1962, and border skirmishes with the former Soviet Union.