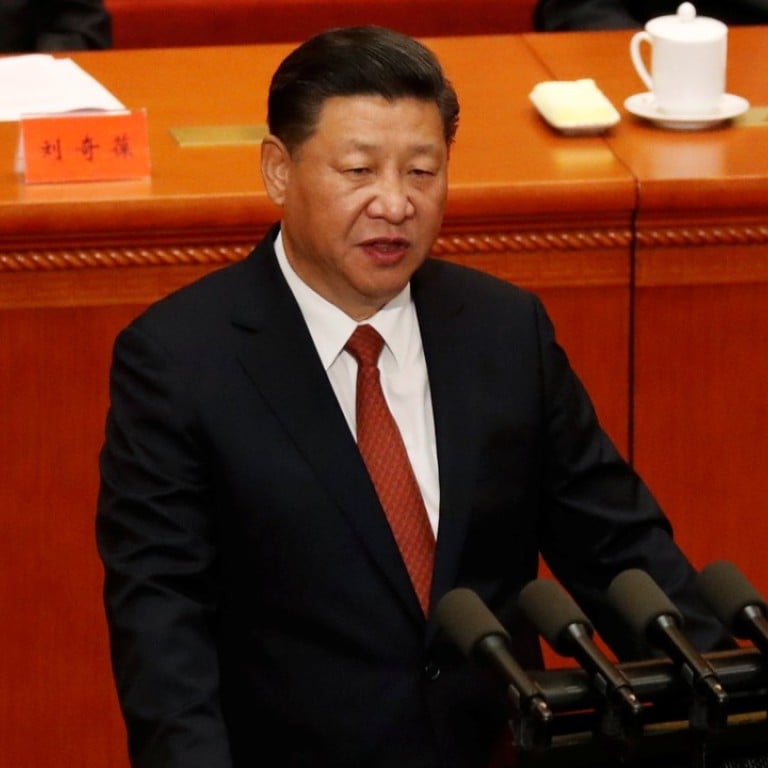 Xi says no 'individual, political party or group' will be allowed to hurt China's territorial integrity
China will not be an aggressor, but will defend Hong Kong and all its territories from any threat, president says
Chinese President Xi Jinping said in Beijing on Tuesday that China's military would not tolerate any attempt to damage its territorial integrity.
Speaking to senior Communist Party and government officials at an event to celebrate the 90th anniversary of the founding of the People's Liberation Army, Xi's comments came just two days after he addressed the nation's troops directly on the parade ground at the Zhurihe training base in Inner Mongolia.
"No one could expect us to swallow consequences that damage our sovereignty, security and developmental interests," he said.
During the speech, at the Great Hall of the People in the Chinese capital, Xi repeatedly emphasised that the military must for ever stay unswervingly loyal to the Communist Party, as its absolute leadership over the armed forces is the PLA's "unalterable soul and indispensable lifeline".
"There must not be any waver, hesitation or ambiguity," he said.
Xi also asked the military to focus on preparations for war, and urged its leaders to improve capabilities in modern warfare and combat readiness. The military should be ready to win a war whenever needed, he said.
As commander-in-chief of China's military, Xi said that with the unprecedented changes happening around the world, China's armed forces are the bottom line guarantee for defending peace and security.
He added that China's military has fulfilled its duty in the defence of Hong Kong and Macau, effectively dealt with various national security threats, and firmly countered splitism in all forms.
Professor Lau Siu-kai, vice-chairman of the Chinese Association of Hong Kong and Macau Studies, a semi-official think tank, said Xi's message was a warning both to separatist forces within China and to foreign challengers to its territorial rights.
"As Xi mentioned, the army is led by the Communist Party ... [so] he has to give them an obvious mission, and that is to defend national sovereignty, especially in the East and South China Seas ... and independence [advocates] in Taiwan, Hong Kong, Xinjiang and Tibet," Lau said.
"This is an important task for the Communist Party, and the rationale behind it is to strengthen the party's leading status in China," he added.
"It was a message for all people around the country. It was also a message for people around the world, that Beijing is determined to defend its territorial integrity."
Jin Canrong, a professor at Beijing's Renmin University, said that Xi's use of the term "political party" in his speech was directed specifically at Taiwan's ruling, and pro-independence, Democratic Progressive Party (DPP).
Beijing considers Taiwan a breakaway province that it will reunify by force if necessary.
"The Taiwan issue is the most standout and urgent problem among them all," Jin said, adding that other separatist groups, like localist parties in Hong Kong, operate on a much smaller scale.
"I don't think it would necessarily require the mobilisation of the PLA to handle them," he said.
Alexander Huang, former deputy minister of Taiwan's Mainland Affairs Council, said it was understandable that Xi used a tougher, hawkish, tone when addressing the military.
"The inclusion of the term 'political party' leaves some space for interpretation, but I don't think he has changed his fundamental stance towards Taiwan or the DPP," Huang said.
In a review of the military reforms he has initiated during his first term, Xi said that the military now has a "brand new institution, organisation, structure and appearance" able to defend China's territorial sovereignty and maritime rights.
The military will not be an aggressor, but will remain a strong defender of the regional and international peace and order achieved after World War II, he said.
"To deal with global security challenges, China will take up those responsibilities that fit our international status. We will never seek aggression or expansion, but we are confident of defeating any invasion," Xi said.
Military discipline and troop morale are just as important as the size of the weapons in any army, he said.
Xi added that China's military-civilian integration programme will be elevated to a national strategy. This means that civilian companies and organisations will become more involved in the supply and development of military technology, equipment and services, which will in turn help to balance economic and defence development, he said.
This article appeared in the South China Morning Post print edition as: P.L.A. must be ready to fight for China's territory, Xi says