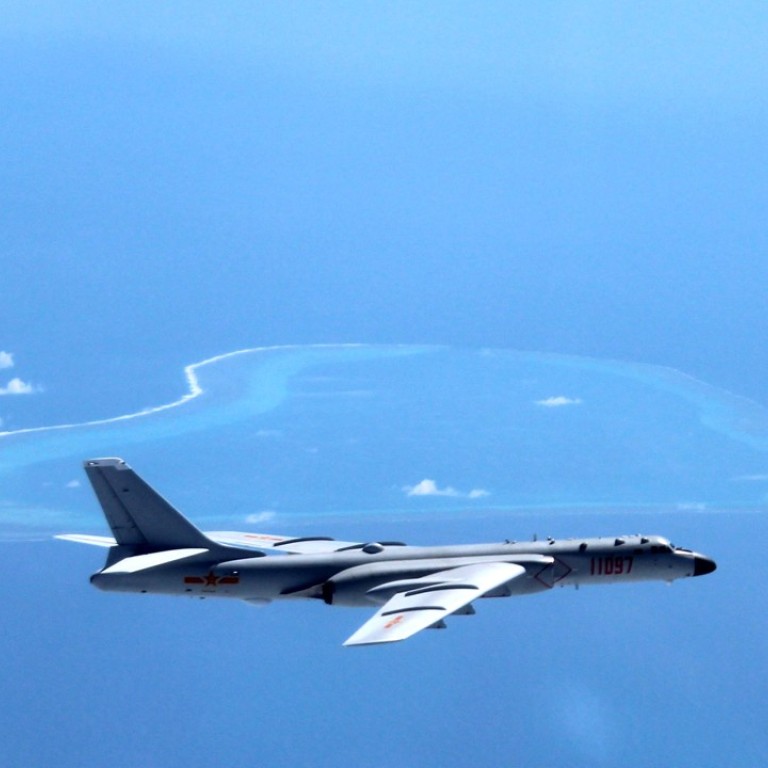 Distracted US leaves window of opportunity for Beijing to expand power in South China Sea
Trump administration's focus on other parts of the world could be handing Chinese authorities a long-term advantage
As Kim Jong-un's antics in North Korea capture global attention, China is quietly moving to bolster its grip on disputed territory in the South China Sea.
Last month, a Philippine lawmaker released photos he said showed Chinese fishing, coastguard and navy vessels surrounding a Philippine-occupied isle in the Spratly island chain, preventing planned repairs to a runway.
Vietnam in July halted drilling in an area leased to Spain's Repsol SA, amid reports it did so under Chinese duress.
The incidents suggest China is taking advantage of a perceived vacuum left by the United States in Southeast Asia as Donald Trump's administration focused on Chinese trade tensions and North Korea's missile and nuclear tests.
While the US is still conducting what it calls "freedom of navigation" naval operations in the South China Sea, testing China's claims to exclusive access – it plans to conduct two to three such manoeuvres in the next few months, according to The Wall Street Journal – and a rear admiral publicly criticising Beijing for its behaviour, the intensity of its actions and statements on the waters has faded since Trump took office.
Doubts over the future of US commitment could make some Southeast Asian states reluctant to publicly challenge China on their own.
While the US is occupied with developments further north, China may have the opportunity to expand its presence in the South China Sea in a way that becomes impossible to unwind, giving it the strategic advantage over time.
"China knows that Trump is very focused on North Korea, and not too worried about Southeast Asia," said Jay L Batongbacal, director of the Institute for Maritime Affairs and Law of the Sea at the University of the Philippines.
"There is a willingness on their part to push things as far as they can."
The recent actions are a far cry from the clashes at sea that occurred in mid-2014 when China dragged an oil rig into waters also claimed by Vietnam.
After an international outcry, Beijing withdrew the rig several months later.
When a 2005 agreement to share the area's resources expired in 2008, the Philippines and Vietnam opposed China's so-called nine-dash line – marks on a map covering more than 80 per cent of the South China Sea – as a basis for joint exploration.
Now, under Philippine President Rodrigo Duterte, Beijing and Manila are negotiating a deal for the Sampaguita gas field at Reed Bank as a starting point.
Without strong support from the US or Southeast Asian nations, Vietnam could find itself less able to push back against China's efforts to drill in other areas.
Vietnam is concerned about a potential US pullback in the region. "We are watching them with worry," said Tran Viet Thai, a deputy director general at the Diplomatic Academy of Vietnam in Hanoi, where the country's diplomats are trained.
"We want to see the positive contribution of the US to regional stability and international security."
China's focus is on pushing joint explorations that tie countries' economic fortunes together and take the focus off strategic ambitions.
Standing alongside Philippine Foreign Secretary Alan Peter Cayetano in Manila in July, China's Foreign Minister Wang Yi said joint exploration was an idea "full of political wisdom".
According to a 2013 estimate by the US Energy Information Administration, the South China Sea has about 11 billion barrels of oil and 190 trillion cubic feet of natural gas rated as proved or probable reserves.
The latest tensions are over exploration block 136-03, which is located around 560km southeast of Ho Chi Minh City and which China calls Wanan Bei-21.
It's not the first time the area has been an issue.
In 1994, Chinese warships blocked a Vietnamese oil drilling rig from working in the area, and in 2011, Vietnam said a Chinese fishing boat rammed a PetroVietnam ship conducting a seismic survey.
The BBC reported in July that Vietnam had terminated drilling by Repsol "following strong threats from China".
Repsol confirmed the suspension in an earnings call in July but said it would not comment further. Asked about the matter on July 25, Foreign Ministry spokesman Lu Kang said China urged the relevant party to stop its "unilateral actions that infringe upon China's rights".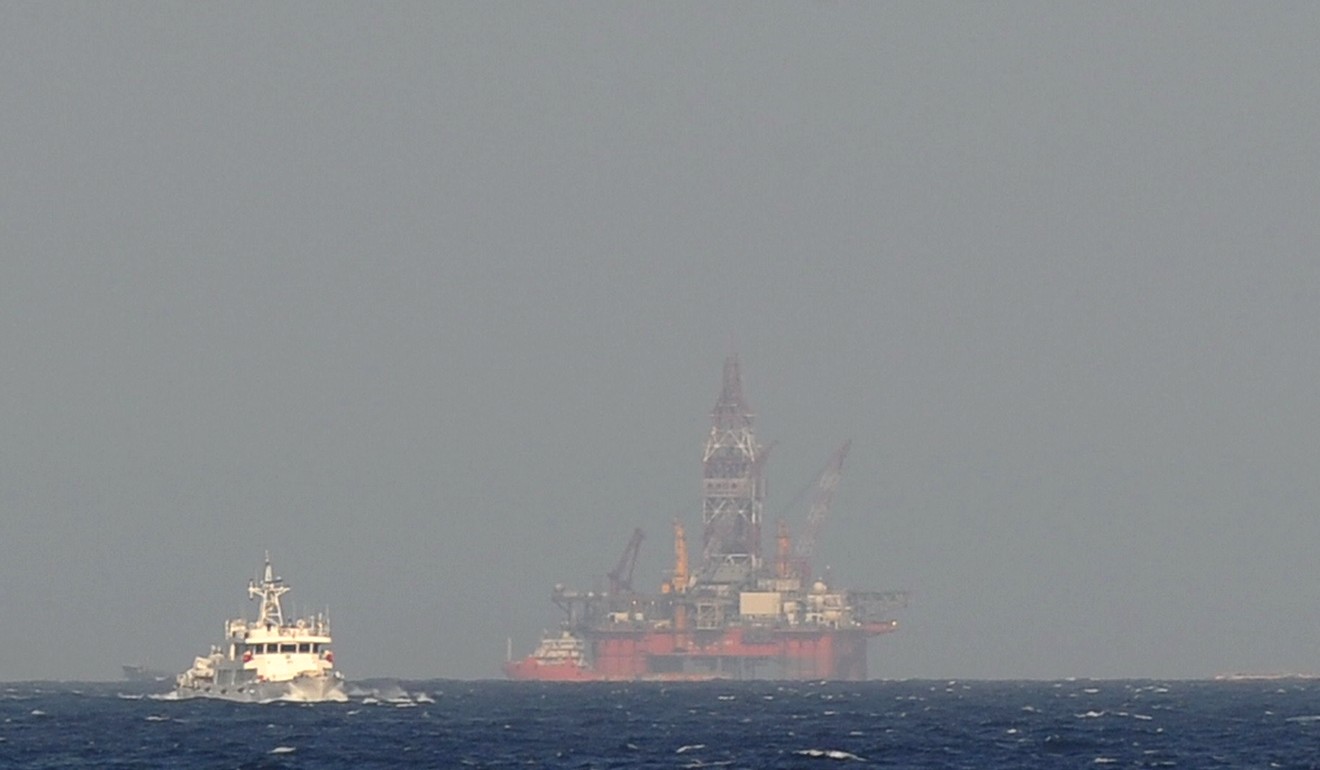 Vietnam has asked China to stop military drills in the Gulf of Tonkin and act in accordance with international law, Foreign Ministry spokeswoman Le Thi Thu Hang said in a statement on the ministry's website on August 31.
She said in a statement in late July that Vietnam asked parties to respect its rights in the waterway.
"It will be critical to watch how China responds to other drilling activities," said M Taylor Fravel, associate professor of political science at Massachusetts Institute of Technology and a member of the board of directors for the National Committee on US-China Relations.
Other Vietnamese blocks overlapping China's claims involve ExxonMobil Corp, Murphy Oil Corp and KrisEnergy Ltd, according to Jean-Baptiste Berchoteau, an Asian upstream research analyst for Wood Mackenzie.
KrisEnergy spokeswoman Tanya Pang said the company has no current drilling activity in the area. Murphy Oil did not respond to a Bloomberg request for comment.
"We are not conducting drilling operations and have not received any similar such request," Exxon spokesman Aaron M Stryk said in a statement.
"At this time, we are working very constructively with our partners and the government of Vietnam to develop the Ca Voi Xanh field."
The foreign ministers of the Association of Southeast Asian Nations and China have now endorsed a framework for a code of conduct in the South China Sea.
Exploration done in accordance with Philippine law "would be a constructive development for future foreign relations within Southeast Asia," said Albert del Rosario, a former Philippine foreign secretary. "Respect for the rule of law by China would be welcomed not only by Asean but by the responsible community of nations."
For now, the lack of public comment from Vietnam on Block 136-03 is probably recognition that "it's not a good time to rock the boat", said Collin Koh, a research fellow at the S Rajaratnam School of International Studies in Singapore.
"There is a growing uneasiness about China and the way it has been behaving in the region," Koh said.
Still, for now, "Vietnam sees that it has to give the code of conduct a chance to work".