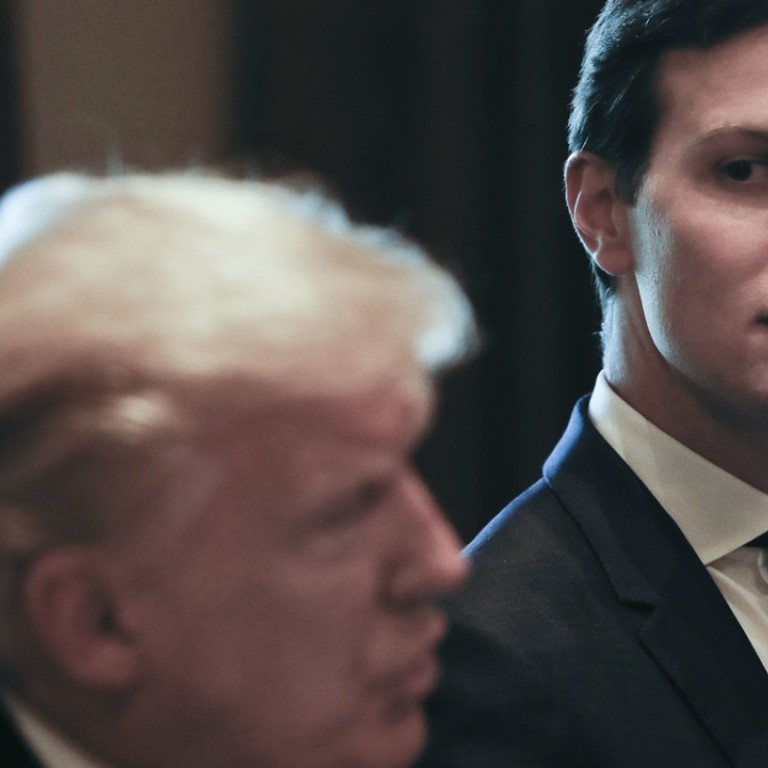 Has China overplayed the Kushner card in dealing with the White House?
Jared Kushner and Ivanka Trump's China trip is off, and some analysts are questioning whether Beijing has been too reliant on informal communications
The cancellation of Jared Kushner and Ivanka Trump's trip to China has again cast a spotlight on the role of America's first family in Beijing's relations with Washington.
Pundits have questioned Beijing's wisdom in setting so much store in the couple when dealing with US President Donald Trump's White House, with some concerned that an overreliance on ties with Trump's family could hurt China's image as well as bilateral relations.
But others, especially Chinese diplomats, say Beijing's strategic use of the Kushner channel was an effective way to smooth relations initially between Trump and Chinese President Xi Jinping. Kushner reportedly played a significant role in arranging the meeting between Trump and Xi in Florida in April.
Orville Schell, director of the Centre on US-China Relations at the Asia Society in New York, said China may have overplayed the Kushner card in handling its ties with Trump amid mounting concerns about potential conflicts of interest surrounding his son-in-law's role in the White House.
"In my view the Sino-US relations are very stressed. China has ignored a lot of warning signs and it has lost tremendous support in this country … It thinks maybe it can solve things at the top level through the president and his son-in-law," Schell said.
"I think China is very naive in assuming that they have the inside line, just the way Putin was naive in assuming that his good relations with Trump would help Russia. It turned out it hurt Russia."
Trump's daughter and son-in-law – who are both White House advisers – were expected to visit Beijing this month to prepare for Trump's visit in November but the trip did not happen, with reports suggesting Kushner had turned down an invitation from China.
Kushner is also facing controversy at home and calls for his resignation over possible legal complications relating to an investigation into Russia's role in the 2016 presidential election.
It is well known in Washington diplomatic circles that Cui Tiankai, Chinese ambassador to the US, has maintained close relations with Kushner and Ivanka Trump since Trump took office.
But Schell and other pundits said they were surprised that China, which usually pays close attention to protocol, appeared to be relying so heavily on personal connections with Kushner and Ivanka Trump.
"It was unusual for them to go to somebody who has no official standing whatsoever, just a son-in-law. It's like what the Chinese said about going through the back door. But it's not entirely their fault. The Trump administration is so chaotic and unusual," Schell said.
Senior Chinese diplomats dismissed these concerns, saying top leaders in Beijing knew they could not depend solely on Kushner or other members of Trump's family.
"Besides Kushner, Beijing has also made regular contact with the State Department through formal, traditional diplomatic channels," one diplomat familiar with the matter said, adding that Beijing was pragmatic about using whatever channels or people it could to help forge ties with the US.
Some analysts said Beijing communicated through Kushner out of necessity when Trump's administration was still at an early stage and his team was in flux.
Gal Luft, co-director of the Institute for the Analysis of Global Security, a think tank in Washington, said it was a smart move for Beijing to cultivate this channel when Trump first took office and was still an unknown quantity, with no US ambassador to China or Asia team in place.
"Under those conditions Kushner was the best friend to have in the White House," he said.
But that was no longer the case, Luft said. "The Kushner channel has recently become less useful not only because he is mired in political controversy [over the Russia probe] but also due to his limited bandwidth and multiple responsibilities, which is above and beyond what any human being can fulfil," he said.
Kushner has been described by some Trump critics as acting like a shadow secretary of state, taking on a foreign policy role on behalf of Trump on issues ranging from China to the Middle East.
China's image could also be at stake, with Kushner's White House role seen as blatant nepotism in some quarters, according to Pang Zhongying, an international affairs expert at Ocean University of China in Qingdao.
"Beijing should tread carefully when dealing with Jared Kushner because it should avoid being seen as condoning nepotism while bypassing normal channels of communication between the two governments," Pang said.
The relationship could also backfire on Trump, Pang said, because his family's ties with China could – like those with Russia – be considered controversial by many Americans.
Ely Ratner, a China expert at the Council on Foreign Relations, went further, saying it could do long-term damage to bilateral ties.
"Xi Jinping's decision to base US-China ties on ... family relations has done permanent damage to the relationship. It's an incredible insult to the many people who have spent decades building the relationship," he said.
But analysts said that since July, when General John Kelly took over as the White House chief of staff, the family's influence over the president had diminished.
"The weakness of the State Department still necessitates a direct line to the White House, but in light of Kushner's current radioactivity, cultivating Kelly and [National Security Adviser] H.R. McMaster as conduits to the president would be a safer bet," Luft said.
Schell noted that Kelly may have played a key role in the cancellation of Kushner and Ivanka Trump's China trip, which he said was a good sign.
"It's certainly better for the US, probably better for the US-China relations that this would be handled in a more official way, through appropriate channels, by people who know what they are talking about," he said.
Robert Sutter, a China expert at George Washington University, said that as a taxpaying American citizen, he was glad that the Kushner visit to China was cancelled.
"My concern focused on dealing with China [via an] informal channel of communication managed by individuals less experienced than senior government staff in the manoeuvres and intentions of Chinese government representatives," Sutter said. "American national interests would not have been well served by such emphasis on such an informal channel of communication."
But other researchers noted that communications between China and the US went well beyond the Trump family. "It's true that China put a lot of energy into seeking closer ties with Kushner and his wife Ivanka before the first summit between Trump and Xi," said Tao Wenzhao, with the Chinese Academy of Social Sciences. "But since then, Beijing and Washington have maintained close and frequent contact at various levels, which may be unknown and even unthinkable to outsiders."
Kerry Brown, a former British diplomat and a professor at King's College London, said: "They know that the American system is ... more complex than a single family and individual. That won't change, even under Trump."