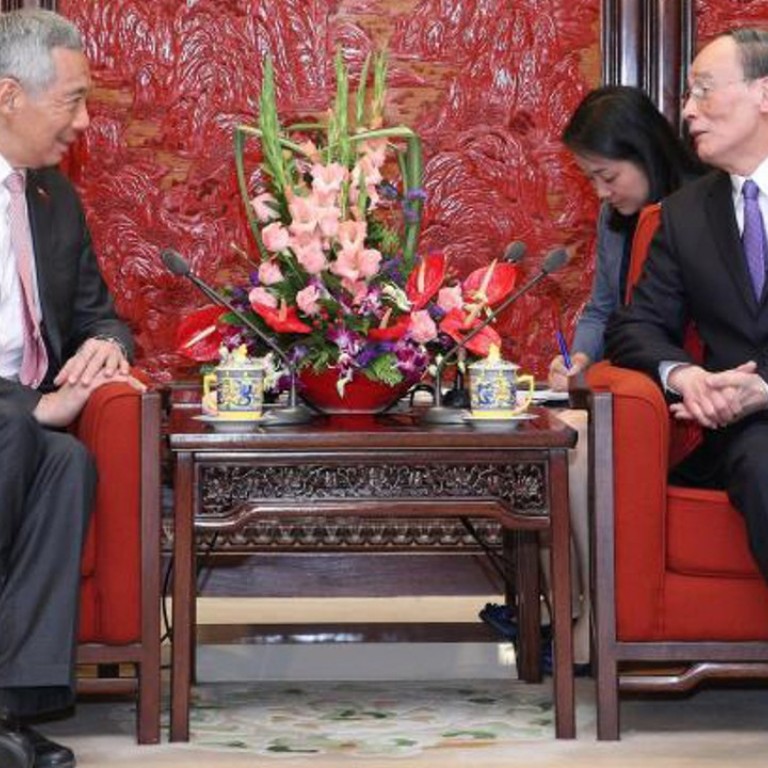 Singapore PM Lee Hsien Loong in surprise meeting with China's anti-graft tsar Wang Qishan
Observers say Lee was probably trying to get a sense of what's going on in the Chinese leadership transition
Singapore's Prime Minister Lee Hsien Loong found time to meet anti-graft tsar Wang Qishan on Wednesday during a hectic three-day visit to China – to the surprise of many China watchers and apparently even to Wang himself.
Lee is visiting the country ahead of its important Communist Party congress next month, when the leadership line-up will be decided along with the future of Wang, China's second most powerful man.
Wang has passed the unofficial retirement age of 68 for Chinese leaders and there is now intense focus on whether he will retire or break with protocol and stay on for another term.
He told Lee he was "surprised" but "very happy" about Lee's request to meet him, Singaporean Chinese-language newspaper Lianhe Zaobao reported on Wednesday.
"Singapore is among the countries I have the most contact with," Wang told Lee, according to Today, another Singaporean newspaper.
Wang is the head of the Central Commission for Discipline Inspection and a member of China's top decision-making body, the Politburo Standing Committee.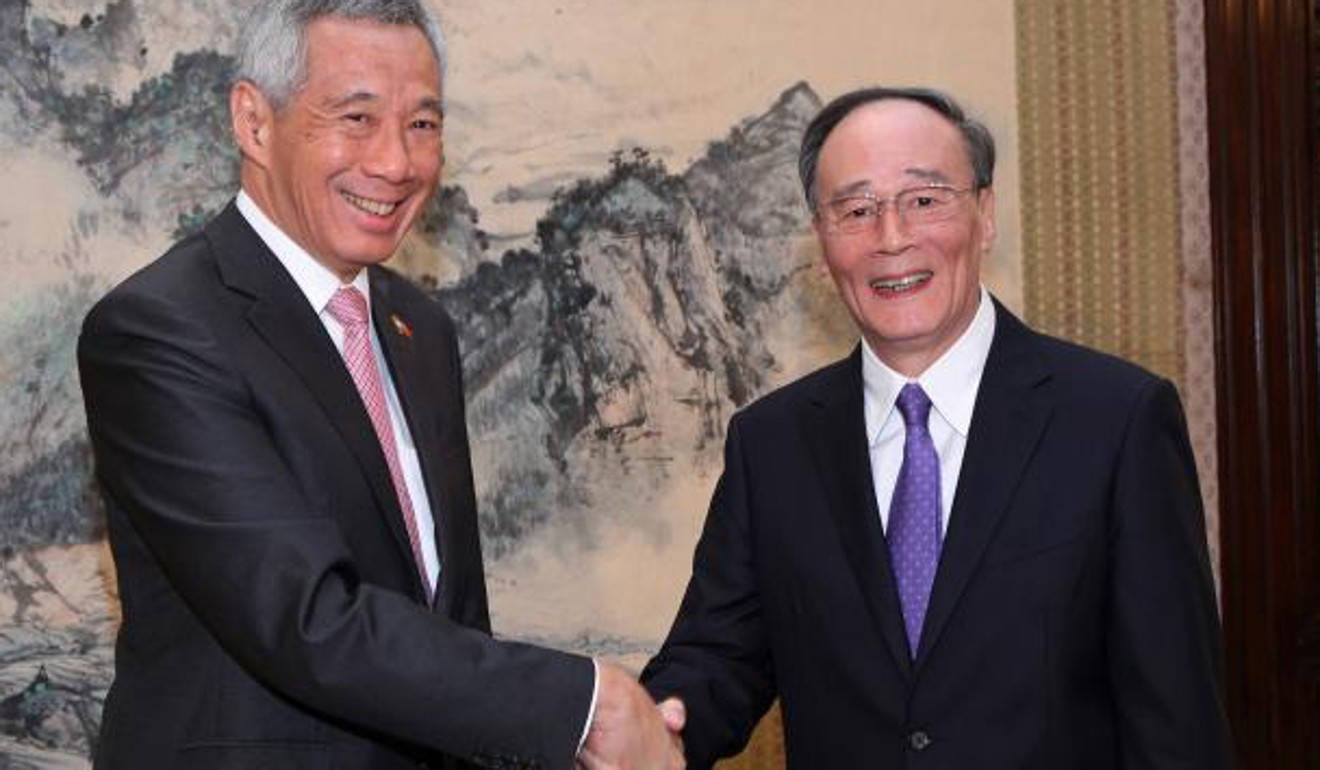 He is a key ally of Chinese President Xi Jinping and the enforcer of Xi's sweeping anti-corruption campaign that began when he took power in 2012. He has also played a role in managing Sino-Singaporean ties as co-chairman of the Joint Council for Bilateral Cooperation from 2008 to 2012.
But the addition of Wang to the list of top Chinese leaders meeting Lee was a surprise to many observers as he is not a regular host when foreign leaders visit Beijing.
He was also not on the list of leaders Lee was scheduled to meet, according to a press release from Lee's office ahead of the visit.
Ja Ian Chong, an assistant professor in political science at the National University of Singapore, said Lee probably wanted to get a sense of Chinese leadership transition dynamics in the lead-up to the 19th Party Congress – particularly given the speculation over Wang's political future.
"The Singapore leadership will be trying to meet whoever is in a position of power and influence in China," he said. "They want to get a sense of what is going on."
Singapore also wants to gauge the direction of Beijing's anti-corruption campaign – led by Wang – given its significance to the Chinese economy and its links to leadership succession, Chong said.
"China is the biggest economy in Asia, and a global power, and Singapore being an Asian country sees a need to understand what is going on to build links with China's top leadership," he said.
Wang told Lee that China had made "tremendous progress" with the anti-graft drive and would be "resolute" in pressing ahead with the crackdown, state broadcaster CCTV reported.
Beijing-based political analyst Zhang Lifan said Lee's request to meet Wang could be seen as a vote of confidence in Wang's political future ahead of the party congress.
Li Mingjiang, an associate professor with the S. Rajaratnam School of International Studies (RSIS) at Nanyang Technological University, said the meeting was in line with the usual practice of Singapore's leaders. "For one thing, they have been keeping a close eye on the reshuffle of Chinese leaders," he said. "And for another, the government attaches great importance to communicating with high-level Chinese leaders."
During the meeting, Wang reminisced about his discussions with Lee's father, the late Singaporean leader Lee Kuan Yew, Today reported.
"I had the privilege of having personal conversations with him on multiple occasions. He [was] such a visionary figure, full of political wisdom," Wang was quoted as saying. "I gained a lot every time I talked with him ... I'm really greatly saddened by his passing. He was indeed a great man."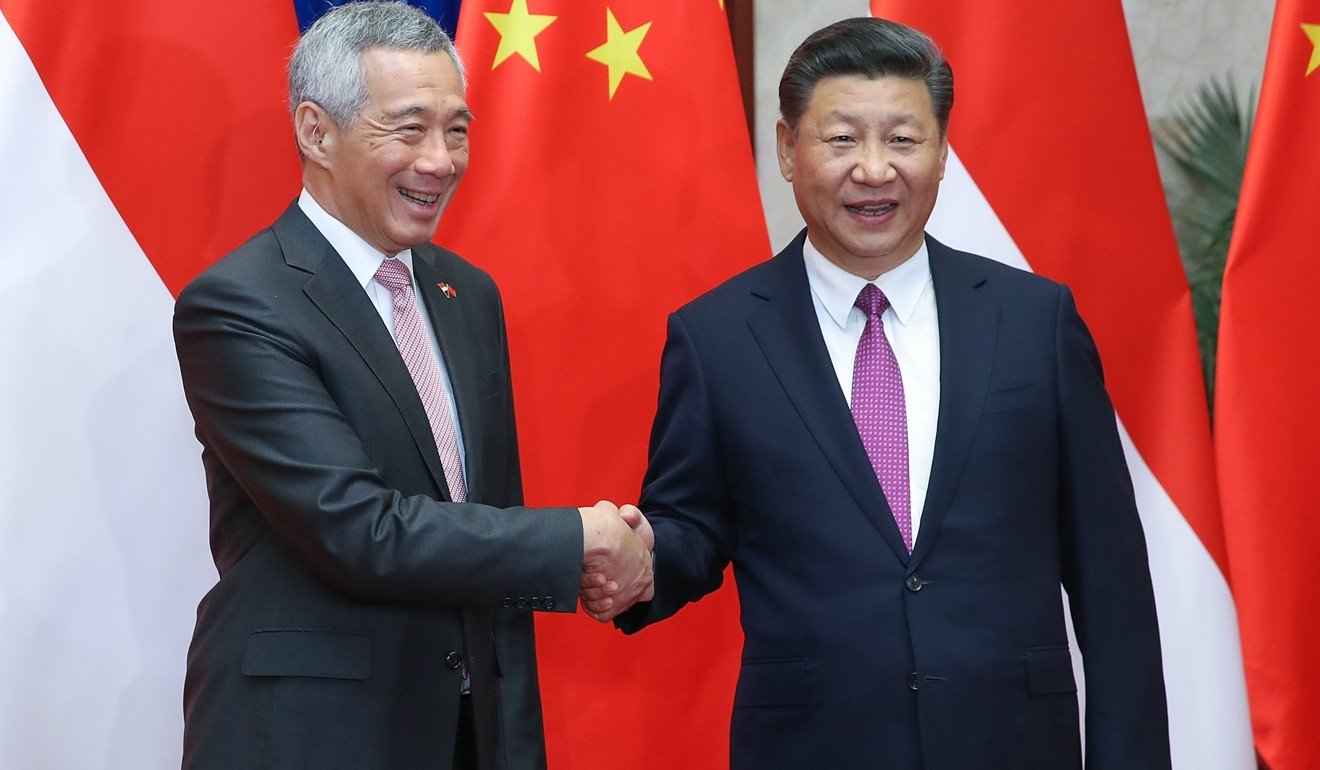 Lee Kuan Yew, the founding prime minister of Singapore, built close relations with Chinese leaders and worked to promote mutual understanding between China and the West.
But the younger Lee has had a more rocky relationship with China. Before he took office in 2004, Lee drew Beijing's ire over a secret trip to Taiwan to meet its leaders.
Last year, Beijing was dismayed when Singapore sided with the United States over the South China Sea disputes – in which Singapore is not a claimant. Singapore backed an international tribunal ruling in July 2016 that dismissed most of Beijing's claims to the disputed waters.
In November, a diplomatic storm broke out when the Hong Kong government impounded nine Singaporean armoured vehicles en route from a training exercise in Taiwan.
And in May, relations came under close scrutiny when Lee was absent from a major summit in Beijing on China's "Belt and Road Initiative" – a plan to boost infrastructure and trade links from Asia to Africa. But observers said Lee's visit suggested relations between the two countries were back on track.
When Xi and Lee met on Wednesday in Beijing, Xi said China and Singapore should support each other on issues of core interest, official news agency Xinhua reported. Lee then told Xi that Singapore supported "one China" and opposed Taiwanese independence. The one-China principle and the South China Sea are among the issues China refers to as its core interests.
Additional reporting by Sarah Zheng and Kristin Huang
This article appeared in the South China Morning Post print edition as: singapore PM Lee meets china's anti-graft tsar