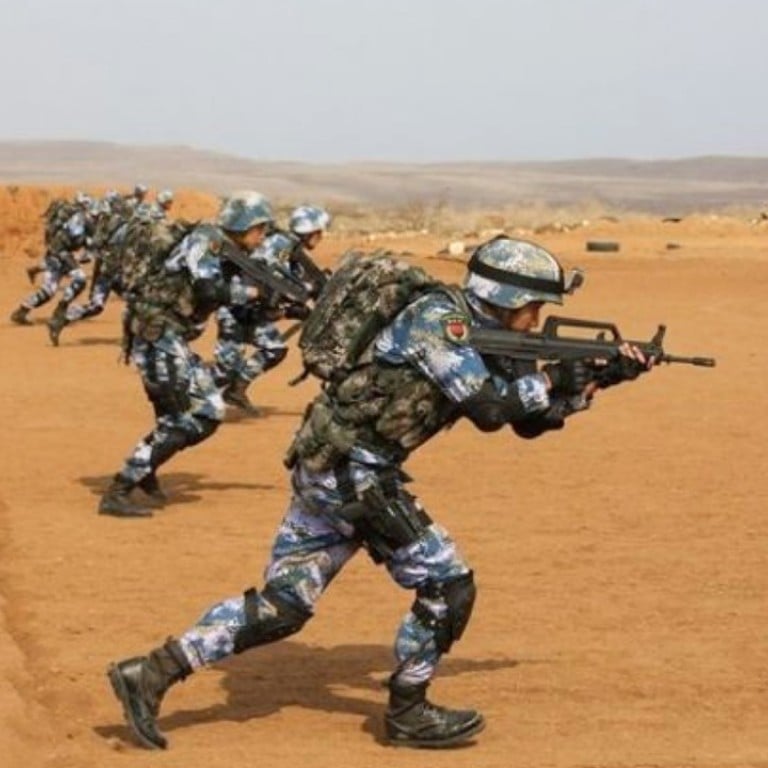 Live-fire show of force by troops from China's first overseas military base
Armed forces send message of combat readiness to Djibouti militants and other potential attackers, observers say
Troops from China's only overseas base have staged their first live-fire drills in what military analysts said was a major show of combat readiness.
The exercises in Djibouti on Friday involved dozens of officers and took place at the country's national gendarmerie training range, the People's Liberation Army Navy said in an online report.
Troops arrived at the base – China's first overseas garrison – less than two months ago and the drill was meant to test the personnel's capacity to handle a range of weapons and tasks in extreme heat, humidity and salinity, the report said.
Temperatures in the African nation routinely rise above 40 degrees Celsius at this time of year.
"This is the first time our soldiers stationed in Djibouti have left the camp to conduct combat training," base commander Liang Yang was quoted as saying.
"The live-fire training will help explore a new training model for the [Chinese] overseas garrison."
Footage aired by state-run CCTV showed PLA marine corps using various weapons – from pistols to automatic rifles, sniper rifles and machine guns – to fire at targets.
Beijing-based military expert Li Jie said the troops had to be on combat alert at all times because of the region's complex political conditions and Djibouti's geographic importance.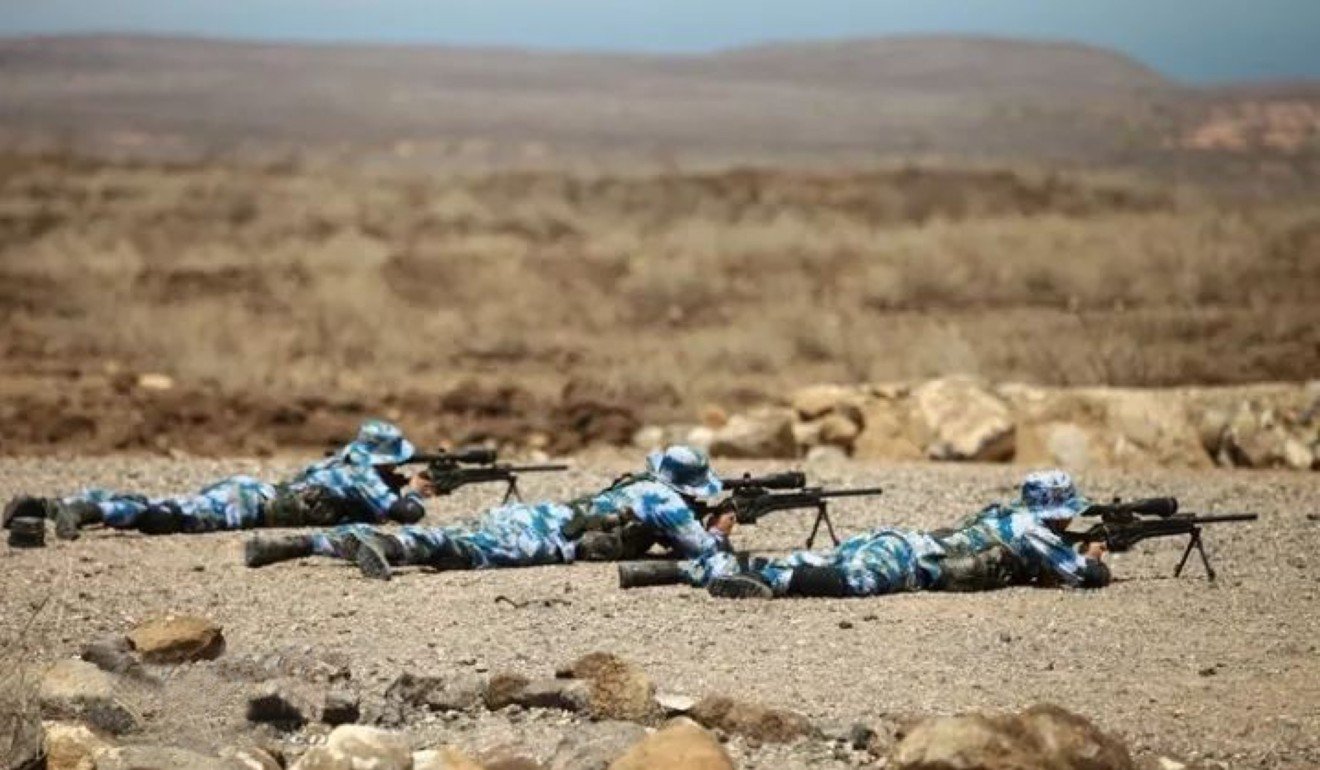 The African nation is at the southern entrance to the Red Sea along the route to the Suez Canal, and Eritrea and Somalia. It also hosts US, Japanese and French bases.
"The PLA troops based in Djibouti should be able to protect themselves and resist attacks from terrorists, pirates, local armed forces, or even foreign troops," Li said.
China's Procuratorial Daily, the top prosecutor's official newspaper, reported earlier that a Japanese naval vessel sent divers to approach a Chinese warship as both vessels were docking at Djibouti. Without specifying the time of the encounter, the report said Chinese naval troops used "a strong light and a verbal warning" to drive away the Japanese divers.
The Japan Maritime Self-Defence Force established a base in Djibouti in 2011, and Tokyo said last year it was considering expanding the facility.
China began building what it describes as a logistics base in Djibouti last year, but docking facilities for navy ships, barracks and other military equipment are still under development.
The 36-hectare base will resupply vessels taking part in peacekeeping and humanitarian missions off the coasts of Yemen and Somalia.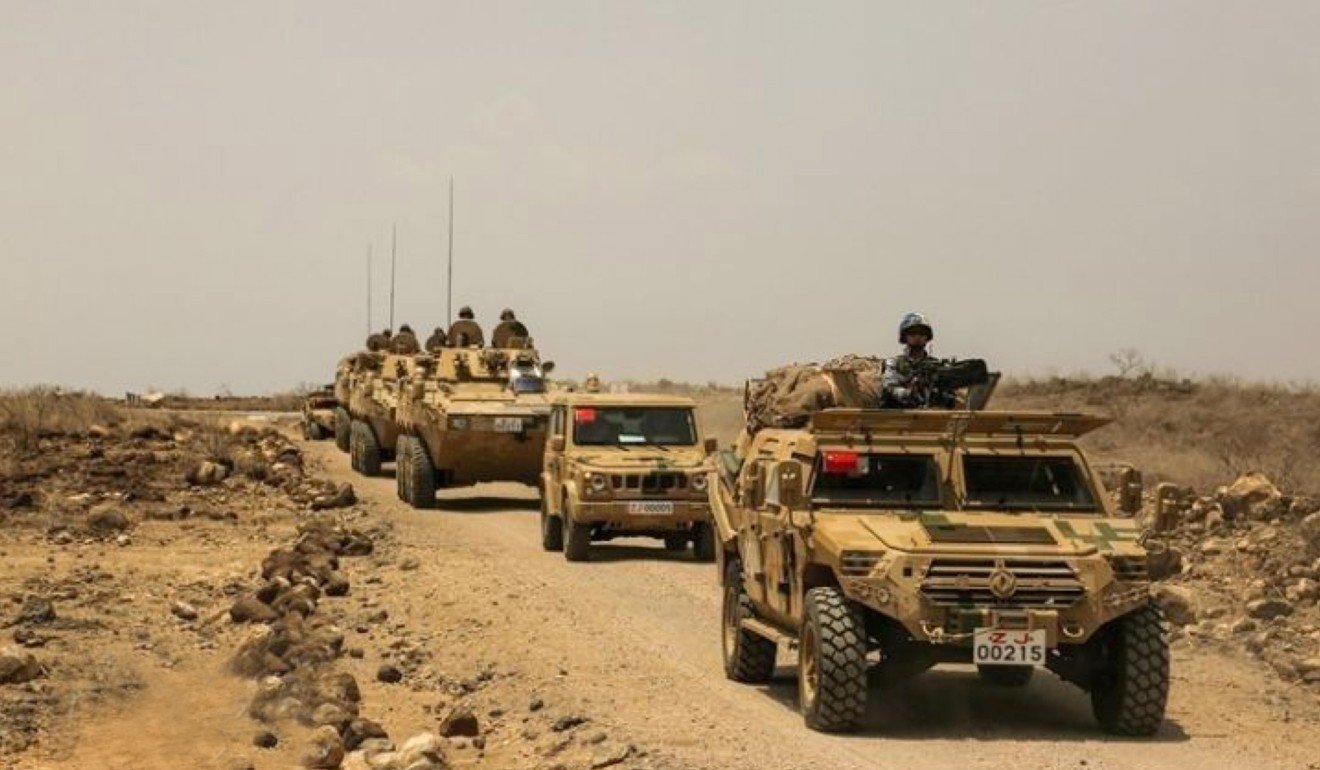 Beijing-based military commentator Zhou Chenming said the high-profile drills were a message to local militants "not to harass" the PLA troops.
"Since the political situation in Djibouti is very unstable, the troops need to let local armed groups know of their combat strength. They need to tell them that the Chinese forces are there not only to set up the logistics base but must also be able to deal with all kinds of security challenges," Zhou said.
This article appeared in the South China Morning Post print edition as: PLA out in force at first overseas base