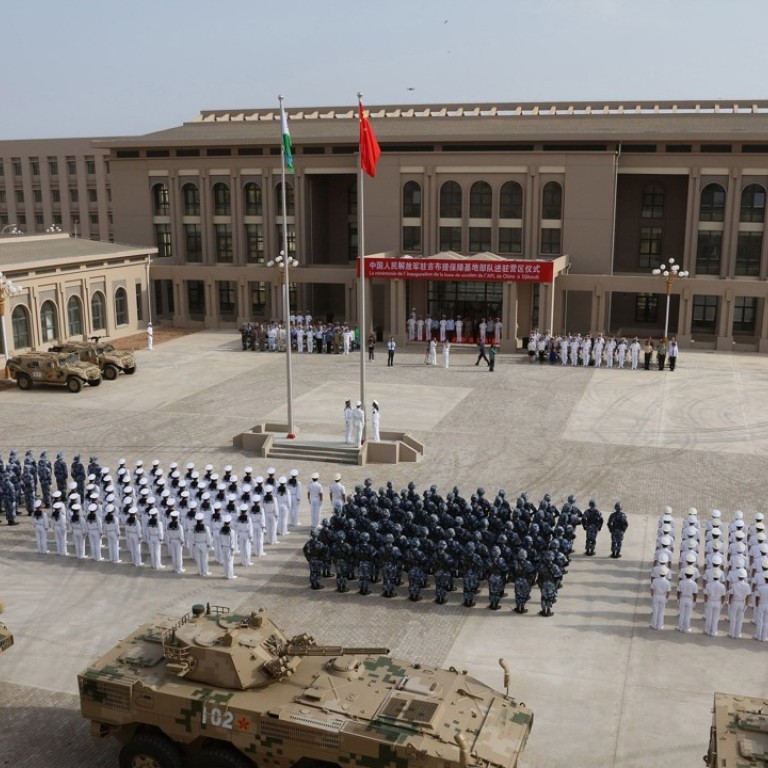 China plans to build Djibouti facility to allow naval flotilla to dock at first overseas base
New wharf will allow PLA navy to offer support for vessels taking part in anti-piracy patrols off the Somali coast
China is planning to build a multi-purpose wharf that would allow a naval flotilla to dock at its first overseas military base in Djibouti, according to military sources.
The wharf project will be started only when construction work on accommodation for the People's Liberation Army marines, engineers and workers stationed in the Horn of Africa nation is completed, one of the sources who is familiar with the project told the South China Morning Post.
"Projects such as the multi-purpose naval wharf are complicated. The Chinese navy needs a large-scale pier to offer logistical support for its flotillas conducting anti-piracy operations in Somali waters," the source said.
"The scale of the wharf should allow for the docking of a four-ship flotilla at least, including China's new generation Type-901 supply ship with a displacement of more than 40,000 tonnes, destroyers and frigates, as well as amphibious assault ships for combat and humanitarian missions."
China began building what it describes as a 36-hectare logistics base in Djibouti last year, but satellite images suggest its docking facilities for naval vessels, barracks and other pieces of military infrastructure are still under development.
The base lies next to the Doraleh Multipurpose Port, operated by DP World and China Merchants Holding.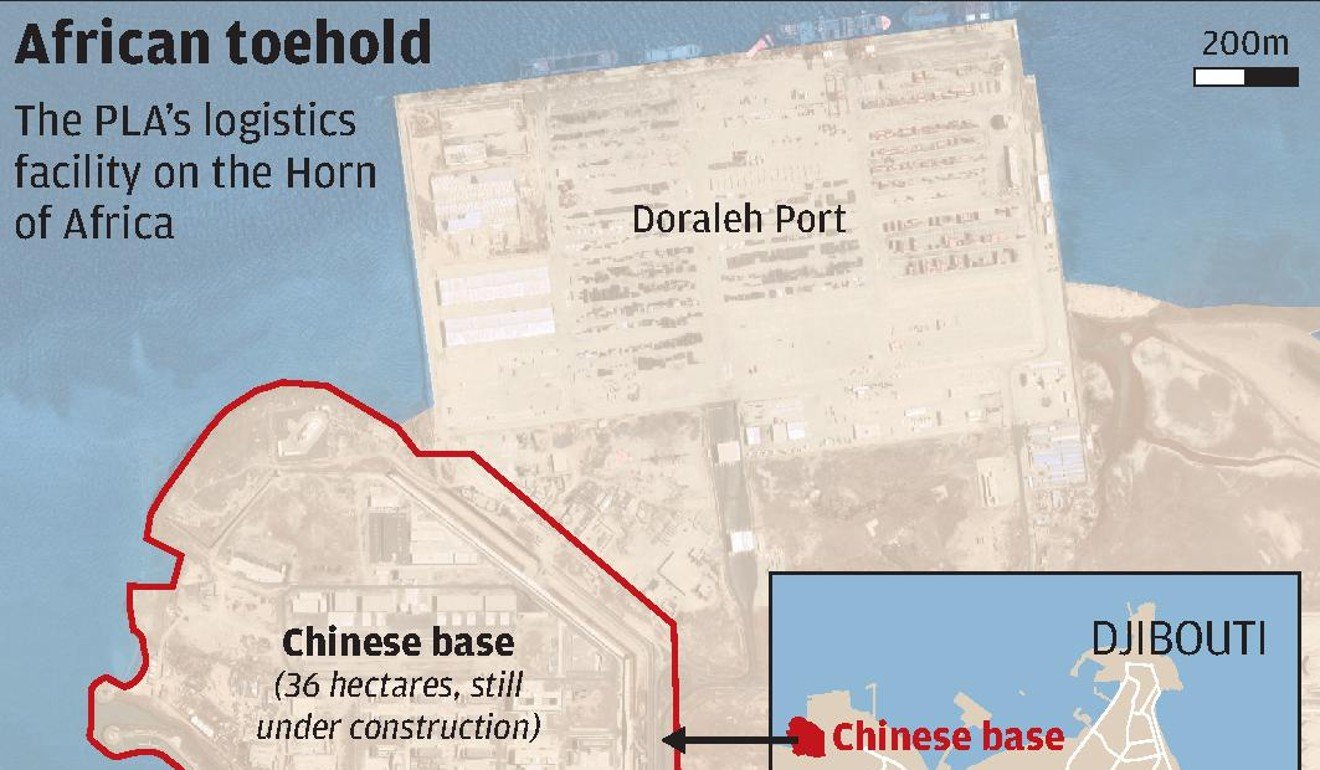 The source said Beijing was considering the possibility it would have to assist in the mass evacuation of Chinese citizens in an operation similar to the one conducted in war-torn Yemen in 2015 – meaning the capacity of the wharf would be designed to be as "big as possible" to allow more warships to dock.
Beijing said the base would resupply vessels taking part in peacekeeping and humanitarian missions off the coasts of Yemen and Somalia.
But another source close to the navy said the wharf had originally been designed as a "naval maintenance and repair port" because of an "accident" in 2010.
"China decided to set up a ship maintenance and repair stop in Djibouti after the power system of its Type-052B destroyer Guangzhou broke down when it was carrying out anti-piracy missions in the Gulf of Aden in May of 2010," the second source said.
"Sailors on the Guangzhou were facing the most embarrassing situation as they didn't know where they could go and who they should seek help from because Beijing and Djibouti hadn't formally set up military ties in that time."
The African nation is at the southern entrance to the Red Sea along the route to the Suez Canal and is sandwiched between the coasts of Eritrea and Somalia.
It also hosts US, Japanese and French bases.
Djibouti was a former French colony before it became independent in 1977. Paris has continued to provide security and economic assistance and the French navy maintains its largest military base in Africa there.
In 2010 only France offered assistance to the Chinese navy by inviting it "to pay a friendly diplomatic visit" to its naval base, the source said.
According to a People's Liberation Army Daily report from that year, a Chinese peacekeeping flotilla including the Guangzhou berthed at a naval base in Djibouti for a five-day maintenance and supply port call, but the report failed to specify which country's base the Chinese warships had docked in.
The Guangzhou's engine breakdown further strengthened the Chinese navy's ambition to set up a permanent overseas base near the pirate-infested Somali waters of the Gulf of Aden, the source close to navy said.
"Anti-piracy and other peacekeeping missions are all long-term strategies related to China's national interests. It needs to set up a multi-purpose overseas military base as an intermediate terminal for warship maintenance and repair, and let its sailors take a rest," the source added.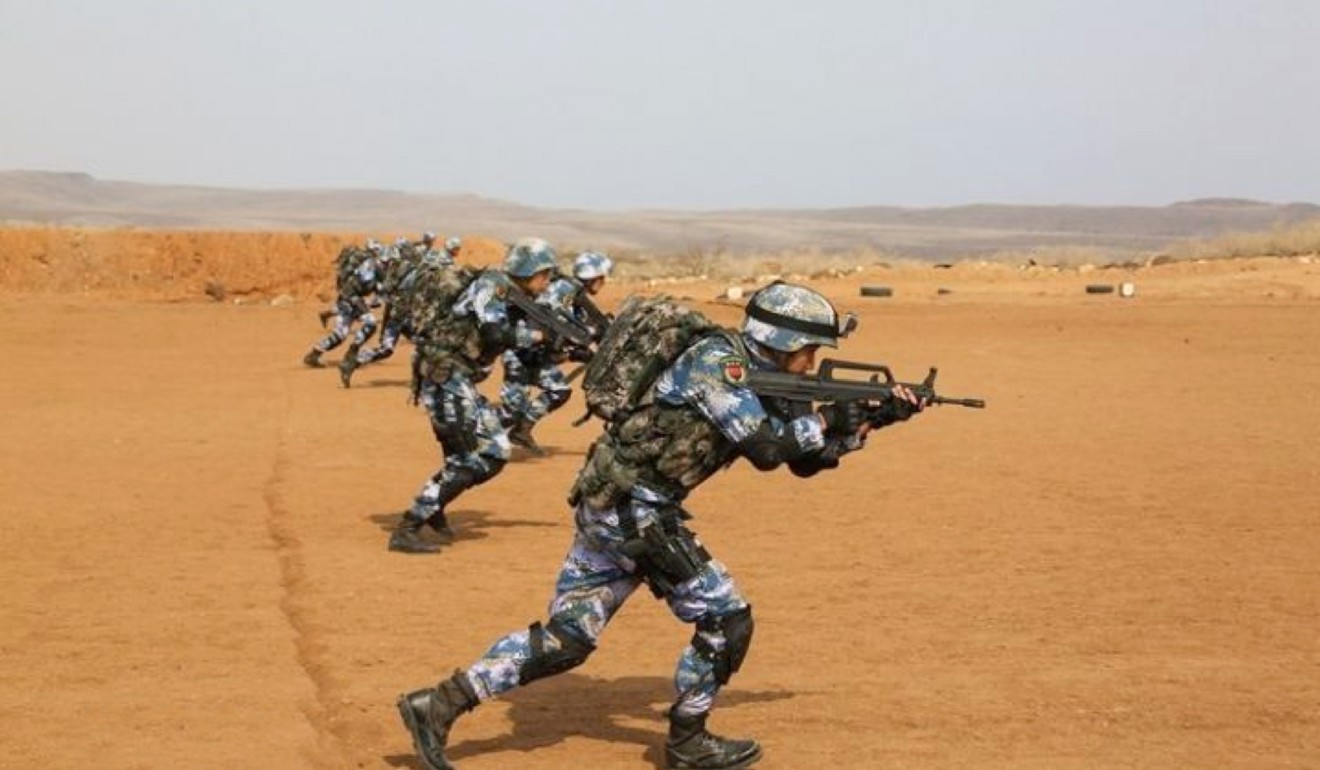 Beijing on August 1 announced that Djibouti base had been formally established, with the first Chinese marines stationed there departing on July 11.
Last Friday, the Chinese troops staged their first live-fire drills in what military analysts said was a major show of combat readiness.
The Chinese navy joined the United Nations' anti-piracy mission in late 2009 to escort merchant vessels in the area, vital waterway for China's oil supplies and trade.