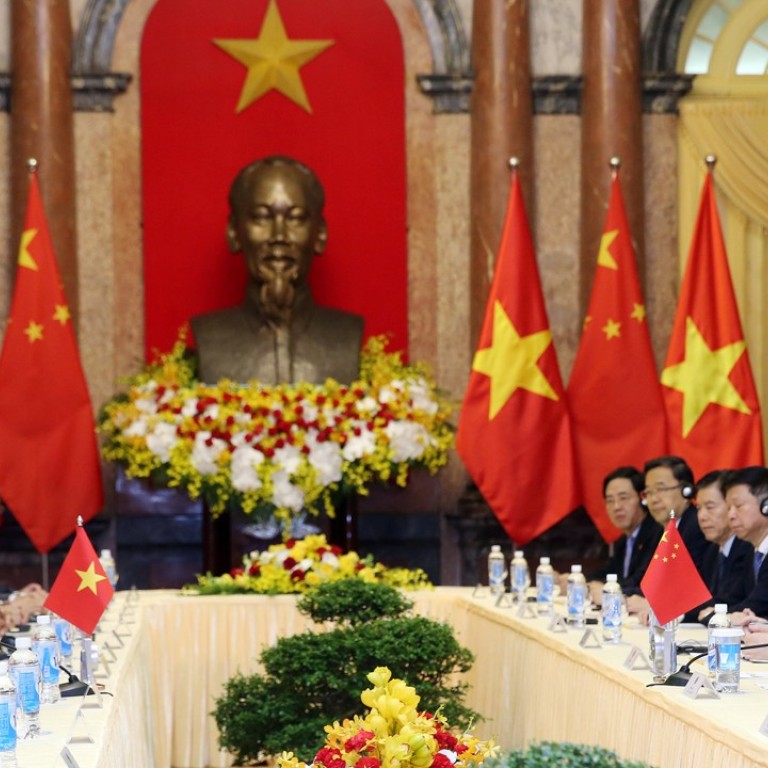 China, Vietnam sign cooperation pacts in bid to play down South China Sea tensions
Two nations' relations still likely to be strained by their rival claims to areas of the South China Sea, say analysts
China and Vietnam have signed a series of deals to increase cooperation as the two nations move to play down tensions over their rival claims to parts of the South China Sea.
The deals were signed on Monday as Chinese President Xi Jinping wrapped up a state visit to Vietnam, his first since the last month's Communist Party national congress.
However, analysts said the maritime disputes were still likely be a source of friction between the two neighbours.
Xi landed in Hanoi on Sunday after the Asia-Pacific Economic Cooperation summit in Da Nang.
He later held talks with senior Vietnamese officials, including President Tran Dai Quang, before heading to Laos.
The 12 cooperation pacts include agreements on building a border trade cooperation zone and setting up a working group on e-commerce cooperation.
The pacts are in addition to 83 deals worth US$1.94 billion signed before Xi's trip. These involve more than 30 Chinese companies in sectors including textiles and agricultural products.
Beijing and Hanoi also agreed to manage and control their differences over South China Sea disputes and refrain from moves that would affect stability in the disputed waters, according to a joint communique released after Xi's trip.
Strained relations between the two nations led their foreign ministers to cancel a meeting on the sidelines of a regional forum in the Philippines in August.
Beijing was concerned about Hanoi's more vocal protests over its claims in the South China Sea and its increasingly close ties with the United States.
Fan Changlong, vice-chairman of the Central Military Commission, also cut short his trip to Vietnam in June after Vietnam started drilling for oil in disputed waters. The drilling stopped after Beijing's protests.
Vietnam's Communist Party sent a message of congratulations to China following the conclusion of the party's national congress last month.
Vietnam's Communist Party chief Nguyen Phu Trong said Xi had personally contributed to Sino-Vietnamese ties, but the statement did not use the words "brotherly Chinese people" – which was used in a greeting sent to Beijing after the last congress five years ago.
Timothy Heath, senior international defence research analyst at RAND, said the change in the tone reflected Vietnam's concerns about China and their competing claims in the South China Sea.
"Vietnam has good reason to be cautious about its future with China. The country seeks to gain the economic benefits promised by the 'Belt and Road Initiative' and greater trade with China, but Vietnam is also wary of China's assertiveness," Heath said.
"Hanoi is perhaps worried that Beijing will insist on controlling more water and islands in the South China Sea as a price for the economic benefits gained from trade."
Diplomatic observers said the signing of the latest deals indicated that both nations were papering over differences regarding the energg-rich waters.
"The thorniest issue is how Beijing and Hanoi can reach a mutually acceptable path to jointly exploit resources at sea," said Zhang Xuegang, a Southeast Asian affairs specialist at the China Institutes of Contemporary International Relations.
Heath said it remained to be seen how many of the deals signed would be realised as Hanoi was also eager to sign agreements with the US and Japan.
"Hanoi is eager to ... ensure Vietnam is not too dependent on China," he said.
Bui Thu Hien, a China expert at the Institute of Chinese Studies at the Vietnam Academy of Social Sciences, said the trade deficit was another issue China and Vietnam had to tackle.
"I hope China can import more of Vietnam's products and reduce the lopsided bilateral trade relations," she said.
Last year, Vietnam's exports to China reached US$21.97 billion, up 28.4 per cent; while imports from China amounted to US$49.93 billion, up 0.9 per cent; narrowing the trade deficit by 13.67 per cent to US$27.9 billion.
This article appeared in the South China Morning Post print edition as: Beijing, Hanoi play down tensions