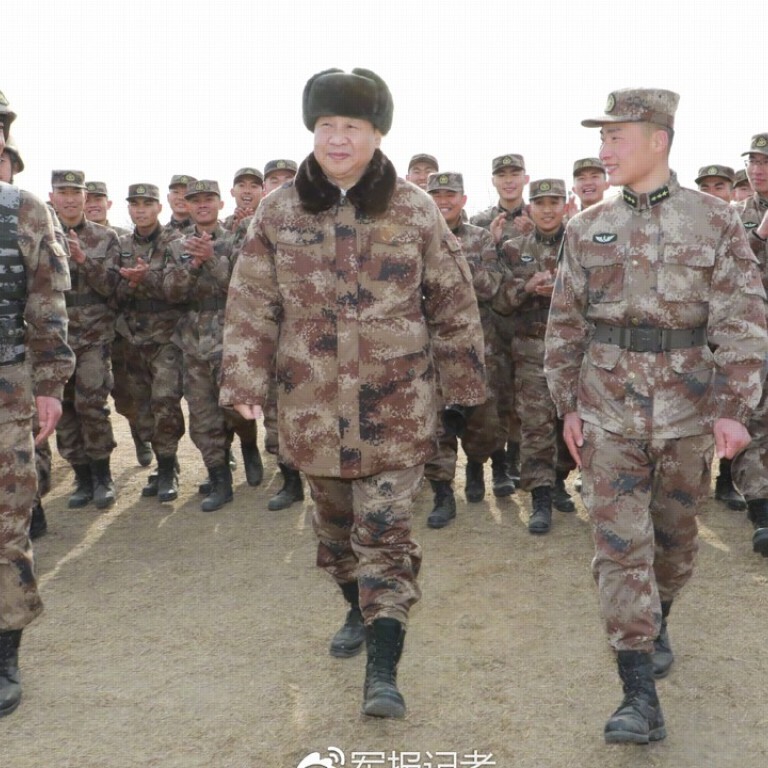 Xi Jinping calls for battle readiness as troops stage massive winter drills across China
Chinese president issues preparedness orders in person and flanked by the top members of the armed forces
Chinese President Xi Jinping ordered troops to step up drills and digital combat readiness as the world's largest army launched unprecedented nationwide winter exercises.
Dressed in a winter camouflage uniform and flanked by the other members of the supreme Central Military Commission, Xi issued the call from a military base in the Central Theatre Command, one of the country's five military zones, as troops in 4,000 sites across the country took part in simultaneous drills in the armed forces' annual new year exercises on Wednesday.
He also urged the military to improve integration between the various services, The PLA Daily, the military's mouthpiece, reported on Thursday.
"[We] will forge a powerful military that is ready to respond to the call, to fight and to win a war," he said.
In a separate speech, Xi said the People's Liberation Army should step up research into military digital technology as part of wider preparation for battle.
"All attention should be paid to [making preparations] for war, and all the work should be directed towards war," Xi was quoted as saying.
The drills included live-fire exercises in heavy snow by the army, amphibious assaults by the navy, air battle training by the air force, test manoeuvres by the rocket force, and a counterterrorism operation by the armed police, the report said, adding that Xi watched the exercises via a video link.
It was the first time that someone so senior had issued the orders in person ahead of the annual exercises – they are usually given via a conference call or letter by the head of the CMC's former General Staff Department, according to retired PLA colonel Yue Gang.
"This time it's from the highest level and of largest scale," Yue said. "So it has truly highlighted the significance of combat training and put it at the 'strategic place'."
Yue said the drills were central to China's plans to rapidly modernise its army.
"We need far more than a simple increase in the number of warships. The advanced weapons and complex equipment can't be operated with without a high degree of practice in combat conditions," he said.
Shanghai-based military commentator Ni Lexiong said China's greater focus on military drills and training over the past few years was part of Xi's massive restructuring of the PLA.
"This is the running-in period after the big overhaul. The personnel, the command chain and the geographical deployment have all been greatly changed," Ni said.
The time had come to put the PLA's equipment, transport, and logistics to the test in extreme winter conditions, he said.
"It also is a message to the world that China is very combat ready," Ni said.
This article appeared in the South China Morning Post print edition as: Xi watches cross-country military drill on video link