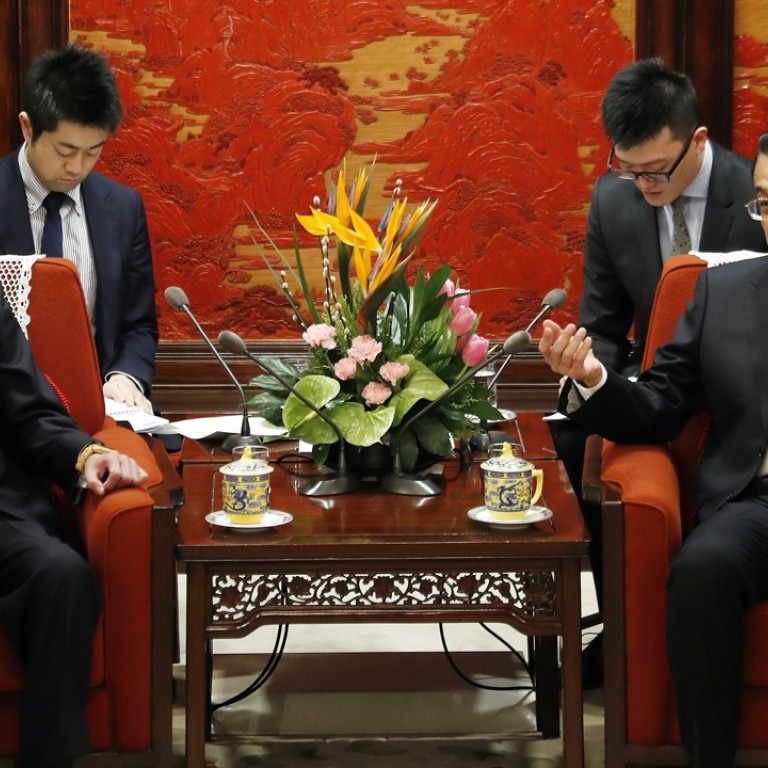 Japan's top envoy Taro Kono breaks the ice, but China sees ties as 'still cool'
Two sides agree to resume reciprocal visits by leaders, continue to work together on North Korea, and hold trilateral summit with South Korea
There were signs of a thawing in relations between China and Japan on Sunday as the two sides agreed to resume reciprocal visits by their leaders and reaffirmed their shared stance on North Korea.
But visiting Japanese Foreign Minister Taro Kono was told by his counterpart Wang Yi that although Beijing welcomed Tokyo's efforts to improve ties, it urged Japan to "put words into real actions".
Kono also met Chinese Premier Li Keqiang and State Councillor Yang Jiechi during his trip to Beijing – the first by a Japanese foreign minister for nearly two years.
China and Japan were improving their bilateral ties, Li told Kono, describing relations between the two countries as "barely warm, and still cool".
The two sides also agreed to hold a postponed trilateral summit with South Korea "as soon as possible", the official Xinhua news agency reported.
Earlier in the day in his talks with Kono, Wang urged joint efforts with Japan to get bilateral ties back on track.
"Your visit to China at the beginning of the year shows the Japanese government's strong willingness to improve bilateral ties," Wang said. He also urged Tokyo "not to slack off or fall back, and to work together with China to meet each other halfway".
Wang said "many disturbances and obstacles remain" for relations between the two countries and that they were now "like a boat going against a current – if there is no progress then things go backwards".
Kono told Wang that China and Japan "have a major responsibility in safeguarding the stability and prosperity of Asia and the world at large", and expressed hopes for improved ties.
Kono's visit came after Japanese Prime Minister Shinzo Abe stressed Japan's willingness to promote the relationship with China, in a policy speech on Monday.
Relations between the two countries have long been tense because of historical issues and their territorial disputes over the uninhabited Diaoyu Islands, known as the Senkakus in Japan, in the East China Sea that are controlled by Tokyo but also claimed by Beijing.
Agreements reached during Kono's trip included resuming reciprocal visits, holding the trilateral summit with South Korea, continuing to work together to denuclearise the Korean peninsula, and implementing a maritime and air communication mechanism in the East China Sea.
According to a statement from China's foreign ministry, both sides welcomed an agreement in principle to bring in the mechanism and hoped the military hotline – aimed at preventing unintended clashes in and over the East China Sea – could be put into use as soon as possible.
Although Kono's visit was a significant step in mending frayed ties between the two sides, it is just a start, according to observers.
Zhou Yongsheng, a Japanese affairs expert at China Foreign Affairs University, said Kono's trip had mostly fulfilled Japan's agenda and served to move bilateral relations in a positive direction.
"The most important outcome of the envoy's trip is the resumption of bilateral visits, which is what Japan most wanted out of this," Zhou said.
But he added that any improvement in ties with Japan would not deter China from continuing its military activities in the East China Sea.
A Japanese international relations expert, who declined to be named because he is involved with a diplomatic mission in China, said although this year was likely to see a thawing in relations between the two countries, security in the East China Sea would remain a key concern for Japan.
"Japan is deeply concerned when there are incidents like a Chinese nuclear submarine visiting the disputed Senkaku Islands ... and nearby waters, and the two countries will need more dialogue and consultation if they are to resolve this matter," he said.
A Chinese nuclear attack submarine equipped with ship-to-ship missiles and torpedoes was detected by the Japanese navy while submerged near the contested islands on January 11.
Additional reporting by Reuters and Associated Press
This article appeared in the South China Morning Post print edition as: Ties thaw as China, Japan seal new deals