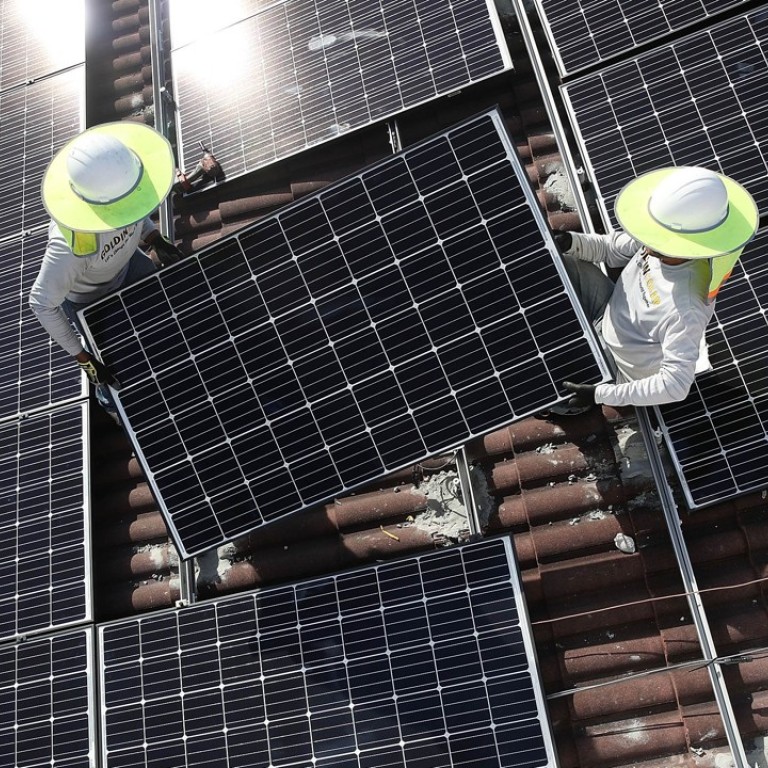 US firms in China fear fallout from tit-for-tat trade war
American business group says Beijing could target sectors to send a political message across the Pacific
US companies in China fear being caught in the crossfire if Beijing hits back over Washington's restrictions on trade, an American business group has warned.
William Zarit, chairman of the American Chamber of Commerce in China, said Beijing would not be shy of hitting back if Washington launched measures to restrict China's exports to and investment in the United States.
"We have urged that if China does want to retaliate they do so with precision so as not to actually adversely affect their own economy," Zarit said.
US President Donald Trump announced last week that the US would slap tariffs of up to 30 per cent on imports of Chinese solar panels, with further action expected against Chinese steel and aluminium.
Lester Ross, head of the chamber's policy committee, said "a broad variety of actions" would be taken after Trump's state-of-the-union speech late on Tuesday.
A spokesman for US National Security Council said Trump would insist on fair and reciprocal trade in his address.
"The president has reiterated that the United States will use all available trade remedies to create a level playing field for United States workers and businesses," the spokesman said.
Analysts said the action would likely include tariffs and import restrictions on Chinese goods in certain sectors and companies, investment curbs on Chinese firms in the US, restrictions on US technology exports to China and limits on visas for technical specialists.
The moves would take aim at China's industry policy and tech ambitions. Foreign businesses and governments have accused Beijing of forcing foreign companies to transfer technology in exchange for market access in China, and have criticised China's massive government subsidies for domestic firms to bolster the country's technological prowess.
Scott Kennedy, a China specialist at the Centre for Strategic and International Studies in Washington, said Trump clearly planned to adopt unilateral measures that would substantially affect Sino-US trade and investment ties.
"Trump is not bluffing," Kennedy said. "The question is no longer 'if', but 'when'."
Ross said the chamber's member companies had noticed that Chinese officials were unwilling to acknowledge the Chinese market was less open than the US.
As a result, action could be expected against US firms in China.
"From the Chinese government's perspective, it would be likely that they would target sectors that have political resonance in the US, particularly products and commodities that would be up higher on the [retaliation] list," Ross said.
"If [there is] a trade war or trade friction increases beyond what we consider a normal range ... members would be concerned that [it] would have adverse impact on the business environment here for themselves."
That sentiment was reflected in the chamber's annual business survey in which a growing majority of members said a positive bilateral relationship was critical to their business.
Arthur Kroeber, founding partner of China-focused research firm Gavekal Dragonomics, said the measures to be taken by the US went "far beyond the usual trade-spat tariff hikes" but might not be effective.
He said the drop in exports could be easily offset by extra infrastructure spending and China's technological ambitions would not easily be derailed by American restrictions.
Additional reporting by Zhenhua Lu
This article appeared in the South China Morning Post print edition as: US firms in China fear tit-for-tat trade moves