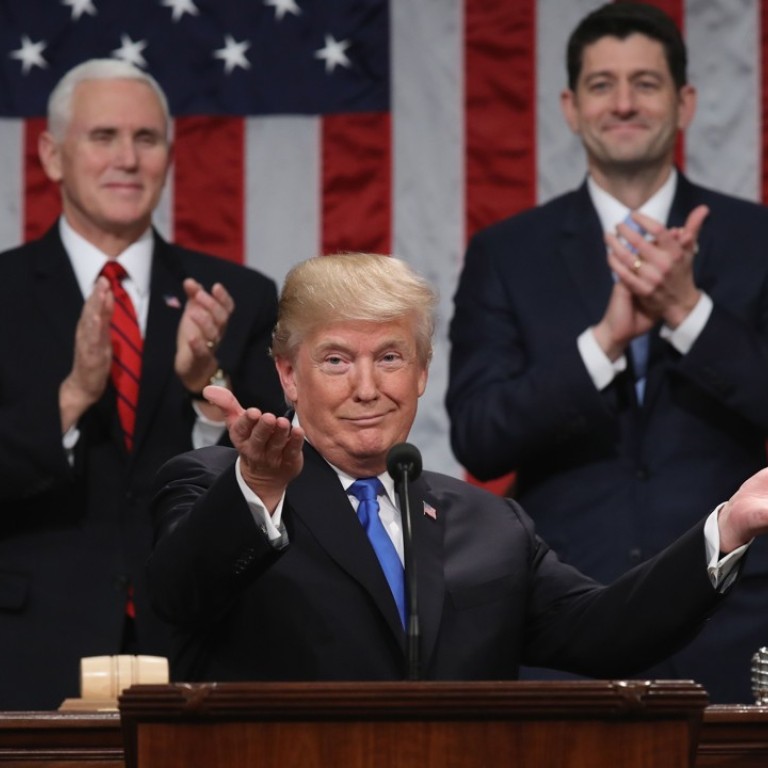 Donald Trump brands China a military rival in US reboot of great power strategy
Beijing stresses the two countries have common interests as US president insists that the stakes with China are not just economic
US President Donald Trump named China as a major US competitor on both economic and military fronts in his first state-of-the-union address, another sign that Washington is putting great power rivalry at the heart of its national strategy.
Analysts said Trump's explicit references to China contrasted with Beijing's view of the Sino-US relationship and those of his predecessors who saw China as a partner despite their economic competition.
In response to the speech, Beijing called on Washington to abandon the "cold war" approach to their ties and for the two nations to respect each other.
"Even though there are differences, the two countries still share more mutual interests than differences," Chinese foreign ministry spokeswoman Hua Chunying said on Wednesday. "History and reality shows that cooperation is the only correct choice."
Chinese Premier Li Keqiang also played down concerns over rising confrontation between Beijing and Washington, stressing that both sides have a lot of common interests.
"I hope the United States can have a comprehensive and objective view of the Sino-US relationship, expand our common interests and manage our differences," Li said.
In an annual address to a joint session of the US Congress, Trump vowed to boost American defences to counter threats from China and Russia.
"Around the world, we face rogue regimes, terrorist groups, and rivals like China and Russia that challenge our interests, our economy, and our values," Trump said.
"In confronting these dangers, we know that weakness is the surest path to conflict, and unmatched power is the surest means of our defence.
"For this reason, I am asking the Congress to end the dangerous defence sequester and fully fund our great military."
Trump also said the US must "modernise and rebuild" its nuclear arsenal, although the US would "hopefully never having to use" such weapons.
He also highlighted the need for fair and reciprocal trade relationships, and promised to take action to defend the country's intellectual property.
"And we will protect American workers and American intellectual property through strong enforcement of our trade rules," he said.
Trump's reference to China as a direct threat on all fronts is a departure from the take of his three immediate predecessors.
In 2000, then US president Bill Clinton talked about the importance of engaging China and appealed to Congress to back the US' effort to bring China into the World Trade Organisation.
Six years later, president George W Bush referred to China as one of the "new competitors" along with India on the economic front.
In 2016, US president Barack Obama said only that the United States must not let China write the rules of global commerce.
Trump's focus on China as a broader threat reflects a major shift in US defence priorities outlined in US Defence Secretary Jim Mattis's National Defence Strategy released in January. The document says the US will refocus on China and Russia after a decade of fighting terrorism in the Middle East.
Trump has also signed into law a sweeping defence policy bill authorising a US$700 billion budget for the military, but it still needs lawmakers' approval.
Wu Xinbo, director of Fudan University's Centre for American Studies, said Trump was playing up the threat from China and Russia to back his call for a big increase in the military budget.
"[But] China has yet to pose a direct military threat to the US," Wu said.
Teng Jianqun, director of the US studies department at the China Institute of International Studies, said there was a huge discrepancy in how China and the US viewed their relationship.
Chinese analysts and officials tended to be optimistic about bilateral ties, while those in the US were pessimistic, Teng said.
"If we do not pay attention to this perception gap, there could be miscalculations from both sides," he said.
Jie Dalei, assistant professor of international relations at Peking University, said that even though Trump had clearly named China as one of his country's greatest rivals, it would be difficult for the US to follow through on a strategy to contain China.
"The [US'] Indo-Pacific strategy is still a concept rather than a plan for execution," Jie said. "Without economic assistance or other support, Trump won't be able to achieve any more than Obama."
Additional reporting by Wendy Wu and Liu Zhen
This article appeared in the South China Morning Post print edition as: Trump calls China a military threat in hawkish address