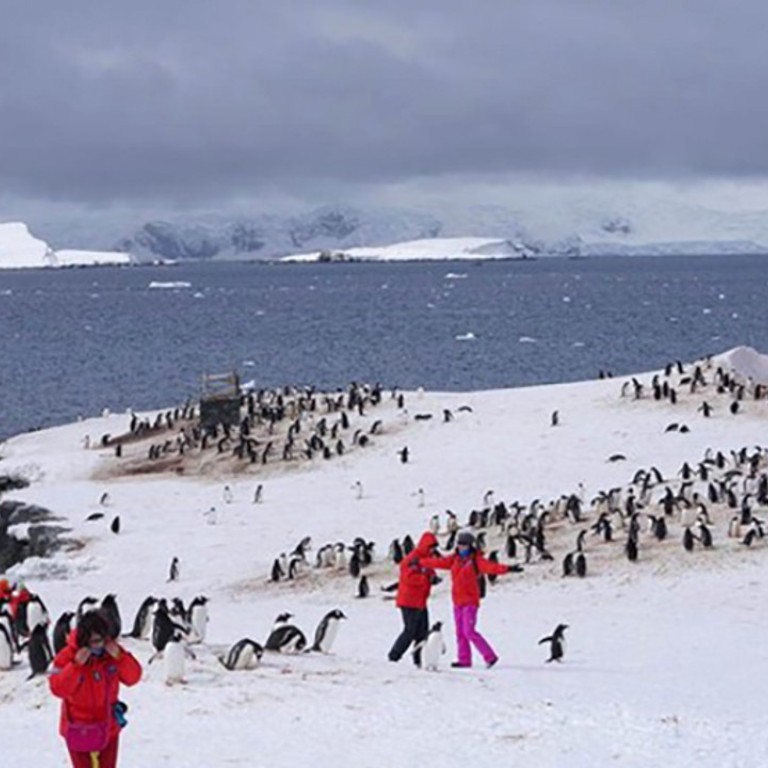 Hands off the penguins, China tells its tourists to Antarctica
Chinese government comes up with rules to protect the continent's wildlife as mainland holidaymakers account for a bigger share of visitors
Chinese visitors to the tourism hotspot of Antarctica have been told to leave the local wildlife alone or risk being banned from the area for up to three years.
Under new rules that came into effect on Thursday, the Chinese government has ordered individuals and tour organisers to minimise their impact on the Antarctic environment, explicitly banning them from introducing any pollutants, harmful materials or non-native flora or fauna.
The regulations from the State Oceanic Administration come as China accounts for a growing number of tourists to the frozen continent.
Last year China overtook Australia as the world's second-largest source of travellers to the Antarctic, by sending about 5,500 tourists, or about 12 per cent of the total, according to the International Association of Antarctic Tour Operators, a US-based eco-tourism industry group.
About one-third of the tourists are from the United States.
Trips from Beijing to the Antarctic usually include chartered flights or cruises and cost from about 60,000 yuan (US$9,500) to 130,000 yuan. Activities range from observing glaciers and penguins to visiting China's research stations.
But in September, Qin Weijia, director of the China Arctic and Antarctic Administration, said China was one of four consultative parties of the Antarctic Treaty that had not issued regulations covering their citizens' behaviour in the Antarctic. The other three countries were India, Poland and Ecuador.
The new rules explicitly ban Chinese tourists from hunting animals, collecting geological samples or engaging in any other behaviour that could damage or disturb the wildlife.
Tourists should also ensure that they leave no solid waste behind.
The administration, which is in charge of China's polar affairs, said the regulations were meant to protect the continent's environment and promote sustainable development of China's activities in the area.
It said inspectors would be appointed to monitor activities, and any individuals or tour organisers who failed to follow the rules would be blacklisted from the area for up to three years.
China has four Antarctic research stations. Work started on a fifth one – on Inexpressible Island, in Terra Nova Bay – on Wednesday and is expected to be completed by 2022.
According to the rules, anyone wants to visit the research stations must first gain approval from the administration and tell the station's authorities one or two days before arriving.
This article appeared in the South China Morning Post print edition as: Chinese tourists warned to behave or face ban