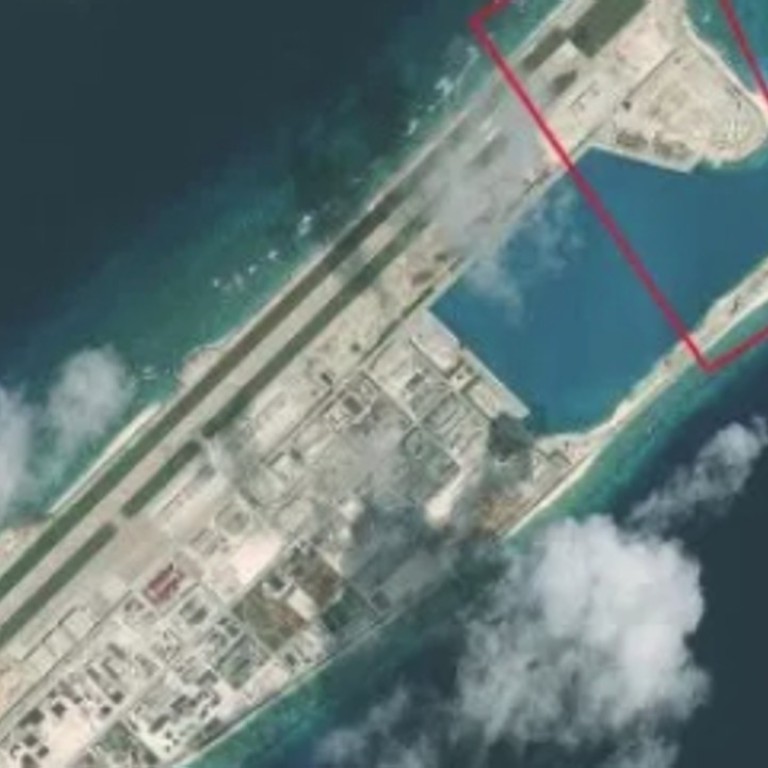 Aerial photos 'point to new Chinese signals hub' in the heart of the South China Sea
Washington-based think tank says flurry of activity on Fiery Cross Reef suggests the artificial island is becoming a communications centre for Beijing to put its stamp on the area
China could be turning an artificial island in contested South China Sea waters into an intelligence hub as it seeks to exert control over the region, according to a Washington-based think tank.
The CSIS Asia Maritime Transparency Initiative said the northeastern corner of Fiery Cross Reef was now equipped with a communications or sensor array bigger than those found on other artificial islands in the Spratlys.
It based the finding on a comparison of its own satellite images and aerial photos released by the Philippine Daily Inquirer earlier this month.
"[It suggests that] Fiery Cross might be serving as a signals intelligence or communications hub for Chinese forces in the area," the think tank said in a report on Friday.
Also known as Yongshu Reef in China, Fiery Cross Reef is one of the seven reefs Beijing turned into islands in the Spratlys. It is the smallest and the southermost of the "Big Three", which also includes Subi, or Zhubi in Chinese, and Mischief, or Meiji.
Fiery Cross was the site of the most construction last year, the initiative said, with work on buildings covering an estimated 100,000 square metres (27 acres).
It said a 3,000-metre (1.86 mille) runway was completed in the northern end of the reef in 2015, while hangars big enough to house bombers, refuelling tanks and transport aircraft were built south of the runway last year.
In addition, a field of upright poles –likely to be a high frequency radar array – as well as two towers topped with domes to house sensors and communication facilities had also been finished.
Retired Chinese colonel Yue Gang said maritime disputes were a source of regional tension and a stable communication network was necessary to avoid conflict between China and its neighbours.
Yue added that Fiery Cross had been home to a weather station for the Global Sea Level Observing System survey since 1987.
"Such a large array could be used to maintain stable communication with the global weather system, while at the same time ensuring communication between China's artificial islands in the South China Sea," he said.
Collin Koh, a research fellow at the S Rajaratnam School of International Studies at Nanyang Technological University in Singapore, said Fiery Cross was a base for activities across the other Chinese-occupied features in the Spratly area.
"[The base] allows you to reach out as far as possible across features, including even non-Chinese occupied features. That's important as well," he said.
Beijing has been accused of militarising the South China Sea, which is also claimed by Brunei, Malaysia, the Philippines, Taiwan and Vietnam.
China has repeatedly rejected those accusations but a series of high-definition aerial images taken late last year and published by the Philippine Daily Inquirer cast doubt on Beijing's position.
On Subi Reef, just 12 nautical miles from Philippine-occupied Thitu Island, China has built a large lighthouse, a 3,000-metre airstrip, a high-frequency radar array and underground storage tunnels that could be used for ammunition, according to the initiative.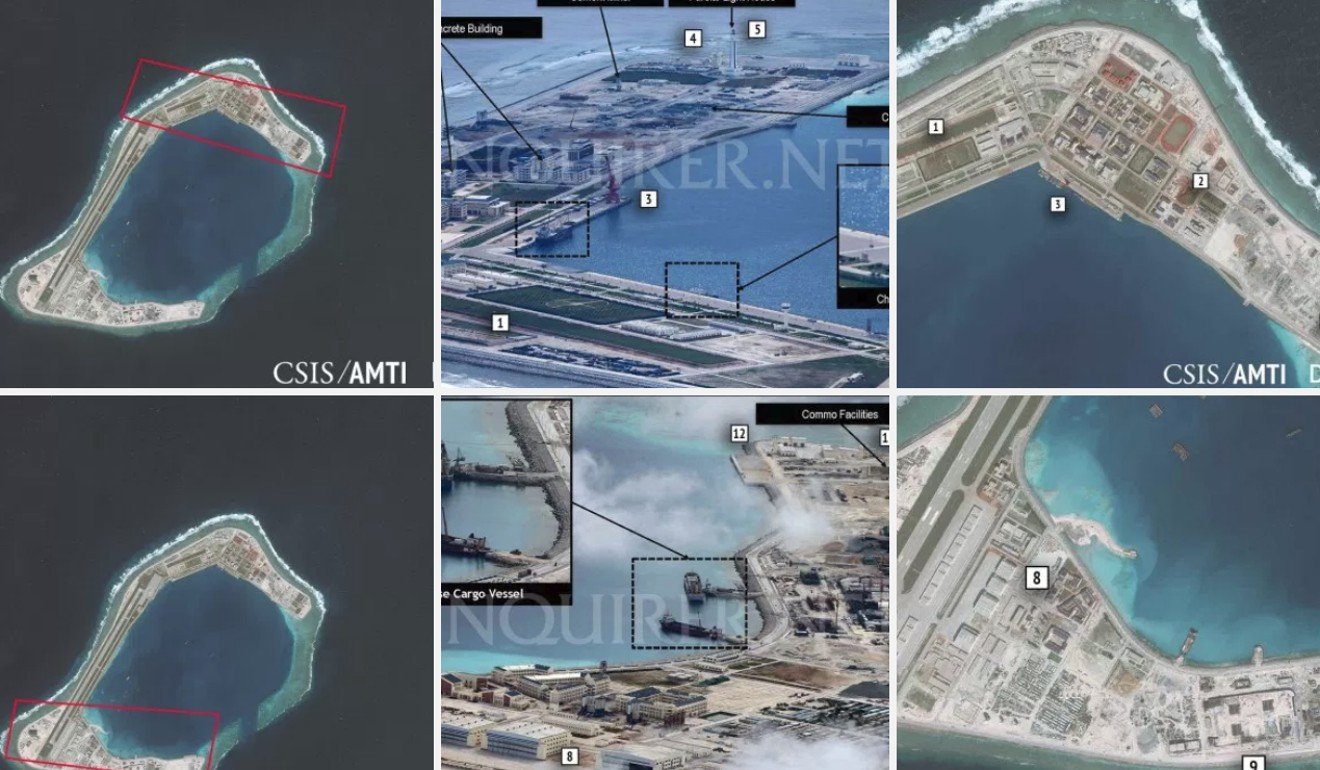 Three towers housing sensor or communications facilities topped by a dome to protect radar equipment were also completed on Mischief Reef last year.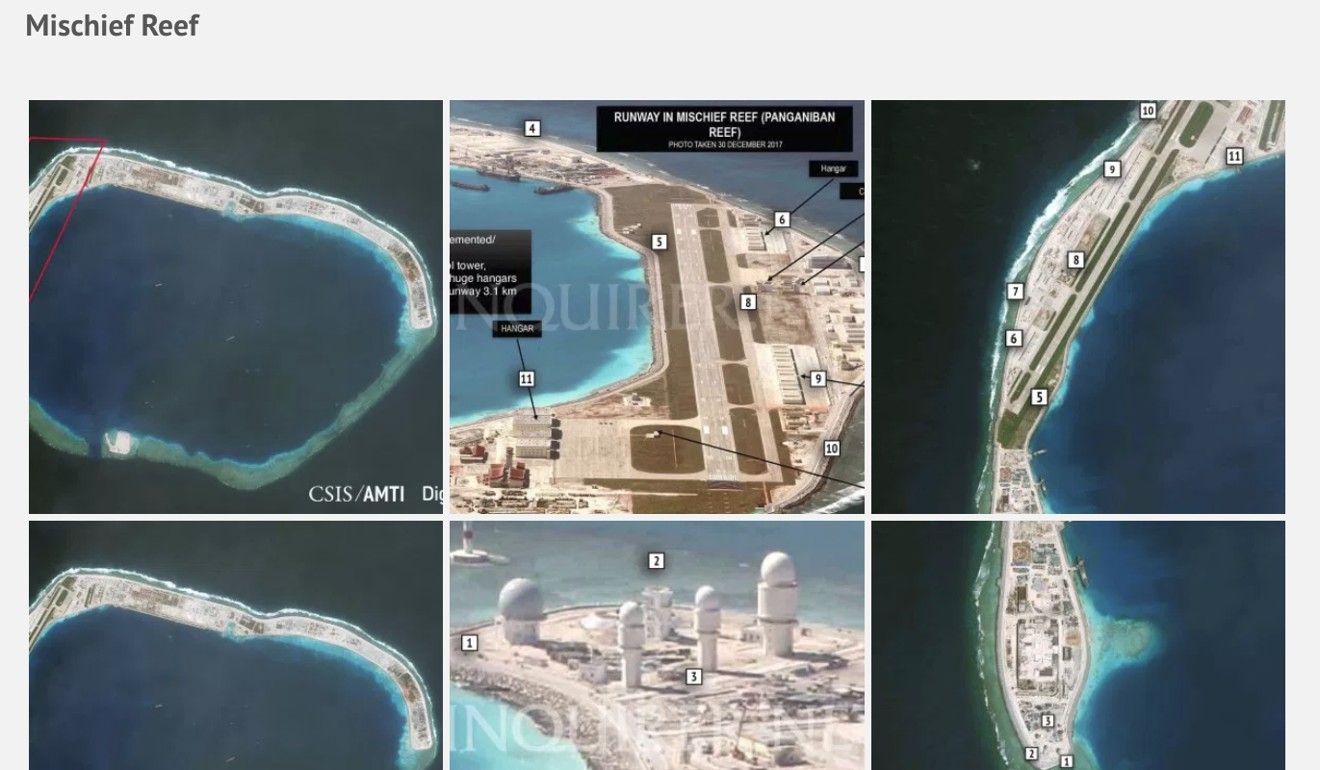 On Gaven Reef, a solar panel array was built in 2015, along with other facilities such as wind turbines, a tall tower housing a communications facility and an administrative centre, the initiative said.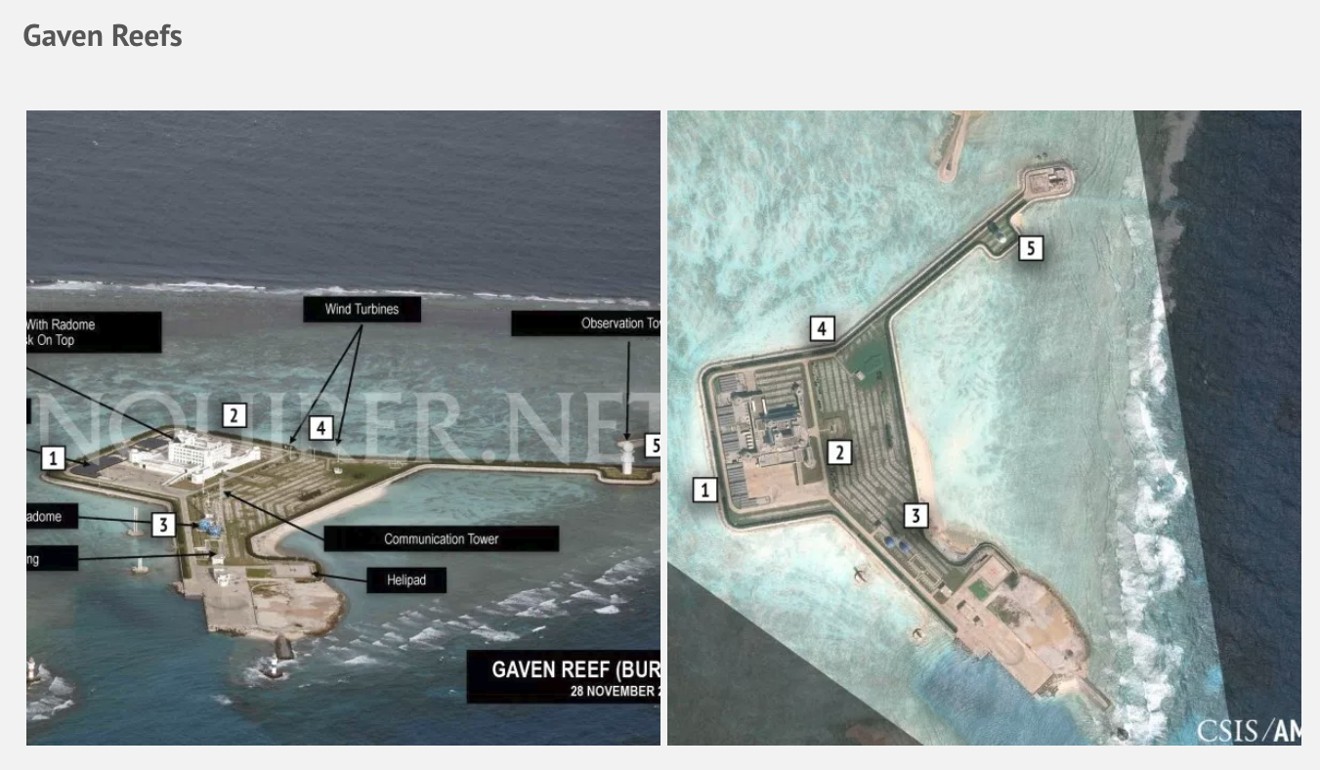 Richard Heydarian, assistant professor of political science at De La Salle University in Manila, said China was trying to expand its military footprint in the area amid uncertainty over American foreign policy and Manila's rapprochement with Beijing.
"The aim is to create irreversible facts on the ground, dissuading other parties from further resistance while putting China in a position to take military actions against other claimants or the US if necessary," he said.

Heydarian said that as early as the 1980s, Fiery Cross was identified as a potential command and control centre for a prospective network of bases and facilities in the area thanks to its location at the heart of Spratlys.
"Now, we see the blueprint turning into literally concrete reality," he said.
Koh said the massive construction programme meant China was keen to have a firm grip over the area.
"It demonstrates to the international community, especially to external power such as the US, that China is keen to exercise effective administrative control in the area," he said.
"The only way to justify your claim to an area is through effective control ... Putting these on the ground ... tells everybody that it is there to stay, it is not going to leave."
This article appeared in the South China Morning Post print edition as: Photos 'point to signals hub' in disputed waters