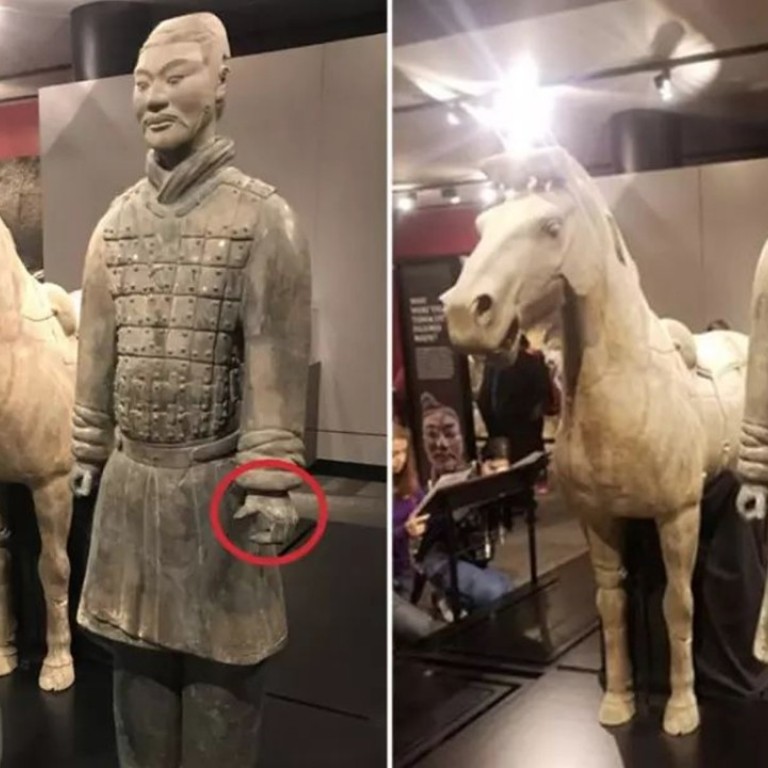 China urges US to get tough on man who stole thumb from US$4.5 million terracotta warrior on display in a Philadelphia museum
Cultural centre that arranged loan of 10 ancient soldiers also seeking compensation from the Franklin Institute 
Chinese authorities are calling for a heavy punishment for an American man charged with stealing a thumb from an ancient terracotta warrior statue on display at a museum in Pennsylvania.
They have also demanded compensation for the damage caused to the US$4.5 million relic.
Michael Rohana, 24, was charged earlier this month with breaking off and stealing the left thumb of the 2,000-year-old sculpture from the Franklin Institute in Philadelphia on December 21.
While the US museum has apologised for the incident, an official from the Shaanxi Cultural Heritage Promotion Centre, which arranged for the loan of 10 of the statues, condemned the act and said Rohana should be handed a severe penalty, Beijing Youth Daily reported.
"The terracotta warriors are national treasures of our country," the unnamed official was quoted as saying. "Their historical and artistic value are impossible to value … We express strong resentment and condemnation towards this theft and the destruction of our heritage."
A Xinhua report said the cultural centre had established an emergency team to handle the matter and initiated procedures for claiming compensation from the US institute, based on an agreement signed by both parties.
The 10 statues, which have been on show in Philadelphia since September, are part of a clay army of about 8,000 soldiers, charioteers and horses unearthed in Xian, capital of northwestern China's Shaanxi province.
Found in the tomb of China's first emperor Qin Shihuang and designed to accompany him into the afterlife, the statues date back to 210-209BC and, according to figures from the FBI, are worth US$4.5 million apiece.
Rohana, who comes from the US state of Delaware, was attending an ugly Christmas jumper party at the museum when he and two associates managed to make their way into the "Terracotta Warriors of the First Emperor" exhibition, the door to which was unlocked, the Beijing Youth Daily report said.
According to surveillance camera footage, after the two other party guests had left the room, Rohana took a selfie with his arm draped over the shoulder of one of the statues. He then snapped off one of its thumbs, put it in his pocket and left.
The theft went unnoticed until January 8, at which time the museum sought help from the FBI's art crime team, who traced Rohana to his home on January 13.
He was subsequently charged with the theft and concealment of a major artwork, and released on bail.
The cultural centre said it had loaned its exhibits more than 260 times to 60 different countries over the past 40 years, but had never before experienced "such a noxious incident", according to the newspaper report.
Another group of 10 terracotta warriors are on display at the World Museum in the British city of Liverpool, where they will remain until October. The Philadelphia exhibition runs until March 4.
This article appeared in the South China Morning Post print edition as: US urged to get tough on statue thumb thief