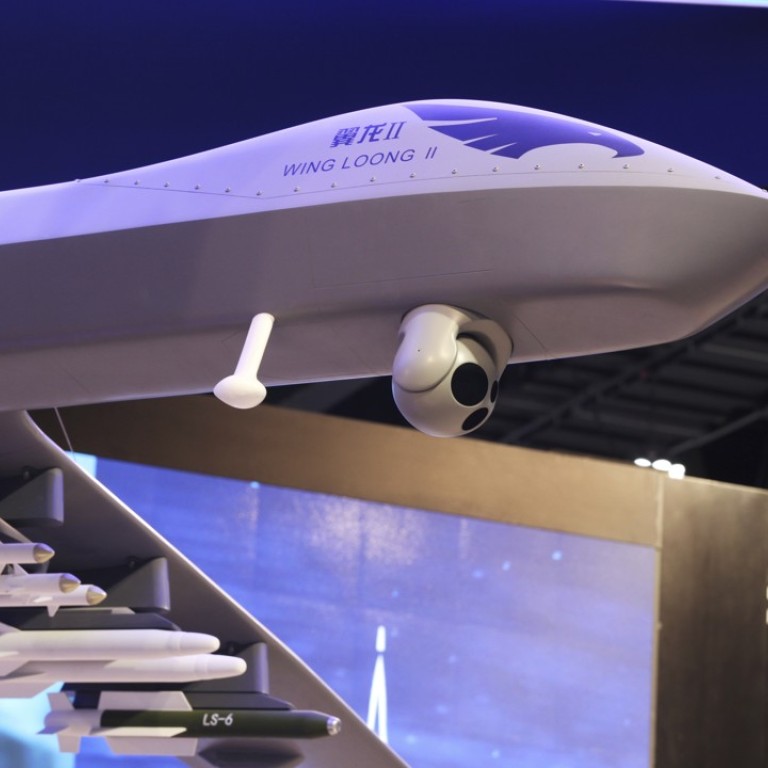 Chinese military drone sales hover over Middle East
Analysts believe the weapon is now in use by the United Arab Emirates as China seeks to find markets around the world for the technology
Walking through a trade show in Abu Dhabi all about military drones, Emirati officials made a point on Sunday to stop first at a stand run by Chinese officials with a mock armed drone hanging above them.
Defence analysts believe that the drone, the Wing Loong II, is now being used by the United Arab Emirates military while the UAE remains barred from buying weaponised drones from the United States.
That purchase, as well as Abu Dhabi hosting the drone exhibition and conference this week in the Emirati capital, shows the power these weapons now hold across the Middle East.
Top UAE officials, including Abu Dhabi's powerful crown prince, Mohammed bin Zayed Al Nahyan, were on hand for the drone conference, which opened on Sunday.
The UAE, home to skyscraper-studded Dubai, already has embraced drones. Dubai's ruler, Sheikh Mohammed bin Rashid Al Maktoum, has given the US$1 million Drones for Good Award in recent years. Meanwhile, civil defence officials fighting fires and lifeguards trying to save those at risk of drowning use drones in their work.
But the UAE remains highly interested in military drones.
Al-Dhafra Air Base near Abu Dhabi, which hosts some of the 5,000 American troops in the UAE, is also home to some of the US military's unmanned aircraft that flew missions over Iraq and Syria targeting Islamic State.
Chief among those aircraft is the Predator, built by San Diego-based defence contractor General Atomics. The UAE previously bought some US$200 million worth of surveillance-only Predator drones from General Atomics.
The Obama administration opposed selling the UAE armed versions of the Predator under the Missile Technology Control Regime, a 30-year-old agreement that aims to limit the spread of missile technology.
But that apparently did not stop the UAE from buying weaponised drones. Satellite photographs taken of a mysterious Emirati airbase in the country's deep south – a desert area known as the in the Empty Quarter – appear to show three Wing Loong IIs there, according to a January article by IHS Jane's Defence Weekly.
China has never acknowledged selling the drones to the UAE, although state-run Xinhua news agency has reported a major sale of the drones to a foreign buyer.
Asked if China sold the UAE the Wing Loong II, sales manager Zhao Chuang of the China National Aero-Technology Import and Export Corp, only smiled and said: "No idea."
"We are trying to find the world market," he said after his colleagues greeted high-ranking Emirati officials.
General Atomics, which displayed a massive Predator surveillance drone nearby, declined to comment. However, US lawmakers last year sent a letter to US President Donald Trump asking him to allow armed Predator drone sales to both the UAE and Jordan.
This article appeared in the South China Morning Post print edition as: Drone fair shows armed models seen landing in UAE