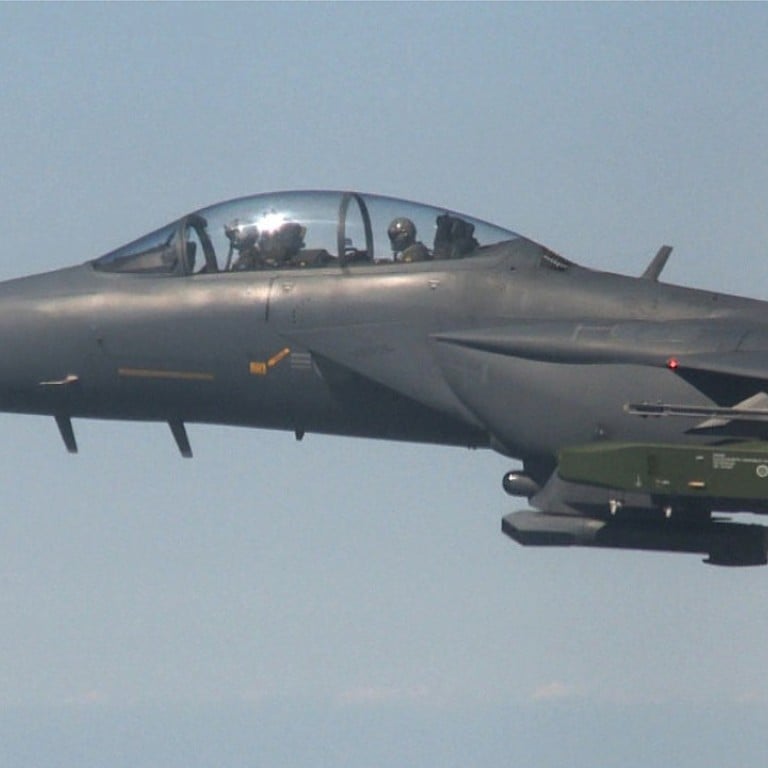 Chinese military plane accused of entering South Korea's air defence identification zone
Seoul says incursion, the third in two months, designed to test its military's response
South Korea accused China of flying a military aircraft into its air defence identification zone on Tuesday without giving prior notification, a move that one analyst said could hamper the two sides' efforts to normalise relations.
A Chinese aircraft entered South Korea's Air Defence Identification Zone (KADIZ) at about 9.34am about 30 nautical miles northwest of Ulleung Island in the East Sea before flying out of the zone at 2.01pm after receiving a warning message from the South Korean military, the Joint Chiefs of Staff of South Korea said in a statement cited by the Yonhap news agency.
More than 10 aircraft, including F-15K and KF-16 fighters, were scrambled to monitor the plane's activity as it approached South Korean territory, the statement said.
The plane's flight path was "unusual" as Chinese aircraft had previously entered the KADIZ from the south of the peninsula, it said.
Air defence identification zones are early warning systems that help countries to detect incursions into their airspace. Any aircraft entering such an area is supposed to report its route and purpose to the "host" nation. However, the zones are classified as international airspace and pilots are not legally bound to make such a notification.
China's ambassador to South Korea, Qiu Guohong, was summoned on Tuesday evening so that a complaint could be lodged, Yonhap quoted an official from the South Korean foreign ministry as saying.
An official from the Joint Chiefs of Staff was quoted as saying that the Chinese plane was believed to be a reconnaissance aircraft, and that its mission was to monitor how South Korea's military responded to the incursion.
The incident is the third in a little over two months involving Chinese military aircraft entering South Korea's air defence identification zone. On January 29, Seoul accused Beijing of allowing a surveillance plane to enter the KADIZ without warning, while it described the entry into the zone of five planes on December 18 as an infringement.
While relations between North and South Korea had improved in recent weeks as a result of their cooperation at the Winter Olympics in Pyeongchang, the latest incursion by China's military into the KADIZ was unlikely to do much to help ease tensions on the peninsula, an analyst said.
"The incursion of the Chinese plane won't have a direct impact on the stability of the Korean peninsula, but it could be seen as Beijing's attempt to reaffirm its strategic position in northeast Asia," said Professor Lee Jung-nam, a China affairs expert at Korea University's Asiatic Research Institute in Seoul.
It could also trigger a backlash among South Korea's opposition parties and ramp up the pressure on President Moon Jae-in, who had been criticised for his rapprochement policies with China and North Korea, he said.
"Such repeated behaviour by China would not be helpful."
China and South Korea agreed at the end of November to set aside their differences and try to get bilateral relations back on track after years of tension over Seoul's decision to host the US-backed Terminal High Altitude Area Defence system.
Seoul says the system is necessary to counter the missile threat from Pyongyang, but Beijing regards it as a security threat on its doorstep.
This article appeared in the South China Morning Post print edition as: PLA aircraft violated airspace, South Korea says