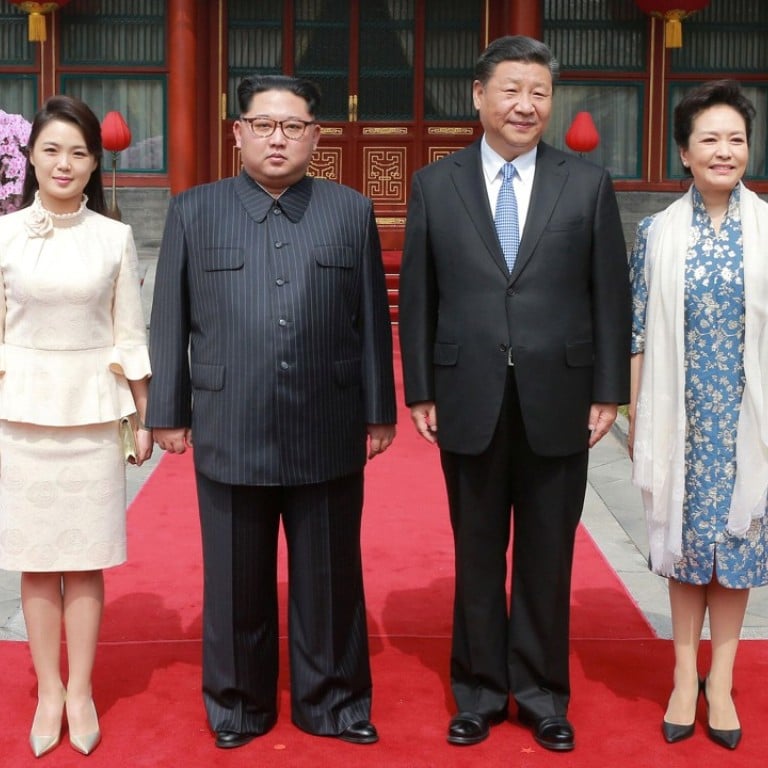 Kim Jong-un wife's fashion sense a hit with China's public
North Korean first lady Ri Sol-ju wins plaudits from social media users who compare her to popular South Korean celebrities
North Korea's first lady has become an instant hit in China with her fashionable looks after accompanying her husband Kim Jong-un in a surprise visit to China, while Chinese internet censors quickly cracked down on discussions of her looks and dresses.
Ri Sol-ju, the mysterious young wife of the totalitarian leader and a former star singer, was filmed by state television in at least three different outfits during their two-day stay in Beijing.
William Tang Tat-chi, a Hong Kong fashion designer, said the style was "subtle" but not conservative.
The Beijing visit was a rare public appearance by Ri in a diplomatic setting as she has mainly been seen at domestic events. 
The visit to China was the first overseas trip by both Kim and Ri since the North Korean leader came to power in 2011 and came ahead of a planned summit with US President Donald Trump.
Many Chinese internet users praised Ri's looks and compared her style to that of Peng Liyuan, China's first lady, before censors rolled on to remove nearly all discussions from social media platforms.
"Ri Sol-ju is indeed beautiful and amiable. I can tell she would be good at 'first-lady diplomacy', better than Kim's sister," one internet user commented on Weibo, China's equivalent of Twitter.
Kim Yo-jong, the younger sister of Kim Jong-un, recently represented the country at the Winter Olympics in South Korea, and there had been speculation that she was the mystery visitor to Beijing before her brother's presence was confirmed.
Another commented that Ri had "a powerful presence", looked prettier than Peng, even though Peng dressed more fashionably.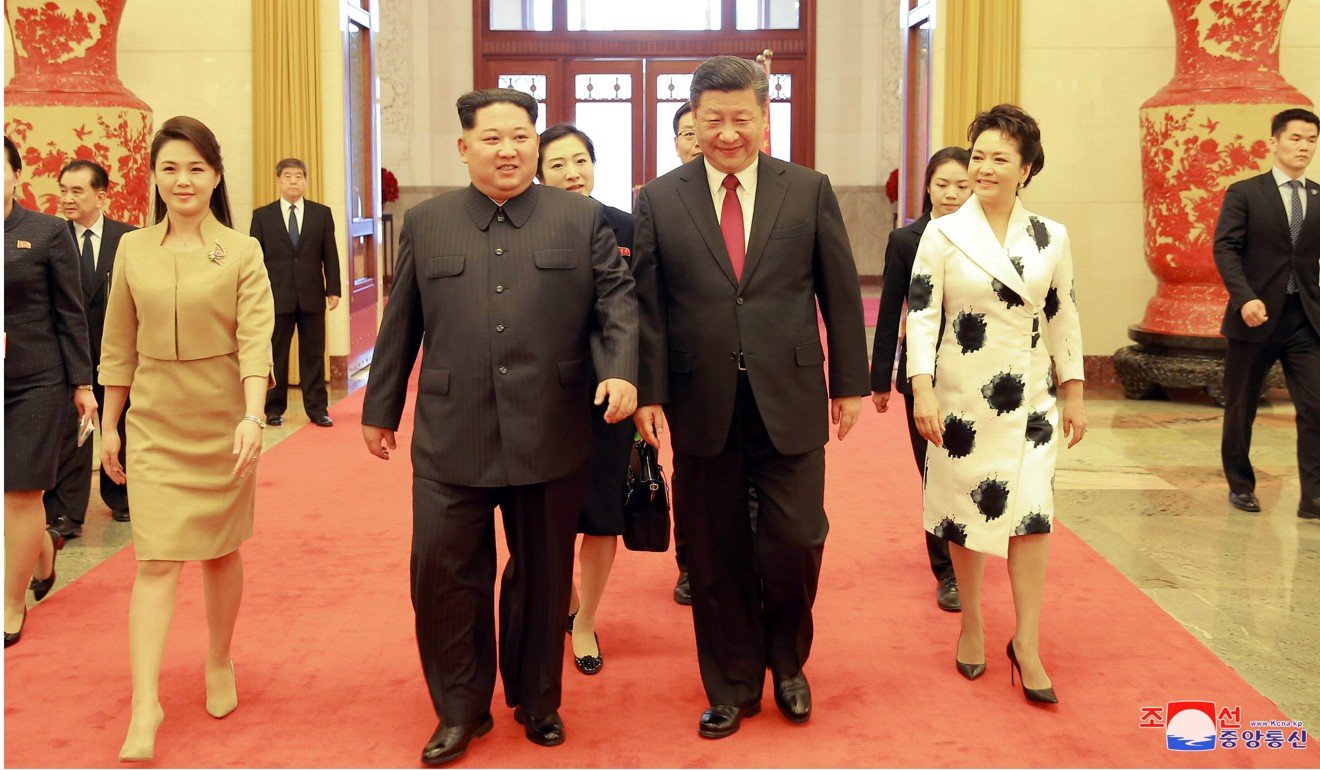 Others compared Ri's look with that of South Korean celebrities, saying she was "as pretty as Song Hye-kyo", a popular actress in China.
Ri remains an enigmatic figure and little is known about her for certain. Kim announced their marriage in 2012, and some analysts believe Ri was born in September 1989, which would make her 28. The couple is believed to have had three children.
In the welcoming ceremony, Ri wore a camel cropped jacket with a matching midi skirt and court shoes. She also wore a necklace, ear studs, and a shiny pink and gold butterfly-shaped brooch.
Peng, a famous singer in her own right, was dressed in a white coat dress with black ink patterns.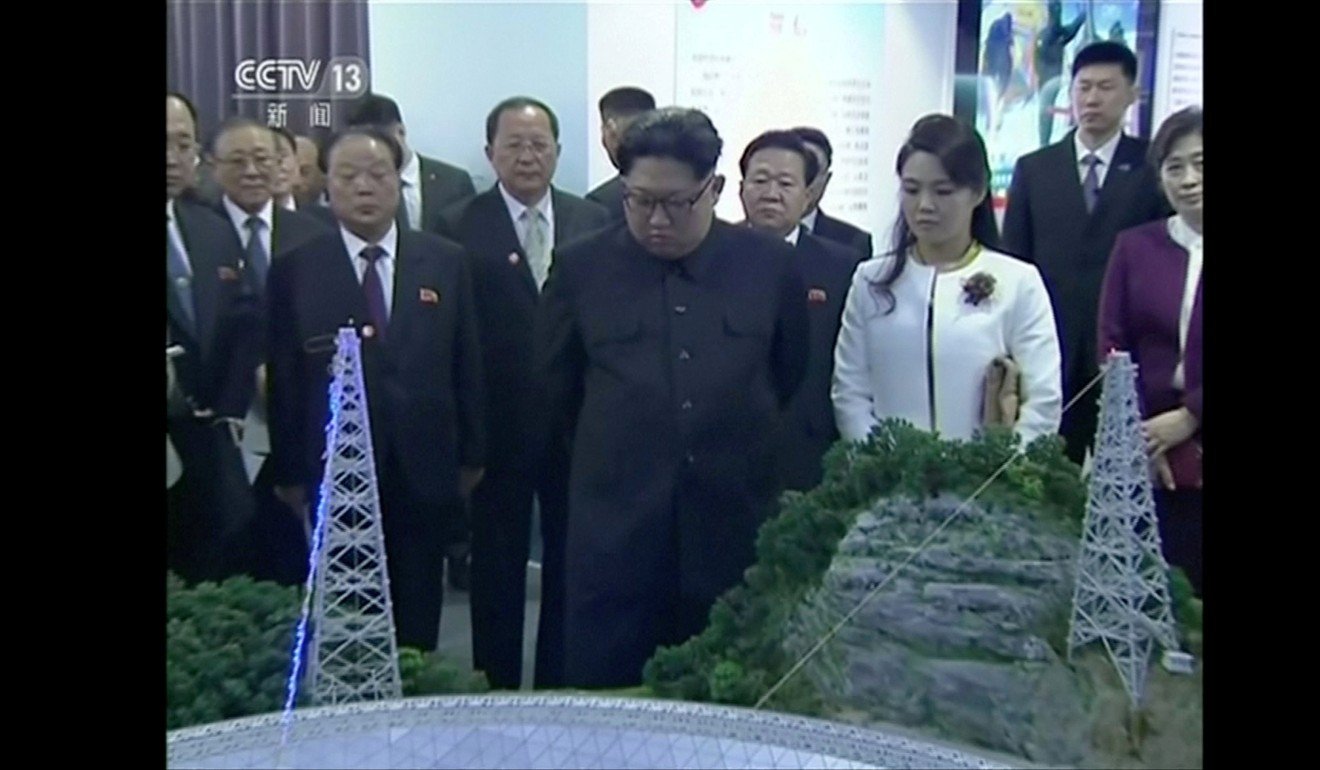 During a visit to the Chinese Academy of Sciences, Ri wore a white jacket and an apple green dress with a brown flower-shaped ribbon brooch and a nude leather clutch.
At a lunch with Xi and Peng at the Diaoyutai State Guesthouse, where Kim stayed, Ri changed into an ivory two-piece dress with floral decorations on the collar and soft frilled sleeves.
Tang said although the style of Ri's two looks were "outdated", it was still impressive considering she came from a totalitarian country where access to fashion was limited.
Search results of "Ri Sol-ju" remained blocked on Weibo as of midday on Wednesday, and most of the comments under news reports of the pair's trip had been removed. 
This article appeared in the South China Morning Post print edition as: 'First lady' Ri proves to be a hit on internet