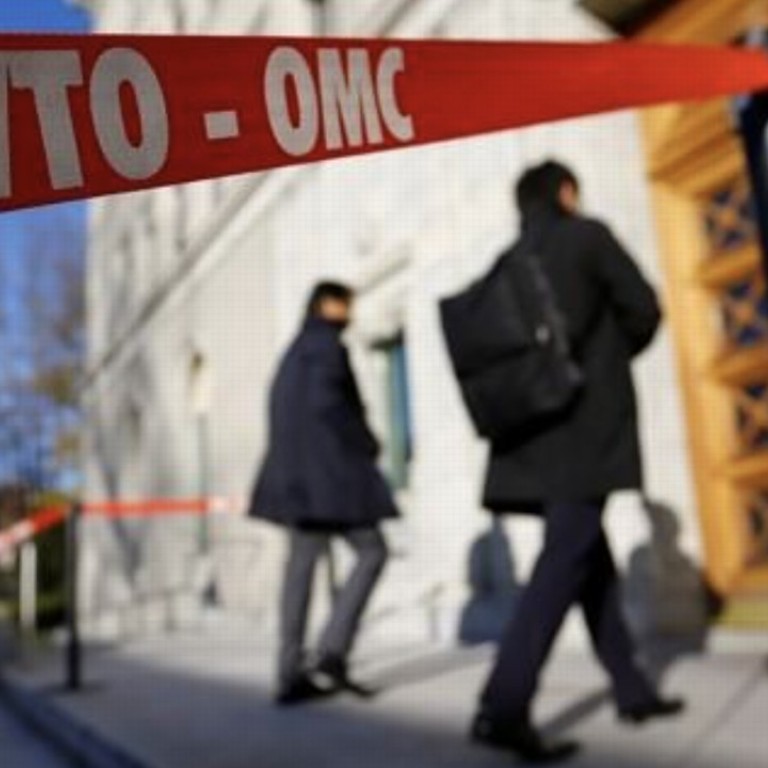 US 'lacks evidence' for forced tech transfers claim against China at WTO
Legal experts say Washington will find it hard to prove allegations, but two sides could agree on intellectual property rules in consultation period
It will be difficult for the United States to find evidence to hand to the WTO proving its claim that the Chinese government demanded forced technology transfers and other unfair intellectual property practices, legal experts say.
They also said the two sides may reach an agreement on how to improve intellectual property rules before they enter formal proceedings at the World Trade Organisation.
Washington filed a request on March 23 for consultations with China at the WTO to address what the US alleges are discriminatory Chinese technology licensing requirements, in line with unilateral actions signed off by US President Donald Trump targeting China's hi-tech industries.
Under WTO rules, consensus could be reached by the two nations during a 60-day consultation period, and legal experts said China could amend its IP laws in that window.
Jin Haijun, a law professor at Renmin University who spoke at a hearing in Washington in October on alleged IP infringements by China, said the US was mainly relying on the assessments of research agencies and surveys by industry groups, but it would be difficult to prove that technology transfers had been made mandatory by the Chinese government.
Complaints from foreign companies about being pressured into transferring technology to Chinese partners are one of the reasons Trump last week said the US would impose hefty tariffs on Chinese products.
"The US is mainly concerned about mandatory technology transfers, especially in industries listed as priorities in the 'Made in China 2025' strategy, but it lacks evidence and analysis – which should be based on reliable methodology," Jin said.
But he added that the WTO was "not the main battlefield" for the escalating trade confrontation between Beijing and Washington.
"The US is aiming to leverage its Section 301 investigation [into Chinese trade practices] to pressure China to increase imports and lower restrictions on market entry and investment," he said.
Washington will release in coming days a detailed list of products that will be subject to import tariffs of up to 25 per cent, and they are expected to be from hi-tech industries. But the US has extended the period for public feedback from 30 to 60 days.
The punitive tariffs were announced after the US released its findings from an investigation carried out under Section 301 of the Trade Act of 1974. It claimed China pressured US companies to transfer technology to Chinese partners, did not conduct technology negotiations according to market rules, unfairly facilitated systemic acquisition of US technology and supported cyber theft of trade secrets.
Jason Sun, a Beijing-based partner with law firm Dentons, said unlike the previous China-US trade row over Beijing's energy subsidies in 2010, the US was unlikely to find evidence to back its IP practices accusations, particularly the government facilitating acquisition of US technology or supporting the theft of trade secrets.
But both Sun and Jin said consensus could be reached on how to improve IP rules during the WTO consultation period – meaning they could avoid moving on to the penalty ruling stage – and China could change its regulations if they were found to be in breach of WTO rules.
"The WTO offers a decent chance for both countries to address their disputes," said Sun, adding that improving the IP rules as well as enforcement would ultimately bring more foreign patents to China.
The US took China to the WTO over an intellectual property dispute in 2007 that ended in 2009 with a penalty ruling. China then amended its IP protection law, introducing tougher penalties for copyright infringement.
"History shows that concessions made by China in the short run to de-escalate tensions will help its development in the long run. There is still room for China to improve its IP practices, such as an IPR court system and law enforcement," Jin said.
The US focus on China's technology policies implies the risk of a broad confrontation between the two countries, according to Louis Kuijs, chief Asia economist at Oxford Economics.
"This focus suggests that the risks of some kind of technological cold war have risen, even though the strong economic interaction between the two countries should constrain the extent of cold war-type actions," Kuijs said.
This article appeared in the South China Morning Post print edition as: U.S. 'faces hard task on tech transfers'