Taiwan
Get more with myNEWS
A personalised news feed of stories that matter to you
Learn more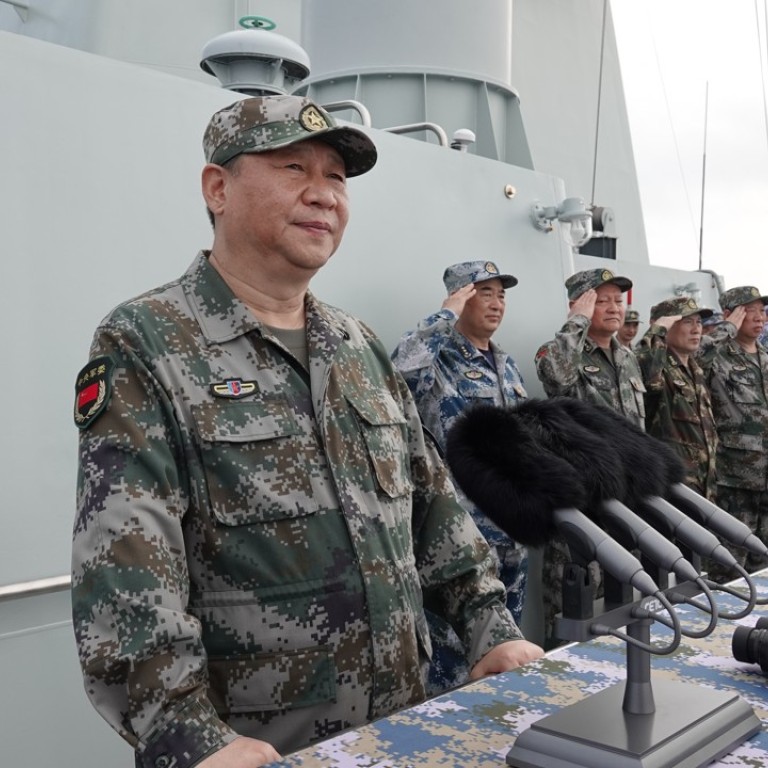 Beijing ready to snuff out any separatist move, and live-fire drill in Taiwan Strait is proof, official says
Head of mainland-based Taiwan Affairs Office says any attempt to divide Chinese territory is destined to fail
The live-fire exercise that mainland China's navy plans to hold in the Taiwan Strait on Wednesday is designed to show that Beijing will not tolerate any moves by separatist forces to divide its territory, a top Taiwan affairs official from the mainland Chinese government said on Monday.
Speaking on the sidelines of a cross-strait forum in Zhengzhou, capital of Henan province, Liu Jieyi, head of the Taiwan Affairs Office, criticised Taiwanese Premier William Lai for advocating independence for the self-ruled island, and warned that any attempts to achieve it would fail.
"[Beijing's] military drills will be a move to safeguard our motherland's sovereignty and integrity," he said, when asked about the purpose of the exercise.
"[The mainland] has enough willpower and capability to stop any attempt, in word or deed, to split any territory from the motherland."
The People's Liberation Army announced on Thursday that its Navy would hold the live-fire drills off the coast of Quanzhou in the southeastern province of Fujian.
Sources close to China's military said the statement came after it was announced that Taiwanese President Tsai Ing-wen was planning to inspect her troops on Friday, a day after Chinese President Xi Jinping, who is also chairman of the powerful Central Military Commission, watched a huge display of the mainland's naval strength in waters off Sanya, Hainan province.
Tsai's visit to a naval base in Yilan county was her first official inspection of Taiwanese warships since taking office in May 2016.
"It seems like Tsai wants to have a contest with Xi," said one of the sources, who requested anonymity.
"Beijing is very unhappy about the increasing interaction between Taipei and Washington, including the [White House's] promise to help Taiwan build its own submarines, and the new rules encouraging top-level US officials to visit the island," the person said.
A second source, who also asked not to be identified, said that despite Beijing's agitation, the location for Wednesday's live-fire drill had been carefully chosen so as not to cause concern in Washington.
The exercise would be staged about 45 kilometres (28 miles) from the Taiwan-controlled island of Quemoy, which is close to the coastline of mainland China, but more than 175 kilometres from the city of Taichung, on the island of Taiwan itself, he said.
Also, the drill would not cross the virtual "centre line" of the Taiwan Strait, as doing so would be seen by Taipei as an encroachment into its air defence identification zone.
On Monday, Tsai told a visiting delegation from the American Enterprise Institute, a Washington-based think tank, that the recent exchanges between Taipei and Washington had enhanced the "strategic partnership between the US and Taiwan".
She also said that White House authorisation for US defence contractors to supply the parts and technology Taiwan needs to build submarines would not only "help Taipei to strengthen its self-defence capabilities", but also be a "great help to maintain the stability and prosperity of cross-strait relations", according to the Taipei-based Central New Agency.
Mainland-based military expert Zhou Chenming, however, said that Tsai's comments might serve to provoke Beijing into taking further action, and that Taipei "might have been too optimistic and overestimated its ties with the US".
Naval expert Li Jie agreed, saying that while Tsai "might believe that the US will protect Taiwan in the event of military action by the mainland", she was playing a dangerous game.
"Both Taipei and Washington are close to crossing Beijing's red line," he said, "and Wednesday's drill will show them both that the PLA is ready for action at any time. "
This article appeared in the South China Morning Post print edition as: Drills a warning to separatists, mainland official says