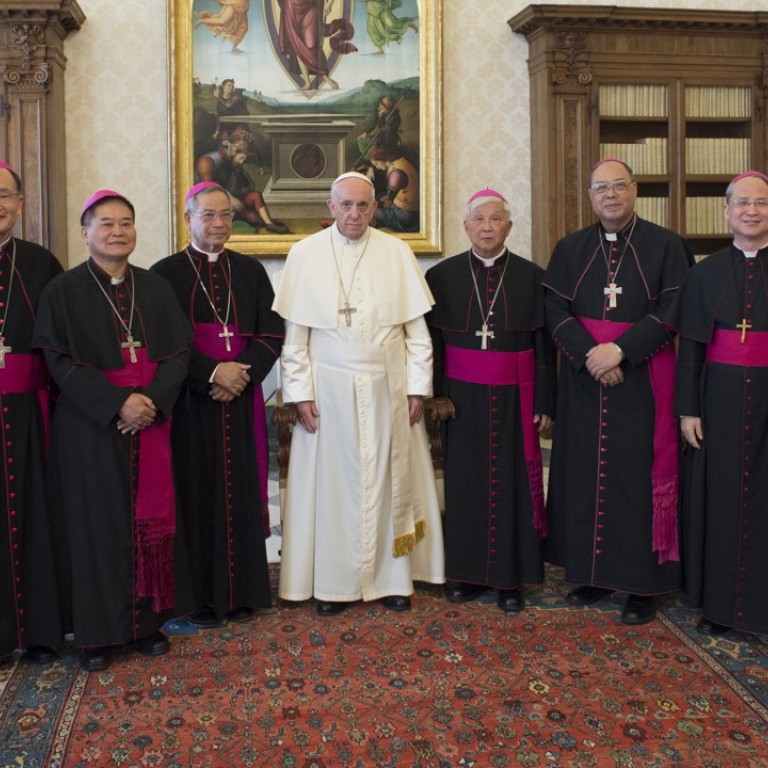 Vatican, Beijing deadlocked on appointment of bishops, senior Taiwanese clergyman says
Archbishop John Hung Shan-chuan says Pope 'will never give up' on issue, so compromise will be hard to reach
The Vatican will not abandon its right to appoint bishops, despite Beijing's objections, meaning the two sides remain deadlocked in their efforts to normalise relations, according to a senior member of the Catholic Church in Taiwan.
Archbishop John Hung Shan-chuan, who recently returned from an eight-day trip to Rome, said also that the Holy See would maintain ties with Taiwan no matter the outcome of its talks with Beijing.
"We don't know if the Vatican will ever build ties with China but we know there is no agreement being made on bishop appointments," Hung told the South China Morning Post in a telephone interview.
"Pope Francis said he would not give up [on this issue]. He said we have to maintain principles on appointing bishops and China probably won't agree to this."
Hung's trip to the Vatican was the first by a representative of the Roman Catholic Archdiocese of Taipei since 2008, although such visits are supposed to be held every five years.
"The Pope's stance is to maintain the Roman Catholic Church tradition that bishops are appointed by the Pope. He will never give up, so it is hard to reach an agreement when there is no compromise from either side," he said.
In March, the secretary general of China's Bishops' Conference, Guo Jincai, told mainland state media that talks between Beijing and the Vatican on the appointment of bishops had reached their "final stage". But just days later, the Holy See ruled out the possibility of an "imminent" deal.
Despite the failure of those talks, Hung said Rome was still open to negotiations on the issue.
"Why do you think the Vatican is willing to strike a deal with China? It's because the Holy See wishes to see more religious freedom … but the mainland remains adamant that no foreign forces will be allowed to intervene in its domestic affairs," the archbishop said.
After decades of hostility between Beijing and the Vatican, the signing of a deal on the appointment of bishops would represent a breakthrough for the two sides. Observers are keen to see what such an agreement might mean in terms of religious freedom for the 30 or so underground bishops in mainland China and the country's 10 million Catholics.
Not everyone supports a deal on the issue, however. Hong Kong-based Cardinal Joseph Zen Ze-kiun accused the Catholic Church of "selling out" underground bishops and priests who had endured decades of oppression for staying loyal to the Pope after Beijing cut ties with the Holy See in 1951.
During his visit to the Vatican, Hung said that he and his fellow Taiwanese bishops held candid discussions with both the Pope and secretary of state Archbishop Pietro Parolin.
"The Pope was very kind to us. We sat together in a close circle and talked for an hour and a half. He said we could talk about anything with him, even complaints and criticism," he said.
"We told him that we are worried that he will never come to Taiwan. He asked us why. We said because Taiwan is being isolated by the whole world," Hung said.
"I told him if the world is not kind to Taiwan, then the Pope should be extra kind and protect Taiwan."
There are about 300,000 Catholics in Taiwan and the Vatican is one of only 19 states that still recognise the island's sovereignty.
The archbishop said the people of Taiwan were panicking that the Vatican would sever diplomatic ties with the island after signing a deal on the appointment of bishops and normalising ties with Beijing.
"He told us a father would never give up his children, just like a good shepherd who will never leave his sheep," Hung said.
The Pope's words came as a relief to the archbishop, who said he was surprised at how well briefed he was on what was happening in mainland China and Taiwan.
"He knows Taiwan and China well; more than we imagined," he said. "He also asked us to pray for the church and congregation on the mainland."
Hung said he invited the Pope to visit Taiwan soon, but was not sure if he would accept.
"He smiled but didn't answer," he said.
This article appeared in the South China Morning Post print edition as: Vatican 'to stand firm on appointing bishops'