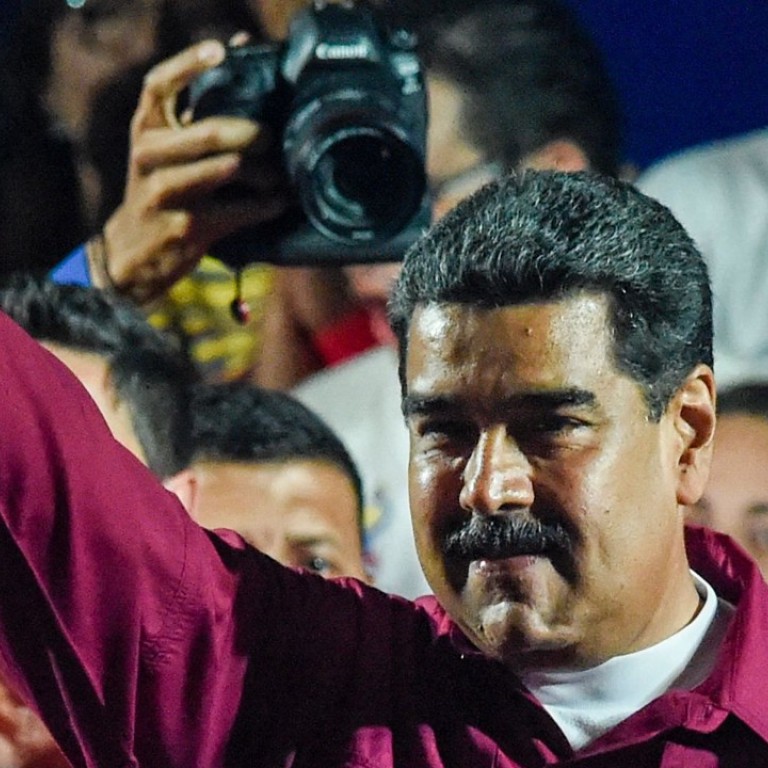 China won't interfere in Venezuela despite controversy over President Maduro's election win
Beijing says it is confident Caracas can resolve any disputes relating to the poll, but falls short of congratulating leader on his re-election
China said on Monday it would not interfere in Venezuela's domestic affairs and trusted the South American country to resolve any problems it faced following President Nicolas Maduro's controversial re-election on Sunday in a poll that was boycotted by millions.
Despite the upbeat tone of Chinese foreign ministry spokesman Lu Kang, Beijing has yet to issue its congratulations to Maduro, while some Chinese living in Venezuela described the president's win as a disaster for the oil-rich country.
Lu said China hoped Venezuela could sort out any disputes relating to the election within the framework of the law, "if there are any disputes", and that it would decide whether to send a note of congratulations "according to diplomatic protocols".
When Maduro was first elected president in April 2013, Beijing sent its congratulations within hours of his victory, while President Xi Jinping later sent a personal note expressing his best wishes.
China has extended more than US$50 billion in funding to Caracas through its oil-for-loans scheme, supporting the regimes of both Maduro and his predecessor, Hugo Chavez, but the flow of cash has slowed since Venezuela's economy started to collapse in 2014.
Besides long-running problems with rampant crime and widespread food shortages, the International Monetary Fund said it expected inflation in the country to reach 13,800 per cent this year.
For many in Venezuela's ethnic Chinese communities, Maduro's election win was the final nail in the coffin, according to a woman who used to live there.
"Many people have said they will buy an air ticket back to Guangdong, or anywhere else," said Mey Hou, a mother of three from Enping in southern China's Guangdong province, who fled Venezuela with her children in December 2015.
People were worried about the "rioting and robberies on the streets", she said.
Venezuela was once home to about 400,000 ethnic Chinese, but a huge percentage of them had returned home over the past four years as its economy imploded and locals became hostile towards immigrants, Hou said.
She said her brother, who used to run a business providing building materials to Chinese state-owned companies working in Caracas, fled to Canada last year, adding that numerous China-led development projects had been shelved and that almost all Chinese workers had left Venezuela for safety reasons.
Maduro rose to power following the death of Chavez, his predecessor and mentor. Chavez's anti-US rhetoric was once music to Beijing's ears, and Venezuela's rich oil reserves were a potent lure for energy-hungry China. But the country now serves as a reminder to Chinese individuals, businesses and officials of the perils of venturing abroad.
"Many ethnic Chinese living in Venezuela bought properties there," Hou said. "But homes once priced at a few hundred thousand US dollars or more are now worth nothing."
Mingli Zhong, who lived and worked in Venezuela for two decades but returned home to Enping last year, said he was in no doubt that Sunday's poll had been rigged.
"The election was controlled by Maduro and his army. It wasn't recognised by the people," he said.
"Many ethnic Chinese living in Venezuela had the right to vote but very few of them dared to do so because the government is 100 per cent military."
He described the situation in Venezuela as "hopeless", adding that things would only change if there was a coup.
Feng Xueting who runs a travel agency in Enping, said the election result had not been good for business.
"Many people have cancelled their flights to Venezuela in the past few days," he said.
When he first visited the South American country, in 2008, it was a land of promise, with a stable economy and steady exchange rate, he said.
"But now, it looks just like hell."